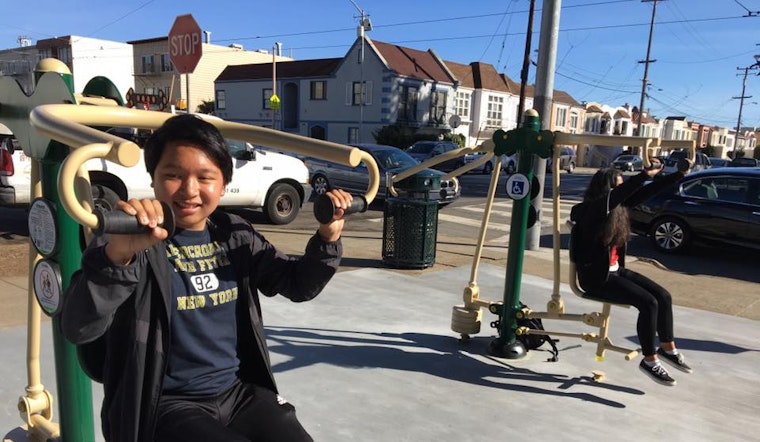 Published on October 11, 2016
For weeks, residents had been speculating about the work that was being done on certain corners of Sunset Boulevard, between Noriega and Taraval streets.
First, concrete corners were created. Then, mysterious, oddly-shaped wrapped statues appeared. Were they a new art installation? Halloween decorations? 
Last Thursday, the mystery was solved, as Supervisor Katy Tang, Olympian and Sunset native Shannon Rowbury, and runners from local schools unveiled nine new fitness stations on Sunset between Noriega and Taraval, which combine to form a exercise parcourse for residents of the area. 
Excited to help unveil the new "Sunset Fitness Zone." SF may be a major city, but it also puts a huge priority on outdoor spaces. pic.twitter.com/3obeOlmM7P

— Shannon Rowbury (@ShannonRowbury) October 8, 2016
While Sunset Boulevard is primarily known as one of the principal throughways for drivers in the Sunset District, it also includes biking and running trails. The new exercise centers are meant to provide accessible workout equipment for residents, especially those who cannot afford a gym. They have also been built and designed for the Sunset's weather and climate, through discussions with the community for the Sunset District Blueprint. 
"Our goal is to get residents inspired to enjoy the outdoors and take advantage of the natural beauty that San Francisco has to offer while exercising," said Supervisor Tang in a statement. "Regular physical activity is so important to our health, and our office wanted to provide residents with the opportunity to exercise outdoors easily within the neighborhood."
New Sunset Blvd. parcourse, inaugurated by Olympian @ShannonRowbury! Get fit for free! @SupervisorTang @MrCleanSF pic.twitter.com/cWkJsebsiM

— SF Public Works (@sfpublicworks) October 6, 2016
The parcourse was funded through the city and a grant from Greenfields Outdoor Fitness, whose mission is "to fight obesity and to improve the community's overall wellness by installing outdoor fitness zones that are free for public use."
However, not all Outer Sunset residents were in support of the new project.
"I have been a nurse [for] 30 years, and I don't think exercising in a high traffic area which is noisy, polluted and unsafe is a 'healthy' way to increase physical exercise and reduce stress," wrote one resident on NextDoor. "I wonder if Ms. Tang consulted any health professionals before she came up with this idea."

Others said that the exercise fitness centers are a good addition to the area.
"[The] [p]arcourse is awesome and good use for the space," wrote another NextDoor commenter. "Take a walk on Sunset and try knocking out 1, 5, 10, or 20 while waiting on the light."