By
Dirk Wyse
- Published on October 03, 2016.
If you've been following our tour over the past few weeks, you've seen many of Chinatown's classic, often burnt-out, neon signs and its oldest, most faded neon signage. For our third and final installment, we took a look at vintage neon signs that still glow at night—and sometimes during the day, too.
If you're taking your own walking tour, start when the evening light begins to fade away into night. The signs in this article are shown in order from south to north, starting at the south end of Grant Avenue, San Francisco's oldest street and Chinatown's main drag. All of the signs are within two blocks east and west of Grant, so even at a leisurely pace, you can see all of them in less than an hour.
Chinatown YMCA
855 Sacramento St.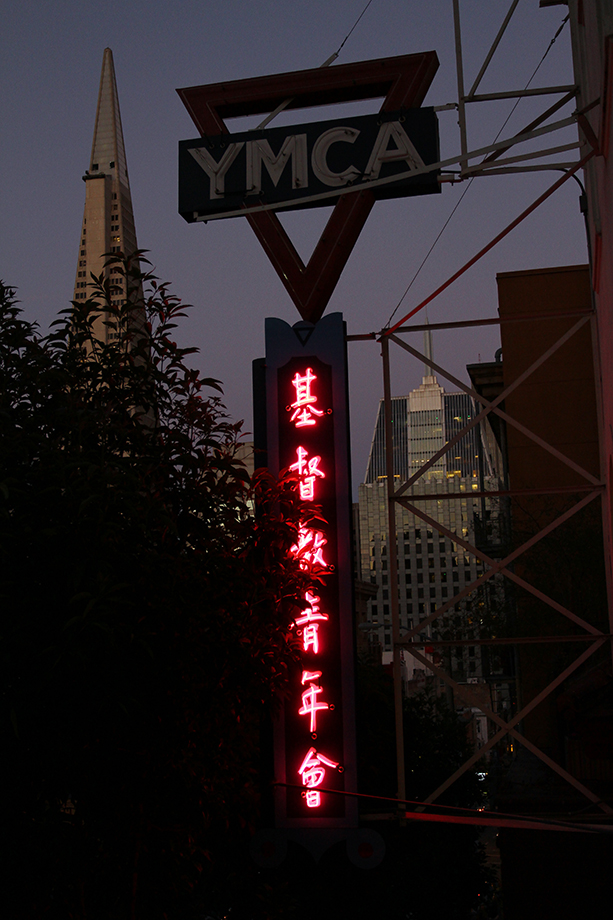 Start your tour at the Chinatown YMCA, a half-block up from Grant (steep climb) or a half block down from Stockton. The light usually turns on at dusk. This photo was taken looking east.

Wok Shop
Grant at Commercial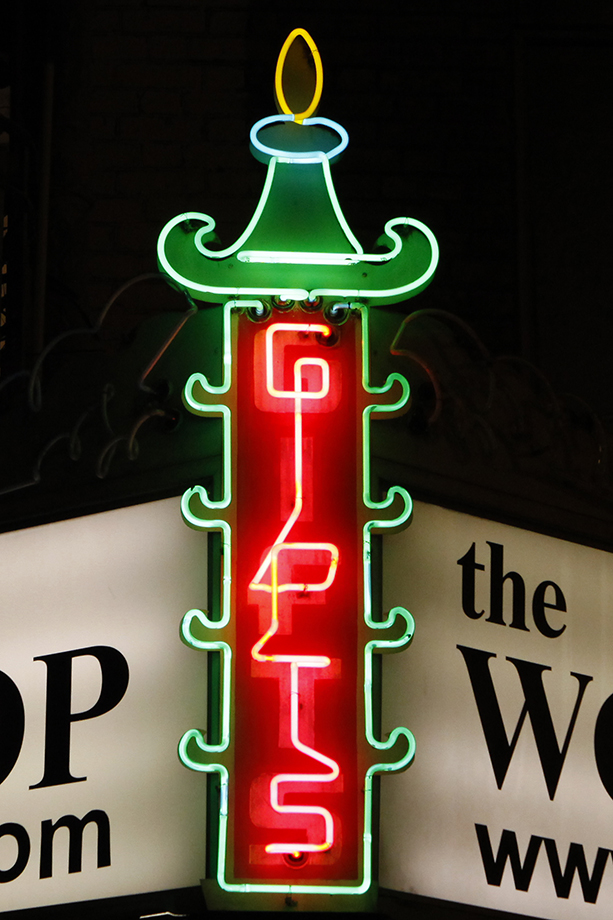 Proceed down Sacramento and turn left onto Grant, where a burning neon candle illuminates the Wok Shop at Grant and Commercial. The sign is only on at night when the shop is closed, a practice among several Chinatown retailers. 

EZ5 Bar
648 Commercial St.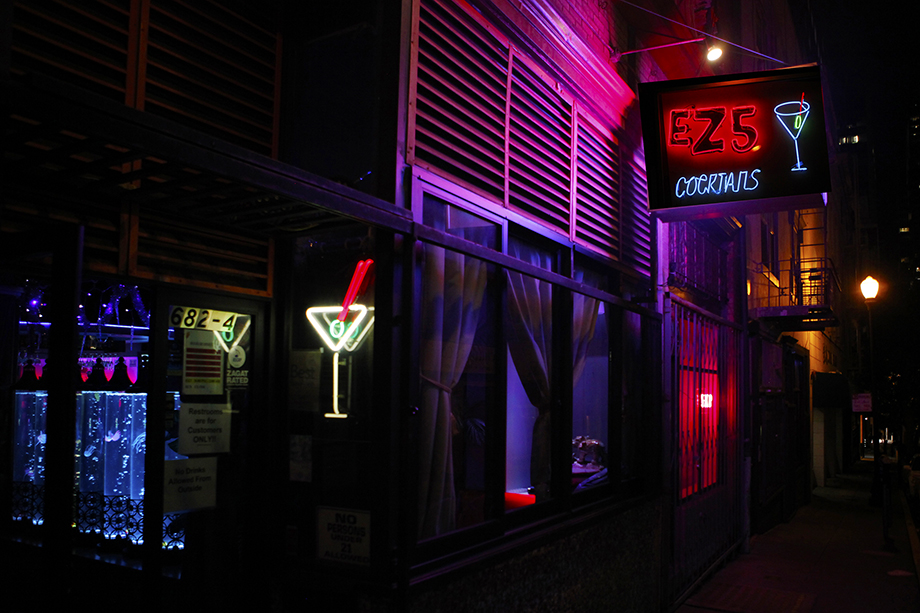 Now take a right on Commercial and go down two short blocks to the EZ5 Bar, a few steps east of Kearny. Glowing martini glasses and free-form script—perfect neon lighting for an elegant dive bar.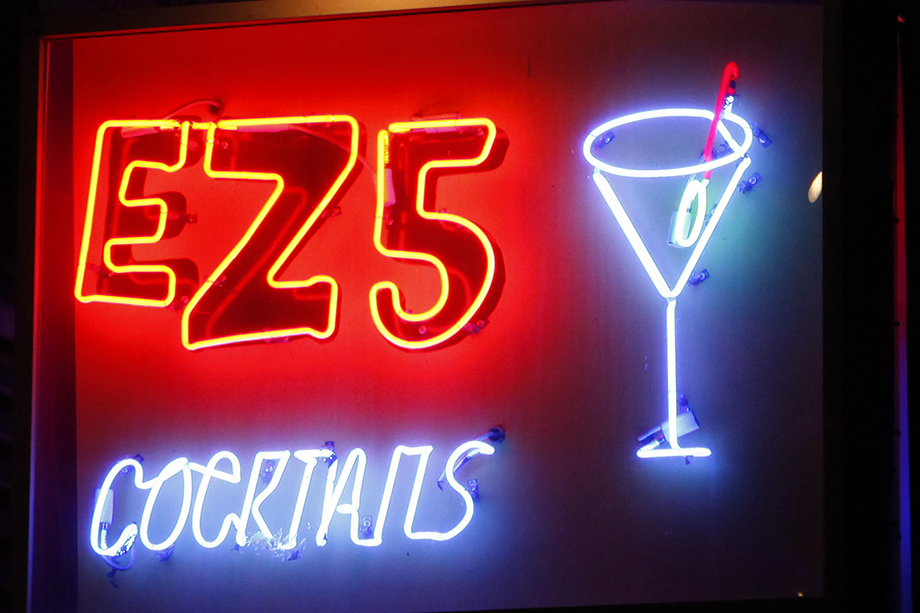 Sam Wo
713 Clay St.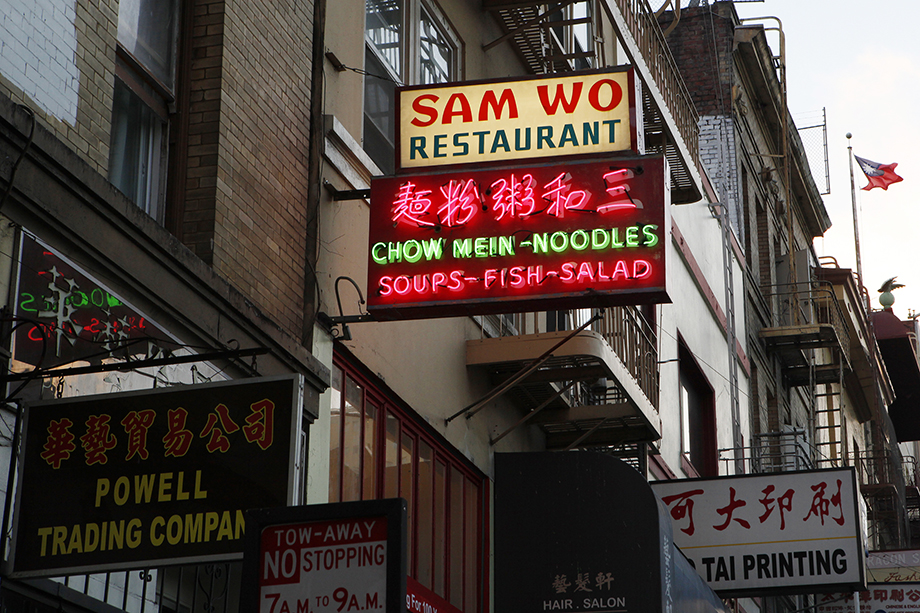 Now turn around and go back to Kearny, take a right and then a left on Clay, and you'll find one of Chinatown's most famed restaurants, Sam Wo.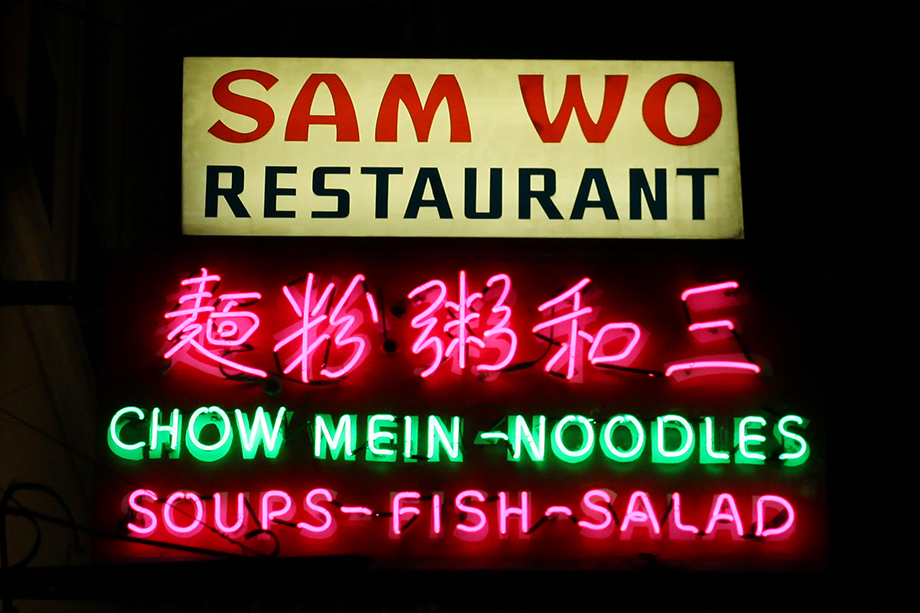 Sam Wo first opened at 813 Washington St. a few years after the 1906 earthquake. Its neon sign was installed in the 1930s. The restaurant closed in 2012, and reopened in October 2015 at 713 Clay St.
Thanks to a planning code exception, Sam Wo's owners were allowed to remove, refurbish and reinstall the neon sign above their new location, where it glows into the wee hours on weekends.
Chinatown Restaurant
744 Washington St.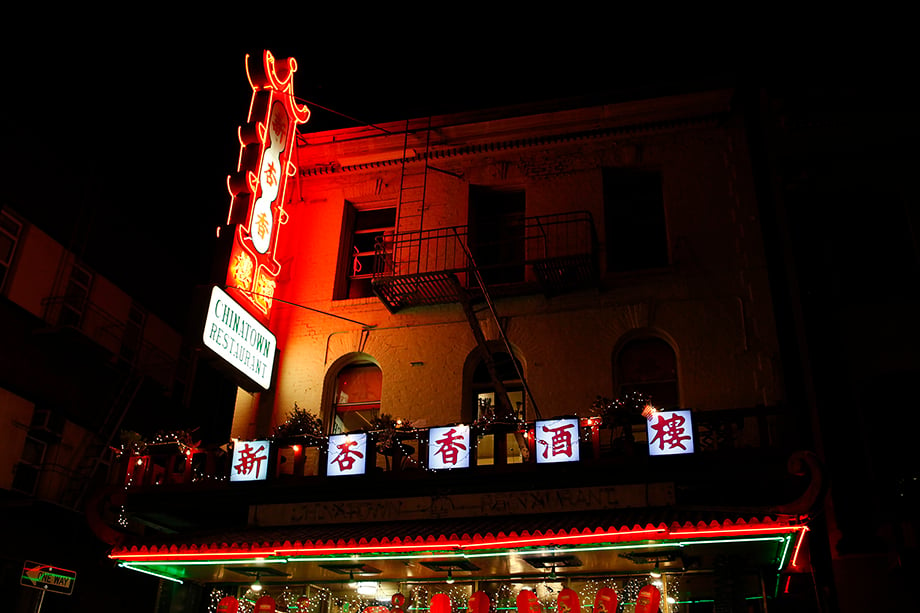 Next, cut through Portsmouth Square Plaza and its many groups of card-players at makeshift tables to find Chinatown Restaurant. It's located on the north side of the plaza, on Washington Street at Wentworth.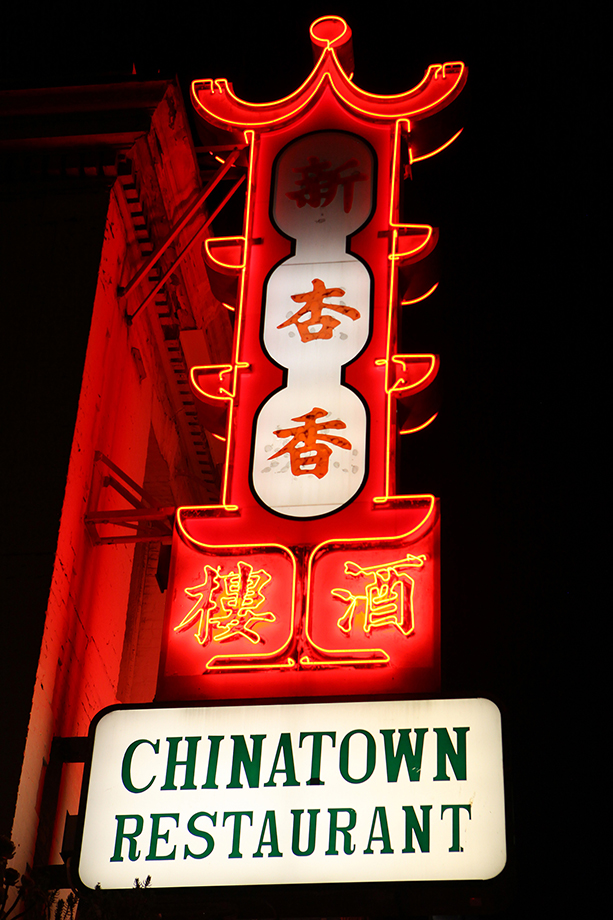 This prominent orange sign is one of the largest and brightest in Chinatown.

Buddha Lounge and Li Po Lounge
Grant between Washington and Jackson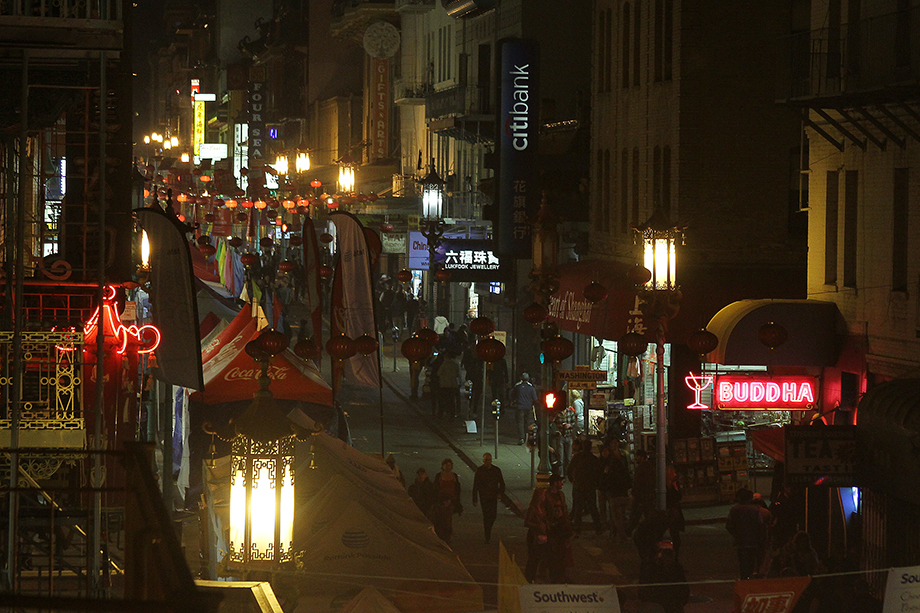 Now walk a short half block west to Grant Avenue and Washington Street—the heart of Chinatown, where neon still glows day and night.  
There are only three bars—and no liquor stores—on the tourist-oriented section of Grant Avenue between Bush and Broadway. Two of them, Buddha and Li Po, use old-school neon signs that are turned on whenever the bar is open.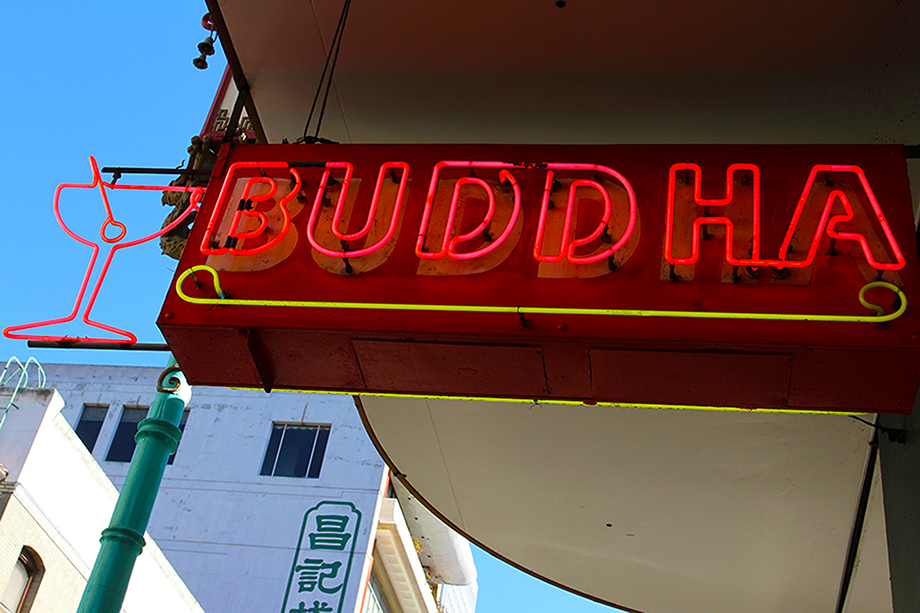 We're now past the halfway point of the walking tour, so if you fancy a drink under the glow of vintage Chinatown neon, here's your chance to make a stop.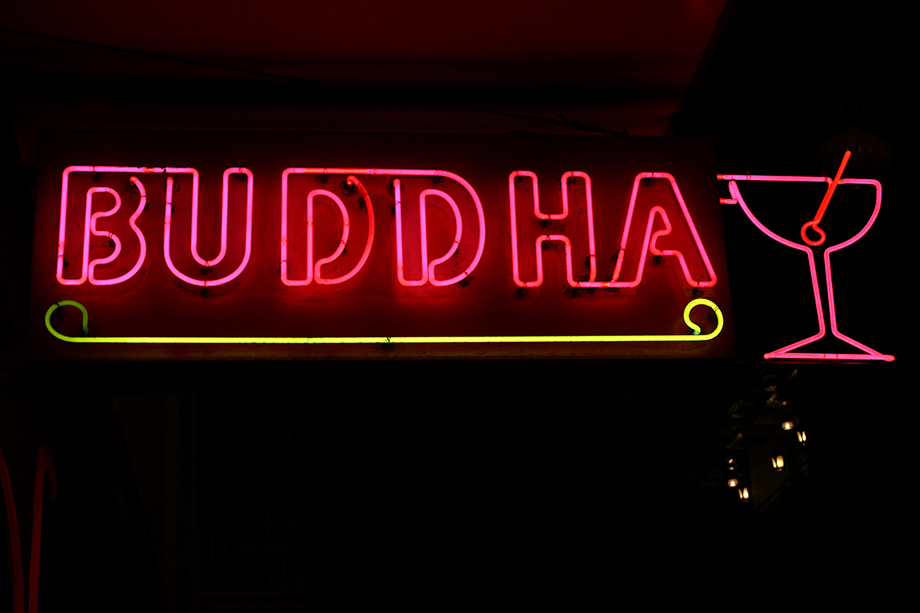 The Buddha's neon cocktail glass glows hot pink against blue sky, dark night and dense fog.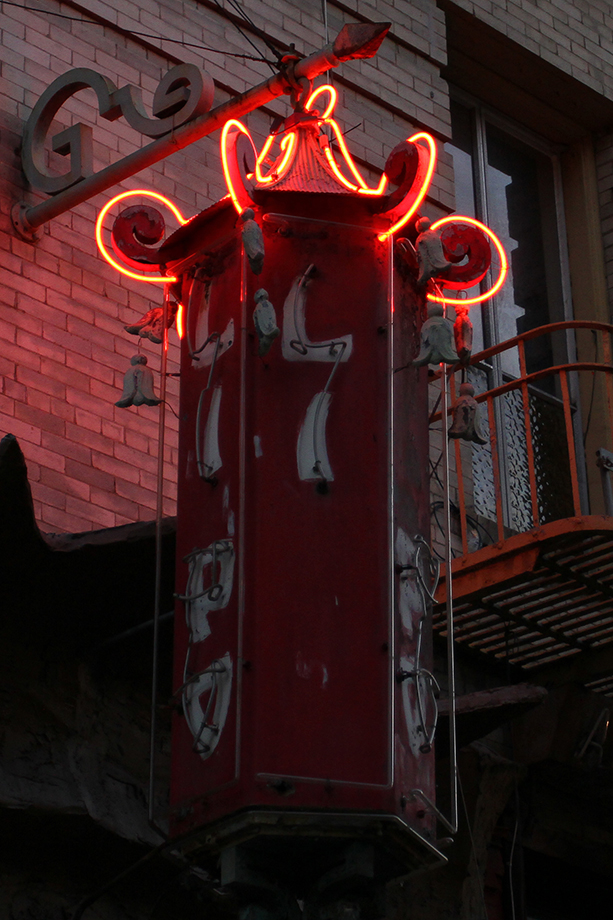 The Li Po, one of the funkiest drinking spots in San Francisco, has a six-sided, Chinese-lantern-themed neon sign that still glows orange on top.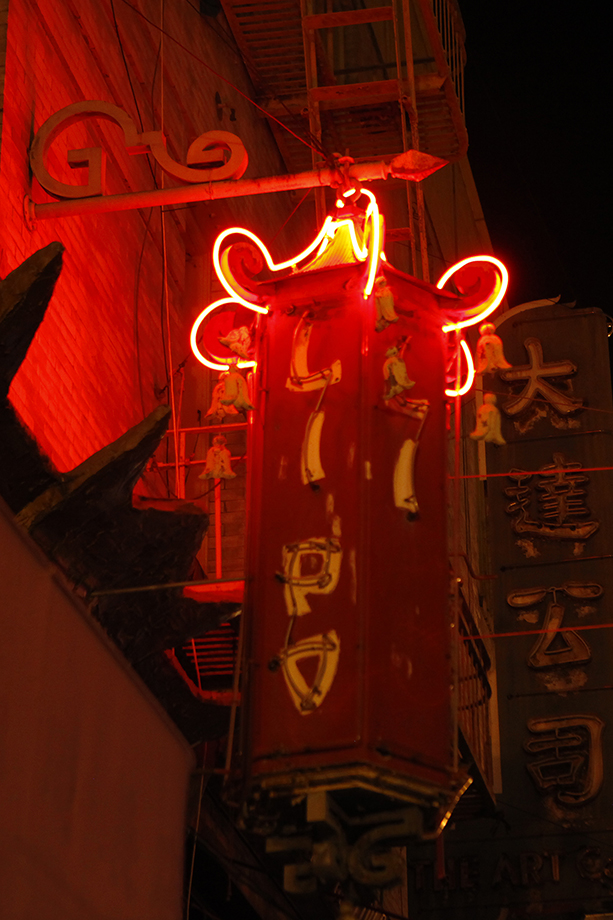 City Gifts
Continue north on Grant for half a block to Jackson. On the southwest corner, you'll find Chinatown's smallest neon tube—on the outward edge of the City Gifts sign.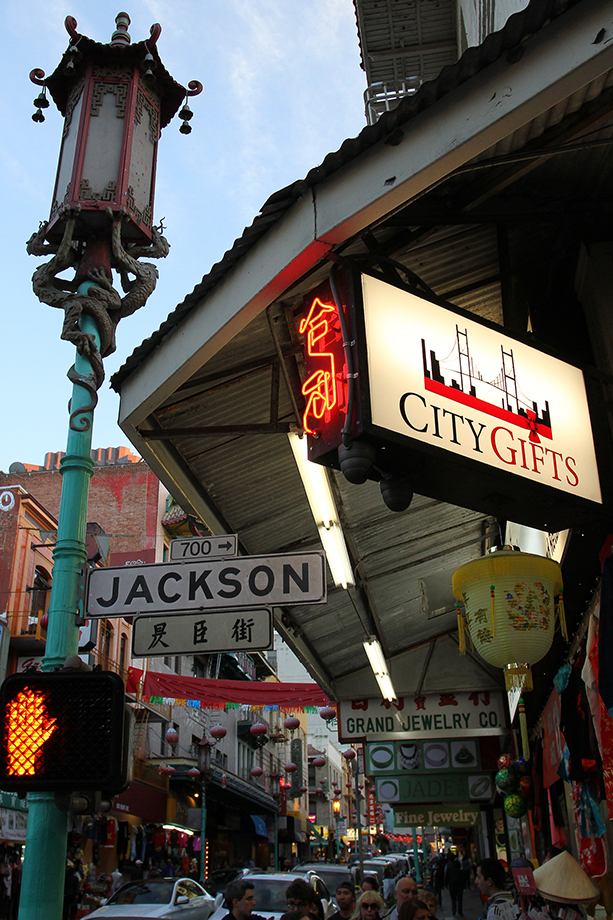 The store's owners turn the sign on at dusk and off when the store closes.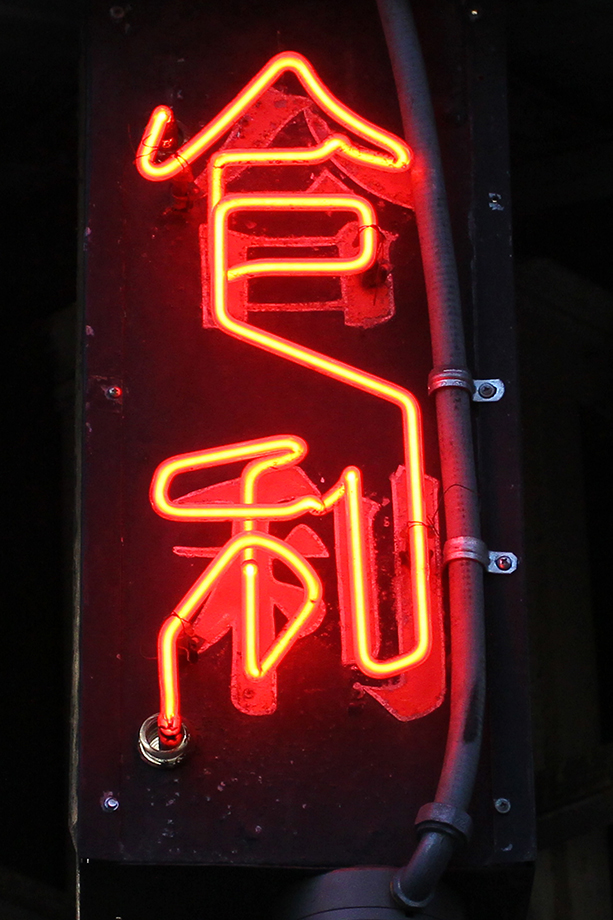 Great Star Theater
636 Jackson St.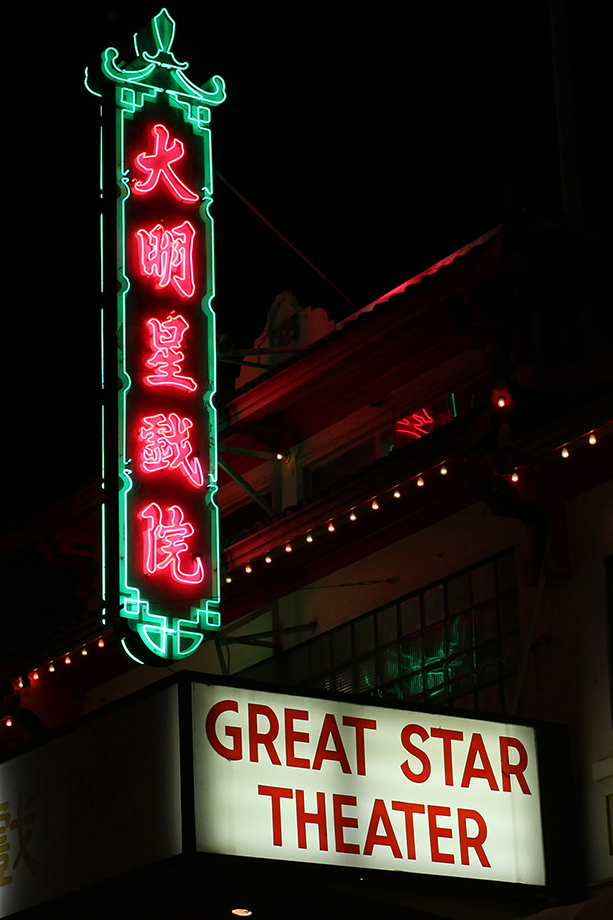 From City Gifts, go downhill (east) on Jackson. If you're lucky, the magnificent hot-pink/electric-green neon sign of the Great Star Theater (636 Jackson St.) may be glowing.  The theater is now closed, but sometimes its light is on, even in the bright afternoon daylight.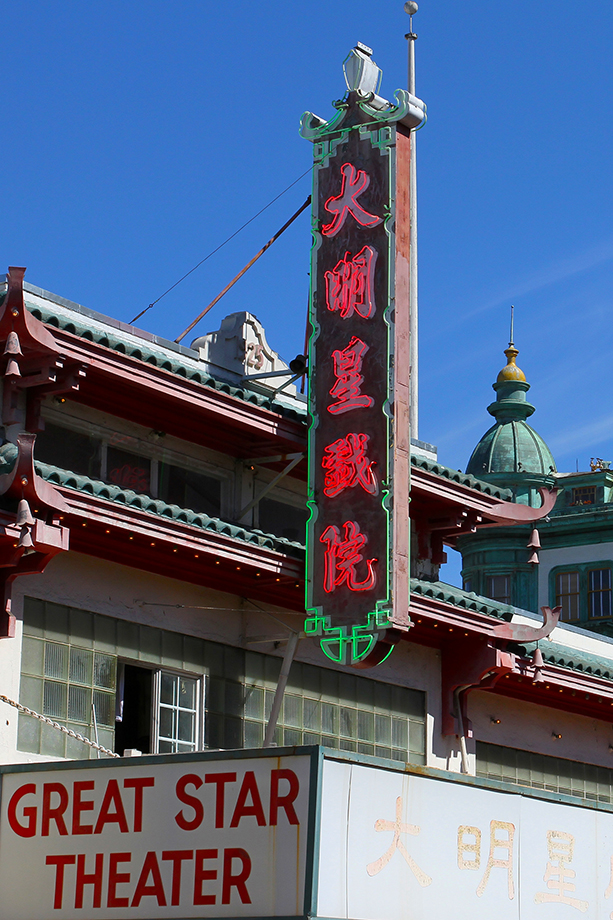 L'amour Spa
602 Jackson St.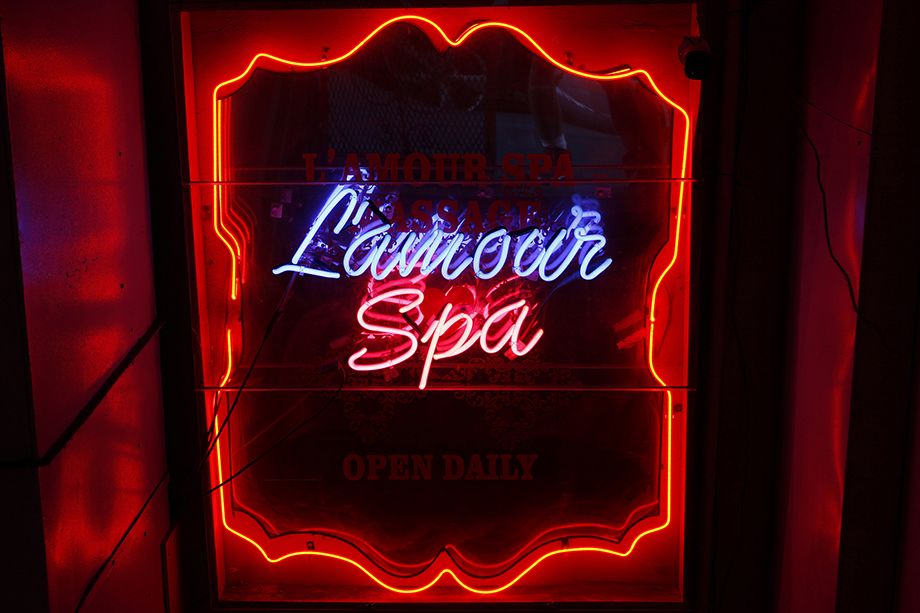 A few doors down the street is the L'amour Spa at 602 Jackson St.  Its red-orange, blue and pink sign is inside the entryway, but you can see the glow from the street.
The New Hollywood Bakery and Restaurant
652 Pacific Ave.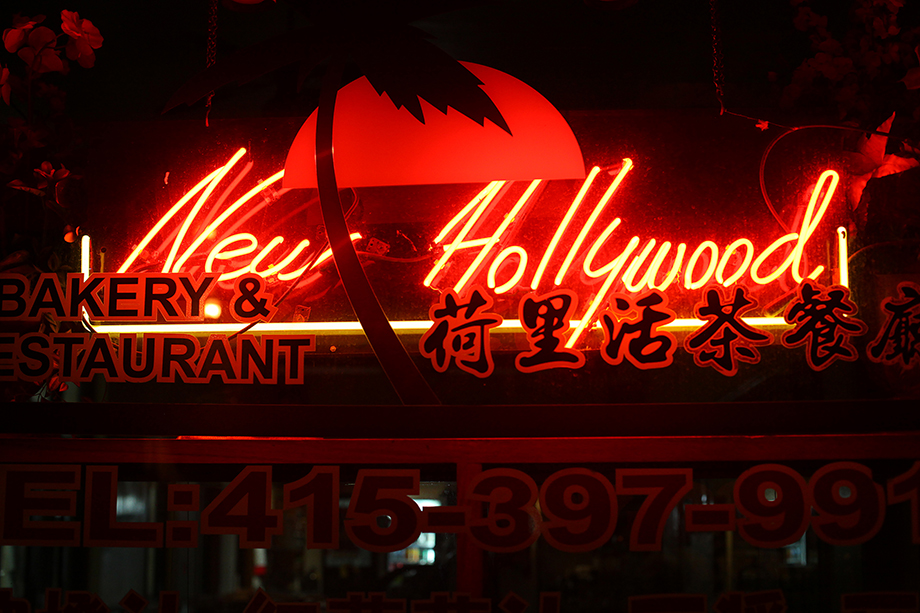 Now retrace your steps up Jackson half a block, and turn right on Beckett Street after the Great Star.  It's a short walk north to The New Hollywood Bakery and Restaurant at 652 Pacific.  Its script-lettered neon sign glows orange, but if you want to try the baked goods (and you should!) then come back during the day. It's another local business that turns its sign on only when it's closed.

Bow Bow Cocktail Lounge
1155 Grant Ave.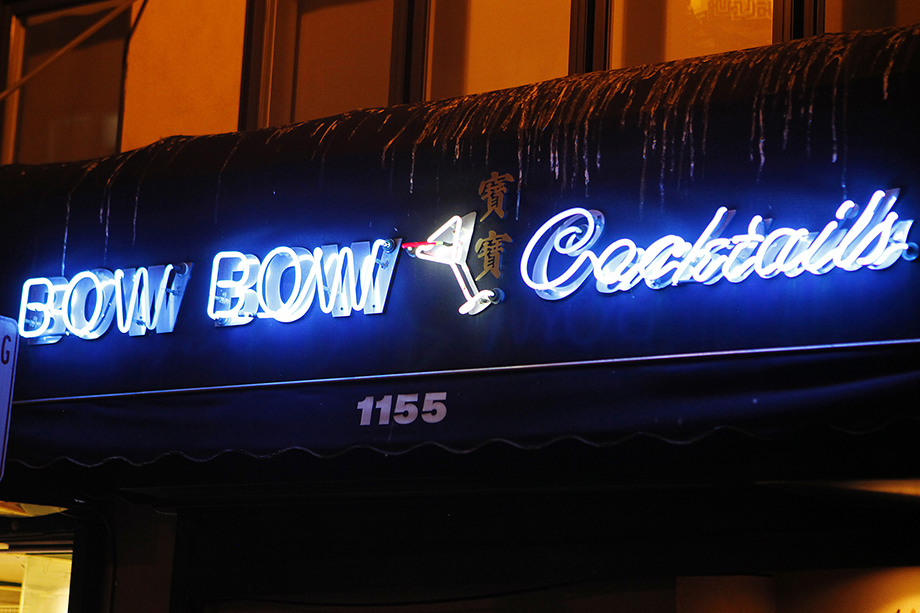 Continue west on Pacific and turn right on Grant. After two blocks, you'll see the cool blue neon sign of the Bow Bow Cocktail Lounge (actually a karaoke bar—and a pretty rowdy one at that) at 1155 Grant Avenue.  
Perhaps a drink (or a song) at the Bow Bow before visiting your final stop?
Mee Mee Bakery
1328 Stockton St.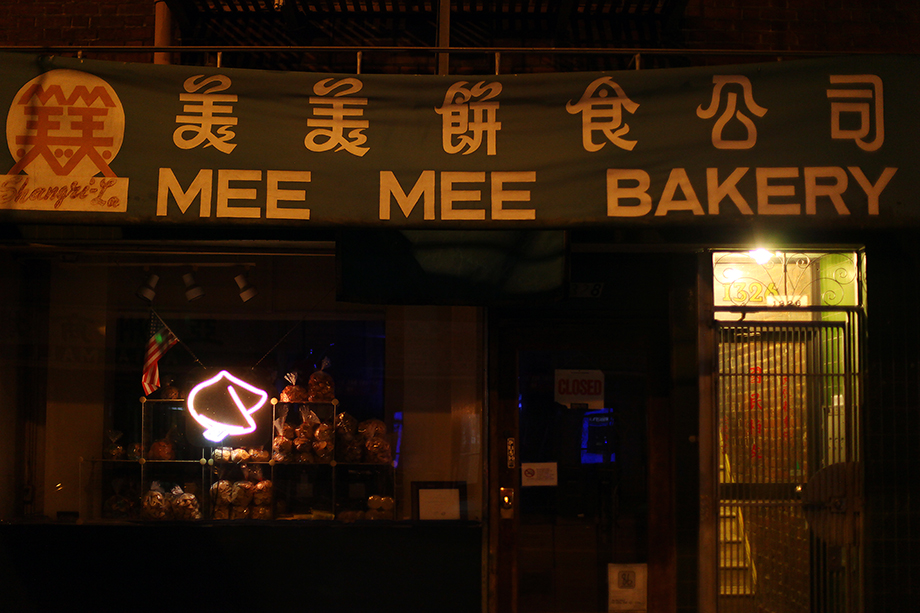 Last stop: the tiny Mee Mee Bakery. Go one block west on Broadway, then right on Stockton; the Mee Mee is at 1328 Stockton, between Broadway and Vallejo. Look for its simple neon graphic of a fortune cookie ... which only glows at night.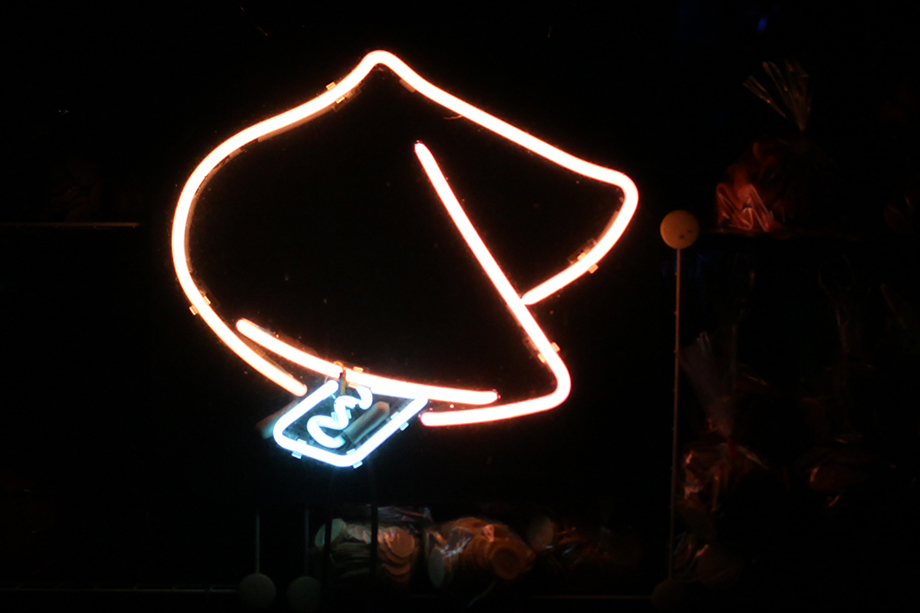 If you enjoyed this series and are interested in vintage neon, there's still plenty of time to check out San Francisco Neon Survivors and Icons. The photo exhibit features classic neon signs from around the city, and is on view through the end of October on the fourth floor of the San Francisco Main Public Library.