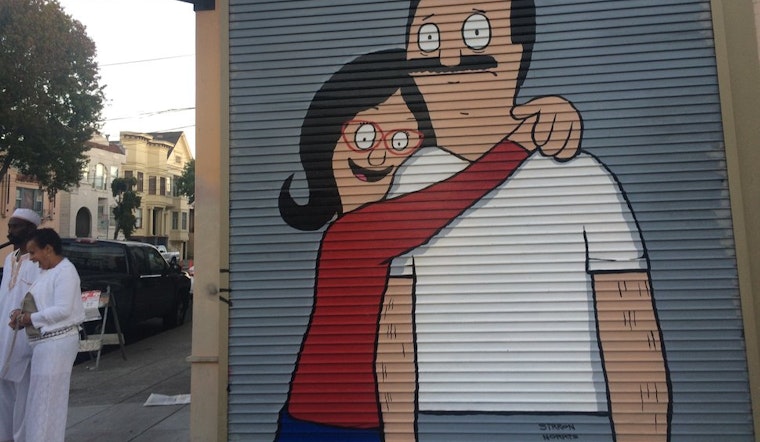 Published on November 04, 2016
It looks like Bob and Linda Belcher, of Fox's popular animated show Bob's Burgers, actually do live in San Francisco after all. A mural of the burger-slinging couple by local artist Sirron Norris now appears on the roll-up doors of Rhea's Cafe, at 20th and Bryant in the Mission. 
The mural "was Sirron's idea," said Rhea's owner and executive chef James Choi, who said it went up "a few weeks ago." Norris was the lead illustrator for the show, which is now in its seventh season, and the location is central to the Bob's Burgers world. 
"The show's creator, Loren [Bouchard], lived on 20th," Norris explains. "The house he used to live in, which is the model for the [Belchers'] restaurant, is also on 20th. [Character designer] Jay Howell worked at Atlas Cafe, and I lived at Bryant and 20th. That corner has a connection to the show."

Working out of an office at the corner of 16th and Harrison, a team of about five people, including Norris, created the pilot for Bob's Burgers. The show, which first aired in 2011, has since garnered a cult following, and won an Emmy in 2014 for Outstanding Animated Program.
"Honestly, [the show] was tons of work, but also one of the most exciting things I had ever done artistically," Norris says. "I got to use my experience with cartoons and work with some funny people to create this thing that makes people happy."
This isn't the first time Norris has left his mark on the Mission. You can see his work—a psychedelic mashup of happy blue bears, San Francisco architecture, and political messages—in Balmy Alley ("Victorion: El Defensor de la Mission"), 18th and Bryant (Calumet Mural), Clarion Alley, and other spots around the neighborhood.
The Bob's Burgers mural at Rhea's actually replaced another Norris mural, of one of his signature blue bears. (It's only viewable when the sandwich shop is closed, after 3pm Monday-Thursday and 4pm Friday-Sunday.) 
But while it may be an homage to a part of TV history he had a hand in, the new mural isn't Norris' favorite contribution. "I'm not exactly happy with that mural," he confesses. "Roll-up doors make it difficult to design and draw on."