Flyers seeking lost cats and dogs are a common sight in San Francisco, but this morning, tipster Jason H. chanced upon a flyer in the Mission searching for a more unusual missing pet—a bearded dragon.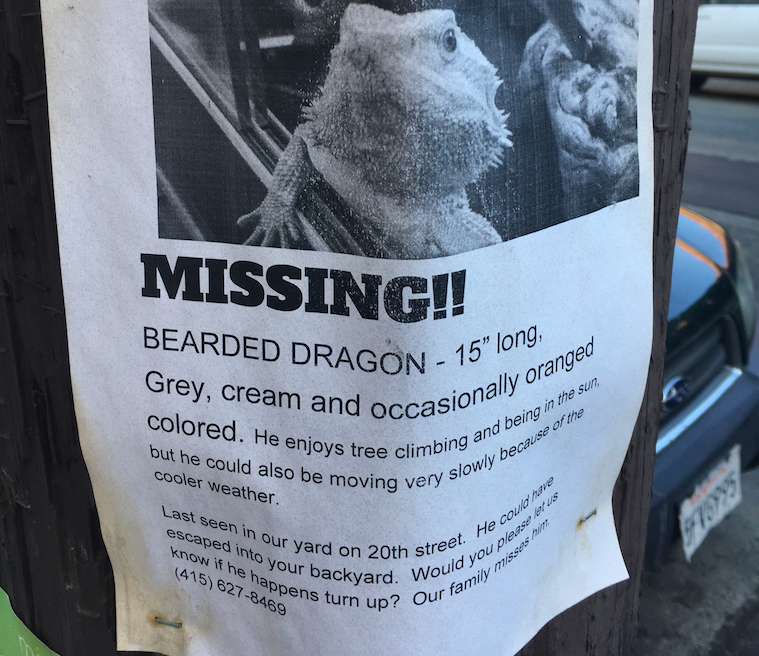 We contacted the number on the flyer, and reached the bearded dragon's owner, John Reitan. He told us the 15" lizard is named Sticky, and that he's been missing from Reitan's backyard on 20th Street, between Folsom Street and Treat Avenue, for a week and a half. 
"He wanders in the yard in the daytime," explains Reitan, who estimates that Sticky was outside in his favorite bush for half an hour, and disappeared a half hour after that. He fears that the bearded dragon was the victim of a bird of prey, but is hopeful that he may have simply escaped into the backyard instead.
An avid climber, as bearded dragons often are, Sticky may be hiding in a tree or basking in the sun, two of his favorite activities. He may also be hiding in a more secluded spot and moving slowly, as the weather has gotten cooler.
If you're looking to help find Sticky, Reitan describes his coloring as grey, cream, and "occasionally orange." Bearded dragons are a mellow species that can tolerate human handling, especially if they've been raised in captivity. If you spot Sticky, here are some tips on how to pick him up with care. (The key advice: never pick a bearded dragon up by their tail, as they can't regenerate another one.)
If you've found Sticky or have any other information on his whereabouts, you can contact John Reitan at (415) 627-8469. We'll let you know if he's found. 
See something interesting while you're out and about? Text Hoodline and we'll see what we can find: (415) 200-3233.