About 75 people gathered at Harvey Milk Plaza in the Castro on Monday night to pay their respects to the lives lost at the Ghost Ship Collective in Oakland this past weekend. So far 36 people are confirmed dead in the blaze. 
The vigil was organized by Rev. Dr. Megan Rohrer of Grace Lutheran Church in the Sunset District. Rev. Rohrer is the first openly transgender pastor to be installed at a Lutheran congregation.
"There's a need to create a safe space to mourn and to honor the transgender lives who were lost in the fire," Pastor Rohrer said as the vigil got underway. "LGBT people have always been welcomed in artistic communities. Cash Askew, a famous transgender musician who perished at Ghost Ship might have been a big draw to the trans community."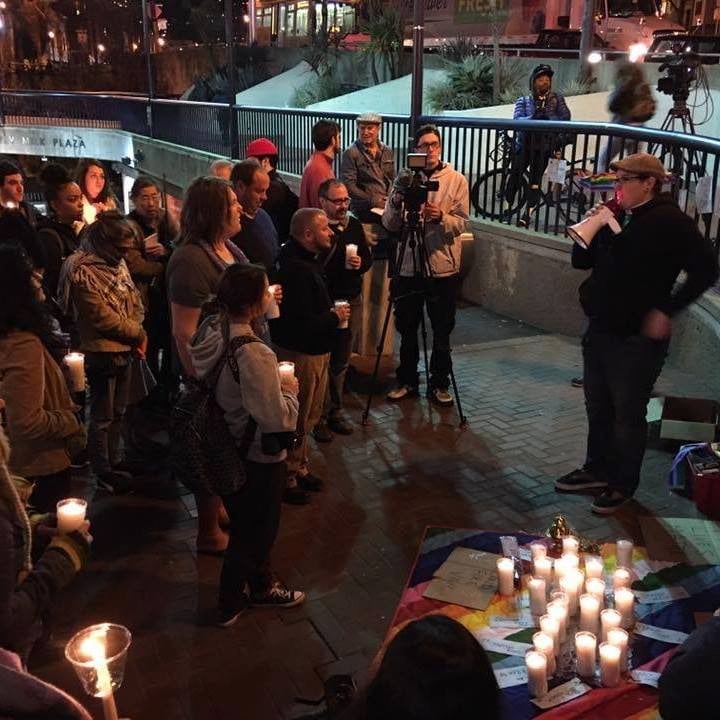 Vigil attendees lit candles and wrote personal messages, which were hung on the railing above the plaza.
Pastor Rohrer, who prefers gender-neutral pronouns, said that they had already spent some time counseling the families, friends and loved ones of those who died at Ghost Ship.
"My heart was stirred by the time I spent with the victim's families," Pastor Rohrer said. "Today we mourn all the victims. We hold in strength all who were lost. We need safe spaces for trans individuals so we can go to the bathroom without fear. So we don't have to fear a change in politicians. Live for those whose lives were cut short—be the light in the deep darkness."
Tracy Garza, a disabled transgender woman, was the next to speak. "This is this the saddest time I can remember here," she said. "I'm seeing some unprecedented things happen across the country—the man coming into the White House has never been a public servant. Most of us are trying to remain optimistic, our community has always been resilient. I am so grateful to those who came for a few minutes to remember the victims of the Oakland fire."
Garza also reiterated the need for safe transgender spaces.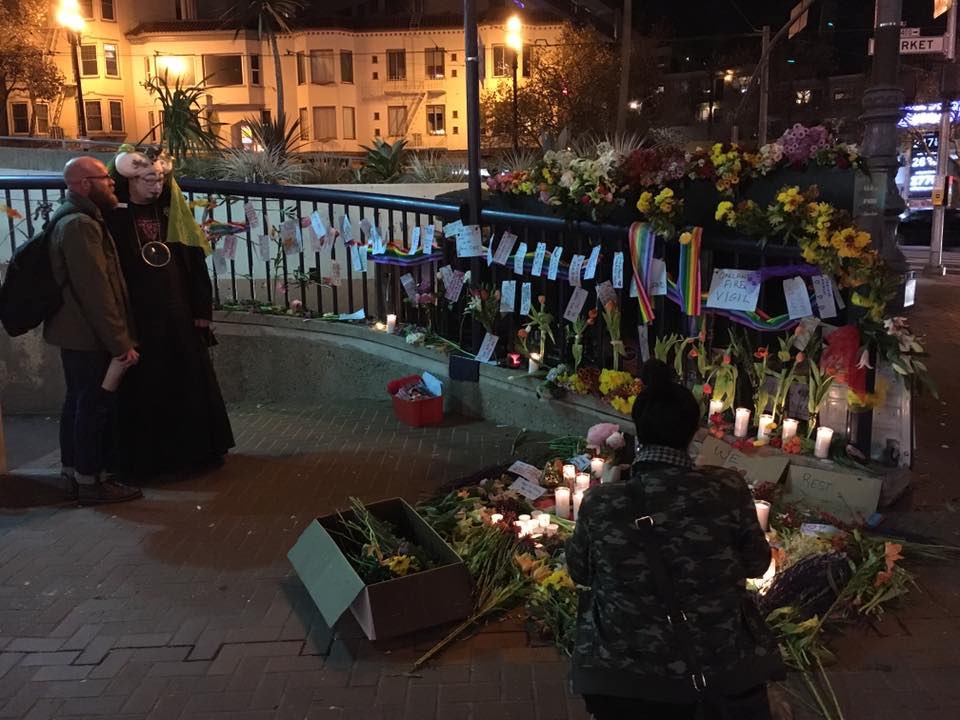 Rohrer then introduced Rev. Cameron Partridge and Rev. Ian Stanford. Both are Episcopalian priests as well as transgender men. 
"I'm here to honor the creation of safe spaces," Rev. Partridge said. "What can we all do to create safe spaces? Ghost Ship was a place where people were going not only to be creative, but to be safe."
Rev. Stanford led the crowd in prayer. "O Gracious One. We who call you by many names or by none at all. We ask that you stand with us. We ask that you comfort and console us. Bind our voices as one as we come together. In all our diversity we come to you. As a trans man I want to call out that trans lives matter. Artists matter. Musicians matter. Children matter. The disabled matter Mommas matter. All humans matter."
Sister Merry Peter of the Sisters of Perpetual Indulgence fought tears as she spoke. "I want us to remember that we came here for a reason," she said. "Why were our artists, our dancers, our trans folk in a shoddy warehouse? We will have our answers and we will change things for the better."
The Sister then invited everyone to turn to the person nearest them and say, "I am with you." Some people wept as they did so.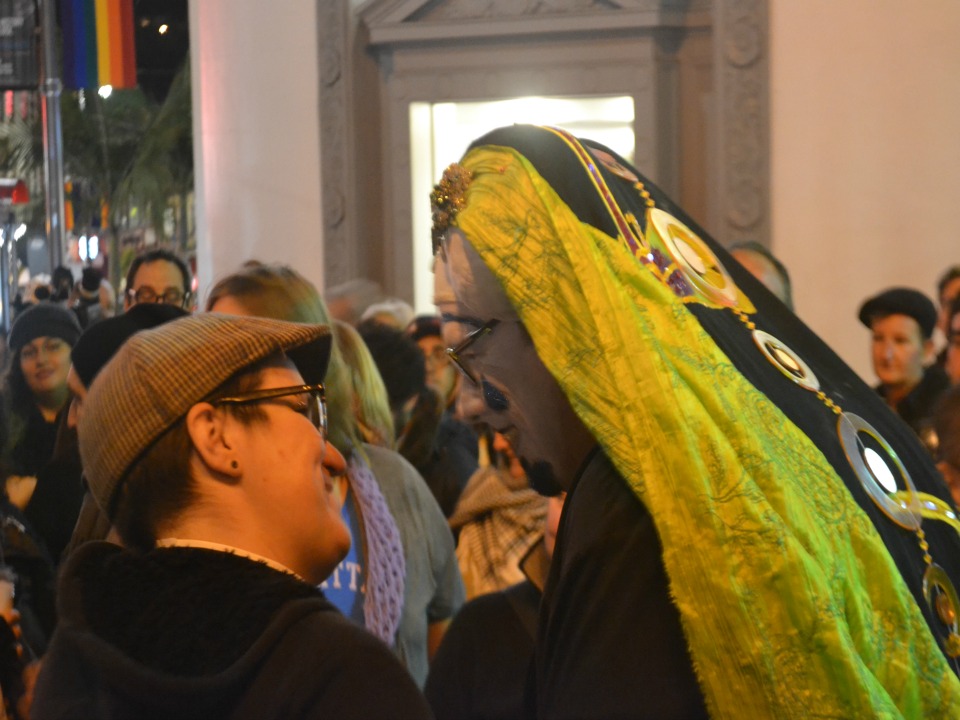 Both Rev. Rohrer and Sister Merry said they hoped this would be the final time the community would have to meet amid tragedy.
"While I mourn the victims there has to be action around affordable housing," said Jordan Gwendolyn Davis, a 31-year-old transgender woman, after the vigil. "A lot of the people who lived in the Ghost Ship were priced out of housing. We need affordable housing and work spaces that are up to code."
Rev. Rohrer suggested that people set up buddy systems so that loved ones can stay informed during emergencies. "Ensure that at least one safe person has a copy of your legal name and your emergency contacts," they said. "So that if God forbid a tragedy happens, they can be identified and mourned with full dignity."
The pastor also said that they were happy that authorities were taking the time to learn the preferred names and genders of the dead before releasing those names to the public.