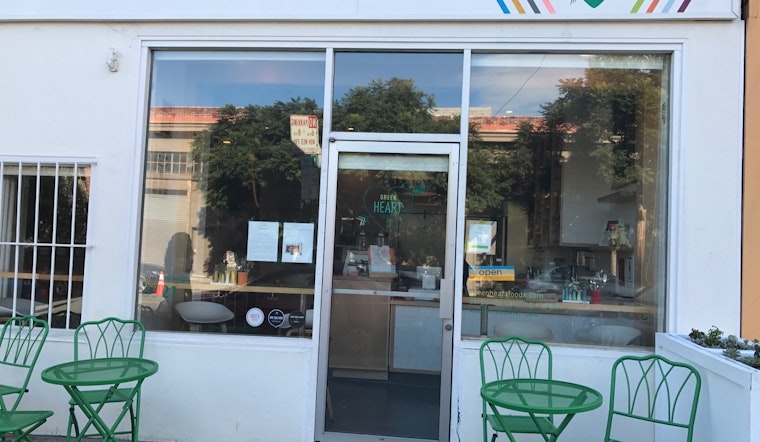 Published on December 16, 2016
In a statement posted in its window, Mission cafe Green Heart Foods announced it will be closing up shop this coming Thursday, December 22nd. Tipster Desiree P. alerted us to the posting, in which owner and CEO Lisa Chatham laments the closure of the cafe.
Green Heart, which opened in 2013, offers healthy fare like salads, rice bowls, smoothies, and blue plate specials, using organic ingredients and offering vegan and gluten-free options. 
In her letter, Chatham writes that most of Green Heart's business comes from catering for companies like UCSF, Gap, Microsoft and eBay, which is run out of a commercial kitchen on Pennsylvania Street in Potrero Hill. Her goal was to maintain the cafe as a gathering place and to give non-corporate customers better access to her food, but she ultimately decided that paying rent on two spaces and spreading staff between them was too much to handle.
Although Green Heart will continue on, Chatham mourns the loss of a brick-and-mortar spot for healthy food.
"The past three months, I've fought for the cafe to stay open for all of you. I want to put the food I believe in directly into your hands," she explains. "I want you to have the kind of place you can come to in order to nourish your body and ... deepen connections with friends, family, and yourself. There's part of me that worries that I'm letting you down. I'm sorry."
For those looking to get their Green Heart fix after the closure, Chatham also notes that the company's food will still be offered via UberEats and Postmates, and that its Brite Bites breakfast parfaits and The Bowl (a quinoa, sweet potato and black bean bowl) will continue to be sold at EHS Pilates on Valencia Street and at the FiDi's Hermanos food kiosk (650 California St.)