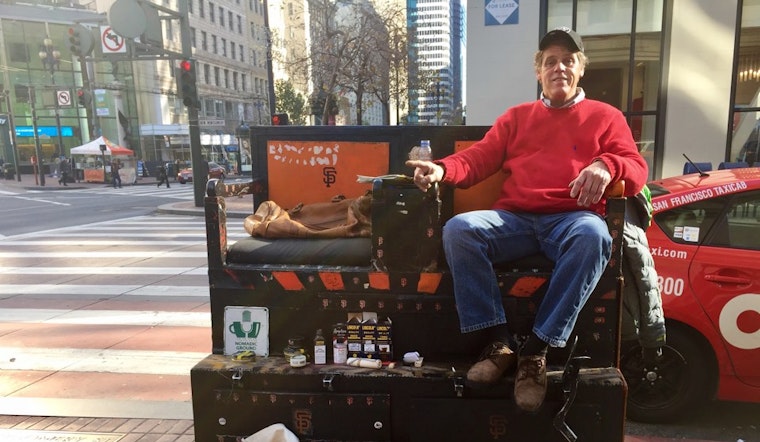 Published on December 22, 2016
It's been a bad week for shoe shiner Larry Moore. 
On Monday, someone stole his case packed with $450 worth of polish and supplies. Then, Tuesday night, his trusty wooden stand was vandalized.
Working the corner of Market and New Montgomery since 2008, Moore has been through a lot. But he does not want to blame anyone for the destruction. "It was probably overgrown kids playing... jumping up and down on the stand and it flipped over."
Wednesday morning, he found parts lying in the street, and he spent the day nailing the stand back together.
Thursday, clear and sunny, Moore sat reading the newspaper and waiting for customers. There were few. He said a 15-hour day often yields three hours of business.
Current, casual fashions that dictate comfort over formality don't help, as most people wear sneakers or canvas shoes instead of leather. Moore cites the tech mentality, where bosses care more about brains than clothes.
"These guys crawl out of bed with their hoodies on," he says, adding that these days women dress better than men and he shines a lot of women's boots.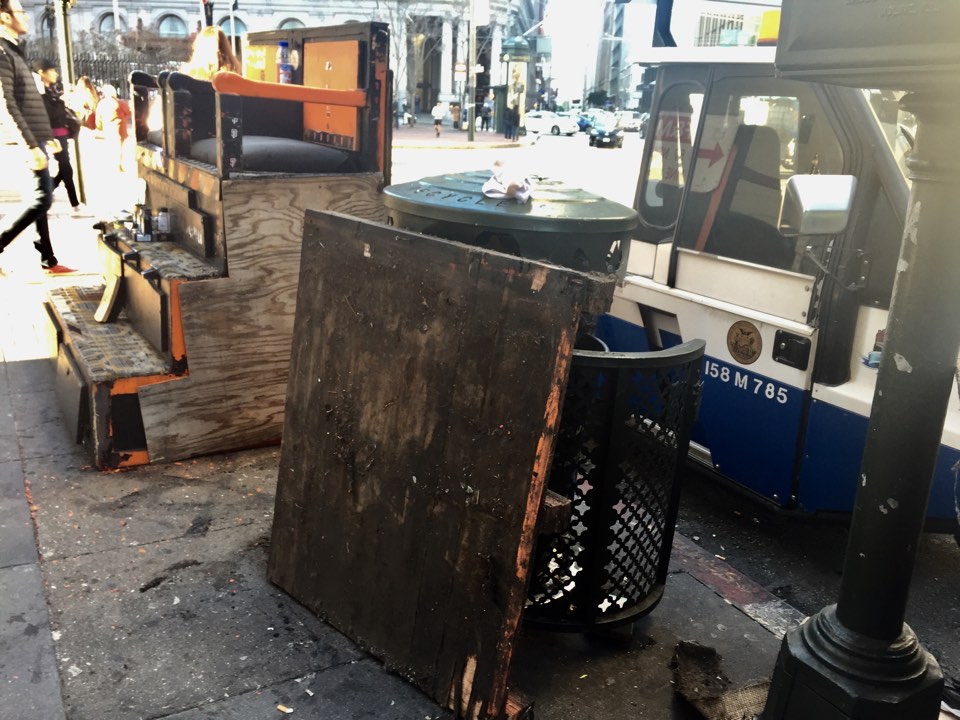 In 2012, revelers torched his stand while celebrating the Giant's World Series win.

He used to protect his stand from the elements with tarps that were repeatedly stolen by homeless people.
Moore, clean and sober for seven years, is unwilling to criticize or blame anyone. He knows what it's like to survive on the street because he too is homeless.
Hopefully not for long though. He says he earns enough to rent a $750-per-month SRO room on Polk Street. He just needs the $1,000 deposit to move in.
Traffic cops, regular customers and many who pass the corner on their way to work know Moore. Even if they don't need his services, they might stop to say hello, voice concern when he's not there or hang out listening to him read aloud a Chronicle sports column.
Moore loves to talk football, the economy and the city, where "everything's a startup."
He moved to San Francisco in 1977 from St. Louis Missouri, and later learned his craft from another FiDi shoeshiner he helped for years.
"It's an honest day's job."