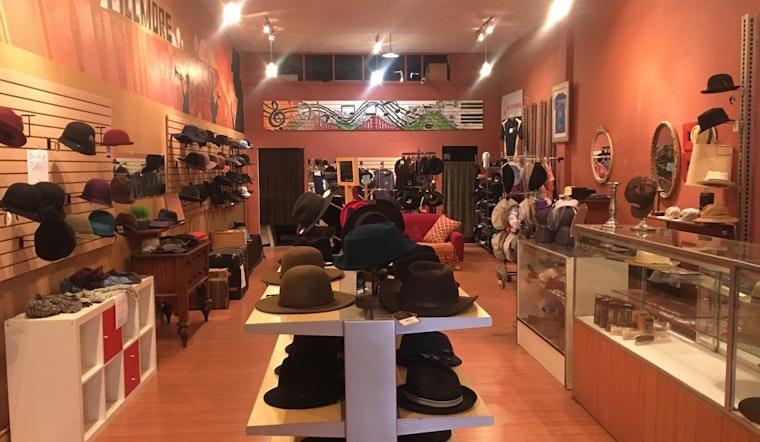 Published on January 09, 2017
After 17 years in the Fillmore District, Hats of the Fillmore is closing its doors for good this evening. Rather than accept a rent increase, owner Anna Yue has decided to seize an entirely different business opportunity in Oakland.
The shop's final days were bittersweet for longtime community supporters who stopped by, some in tears, since the closure was announced, Yue said.
Despite being tucked between restaurants and the former New Chicago Barbershop, which has been closed for several years, Hats of the Fillmore stood strong in the neighborhood. The shop was frequented by neighbors as well as celebrities, like rapper Talib Kweli, Ceelo Green. It was also a favorite of Mayor Ed Lee.
Yue was active with the Lower Fillmore Merchants Association, and often donated hats and offered discounts during community nightlife events like the Black Couture Ball and the Fillmore Art Walk. 
"Some of my best experiences usually had to do with those events, especially the Jazz Festival. I enjoy the music, and I always did well in sales," Yue said. "I think I am going to sell some of the remaining hats online, and some I'll donate to Salvation Army."
While all of her 17 years on Fillmore weren't a breeze, Yue definitely found her groove in the neighborhood. "When I first opened, my biggest challenge was the language barrier. So it was hard for me to communicate with people. Over time I have really gotten to know the neighbors and other business owners. The African American community has been really supportive, and I have made many friends."
The closure is also bittersweet for employee Ciarra Comeaux, who—since the age of 18—has worked for the shop on and off over the past 13 years. 
"No matter what stage I was in life, whether I was in school or just needed to make some extra money, I could always come back and work here. She's like my mom, and I'm going to miss her," Comeaux said. "I've been crying ever since she decided to close the shop. But it's definitely an experience I appreciate, and I am sad to see her go, but I'll still be around the neighborhood."
"It won't be the same, people respect her," noted Comeaux.
But Yue isn't heading into retirement just yet. She's taken over the shuttered Ben's Burgers (aka Ben's Dairy Freeze) in East Oakland and plans to reopen the restaurant this May. 
Before its closure, Ben's was a popular place to eat and hang out in the neighborhood. Local rapper E40 frequented the business and even shot scenes for the music video "Tell Me When to Go" outside the location.
"I've got a lot to learn about the food business, but I'm excited to do something new," Yue said.
"I'm thankful for my loyal customers. I will miss everyone, especially all of the children I've met," Yue added, reminiscing on her time in the Fillmore. "A lot of these kids have gone off to college and come back and visit. It's a blessing. I know that this neighborhood is changing, but I'm glad that they remembered me, and I hope they will visit me in the East Bay."
The biggest learning Yue is taking with her: "When you love people in this community, they love you back. I've been treated with care and like family. The neighborhood is changing, and my only hope for this space after I leave is that a minority owner takes it over."