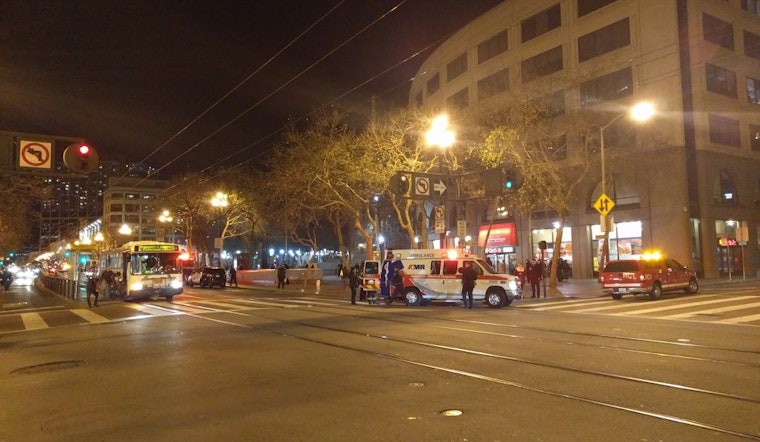 Published on January 07, 2017
Police are on the scene at Civic Center Station where multiple people on Twitter say a man was assaulted with a machete.
Holy. Just entered the Civic Center BART. Saw blood. Tons of police. Alleged machete attack.

— Sana Saeed (@SanaSaeed) January 7, 2017
The entrance to the BART and Muni station at Seventh and Market, at UN Plaza, is blocked off with police tape and surrounded by police and emergency responders.
One witness on the scene tweeted a graphic video of the victim lying face down in a pool of blood. (The video has been deleted.)
Others report that the victim was cut in the throat, and the suspect remains at large.
Real someone just got their neck sliced with a machete by civic center Bart station hours

— ¡¡ay caramba!! (@BeckerUBEEZY) January 7, 2017
Someone got attacked with a machete at civic center #BART attacker on the loose #civiccenter #soma #watchout #macheteattack

— kV (@kvcoffee) January 7, 2017
KRON4 reports that police have confirmed the victim was either stabbed or slashed with a "big knife," possibly with a 2-foot blade, around 8:39pm.
Despite the closure to the station's UN Plaza entrance, BART and Muni service has not been affected.
The victim's condition is not yet known.
We'll share more details if and when they're released.
Update, 10:05pm: SFPD spokesperson Officer Giselle Talkoff says the victim is male, approximately 29 years of age. His condition is still unavailable.
The suspect is also male, approximately 25-35 years of age, and was last seen at Seventh and Market.
Preliminarily, the department does believe the weapon used was a machete.
Update, Jan. 7th: The Chronicle reports that the weapon was indeed a machete, as confirmed by SFPD. The emergency call came in at 8:39pm, and the suspect may be a man in his 40s, but no arrest has been made and no further information on the victim has been released.
Update, Jan. 14th: The SFPD yesterday released still photos of the suspect from security camera footage and is asking for the public's help in identifying him.