Newly sworn-in District 9 Supervisor Hillary Ronen is wasting no time in her effort to protect existing businesses in the Calle 24 Latino Cultural District. Today, Ronen was scheduled to introduce a bill to the Board of Supervisors preventing new bars and restaurants from opening in the cultural district—should the desired business location meet a set of broad criteria.
Specifically, reports the Chronicle, the bill stipulates that a 300-foot diameter around the proposed location cannot consist of 35 percent or more drinking or eating establishments if the business is to gain city approval.
"This legislation is a critical tool in helping us preserve the character and vibrancy of San Francisco's Latino Cultural District," explained Ronen in a Calle 24 press release. "For the first time, we are using land use tools to articulate what characteristics we would like to see in new businesses coming into a neighborhood that has been in turmoil because of widespread displacement of longtime residents and businesses."
Just how much of the Latino Cultural District—an area bounded by Potrero Avenue and Mission Street to the east and west, and Cesar Chavez and 22nd Street to the south and north—would be off limits to new bars and restaurants should this legislation pass? Hoodline reached out to Supervisor Ronen to determine how the 35 percent number was decided upon and what blocks fall within that classification, but has not heard back.
However, with 24th Street a dense network of restaurants, bars and cafes, the new restrictions would likely severely limit the plans of any would-be 24th Street restaurateur—and that appears to be exactly the idea.
"[The legislation] will help us retain the diverse mix of businesses along the corridor so that Calle 24 doesn't just become restaurant row," explained Ronen in a perhaps not-so-subtle dig at Valencia Street.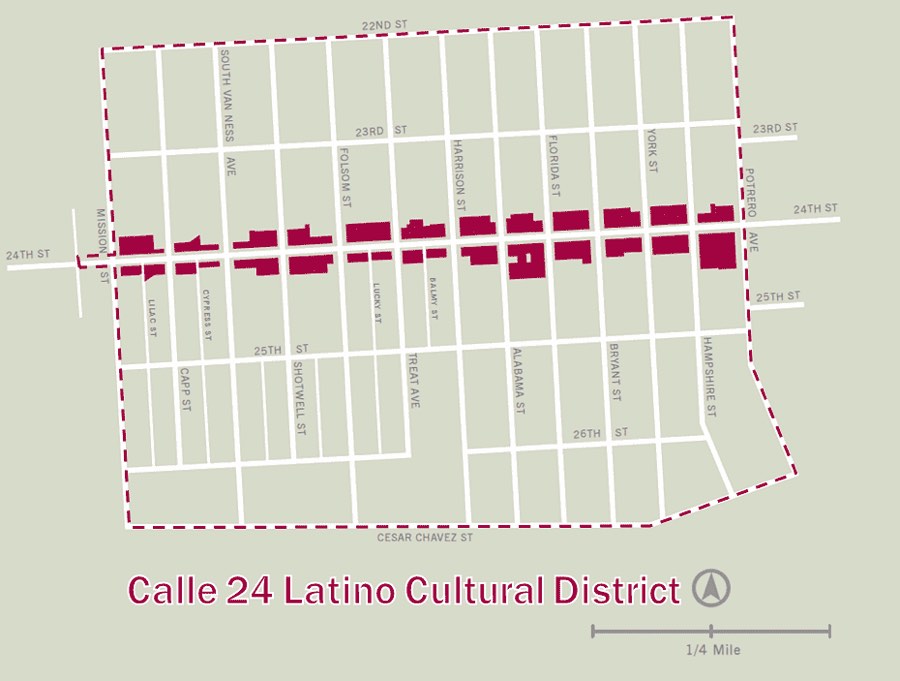 Mayor Ed Lee co-sponsored the bill, which includes restrictions on all types of businesses that seek to open in the Latino Cultural District. A business would need to get a conditional-use authorization from the city should the owner intend to merge two storefronts into a single business measuring larger than 799 square feet, or if the business would replace a "legacy business."
Today's proposed measure appears to have roots in similar, albeit temporary, restrictions passed in July of 2015. In that case, Calle 24 successfully lobbied the Board to pass a measure banning "commercial storefront mergers of greater than 799 gross square feet" for 45 days in the cultural district. That measure was approved 10-to-1 with only then Supervisor Scott Wiener voting in opposition.
Should today's bill pass, that restriction, and others effectively blocking new bars and restaurants from sections of 24th Street, will become the law of the land—a happy resolution for one 24th Street business owner. 
"These regulations will mean protections for small mom and pop businesses and the preservation of the Latino culture including its food and products," Gabby Lozano, owner of L's Caffe on 24th Street, said in a press release. "The efforts of the Latino Cultural District will continue to benefit my business in many ways, where I won't feel forced out and will be able to keep my costs low for my clients that are of Latino background."