Bob and Linda Belcher's painted presence on the roll-up door of Rhea's Cafe (2200 Bryant St.) has disappeared as quickly as it appeared.
Four months after Sirron Norris, the former lead illustrator of Bob's Burgers, painted the tribute mural on the cafe's roll-up door, it's been covered up with gray paint.
The roll-up door had featured a mural by Norris for more than 15 years, but when it began to fade, he painted the mural of the Belchers over the work without getting approval. That irritated the building's owner and management group, said Rhea's owner and executive chef, James Choi. 
"When he went rogue [and painted over the original art], the owner and management group took it personally," Choi said. "[The owner] said he doesn't want to be affiliated with the copyright, [so] we had to take it down, or it would be in default of our lease without owner's approval."
Choi said the building owner decided he no longer wants artwork without prior authorization. "In my situation, I'm under contract, and I have to abide by the rules."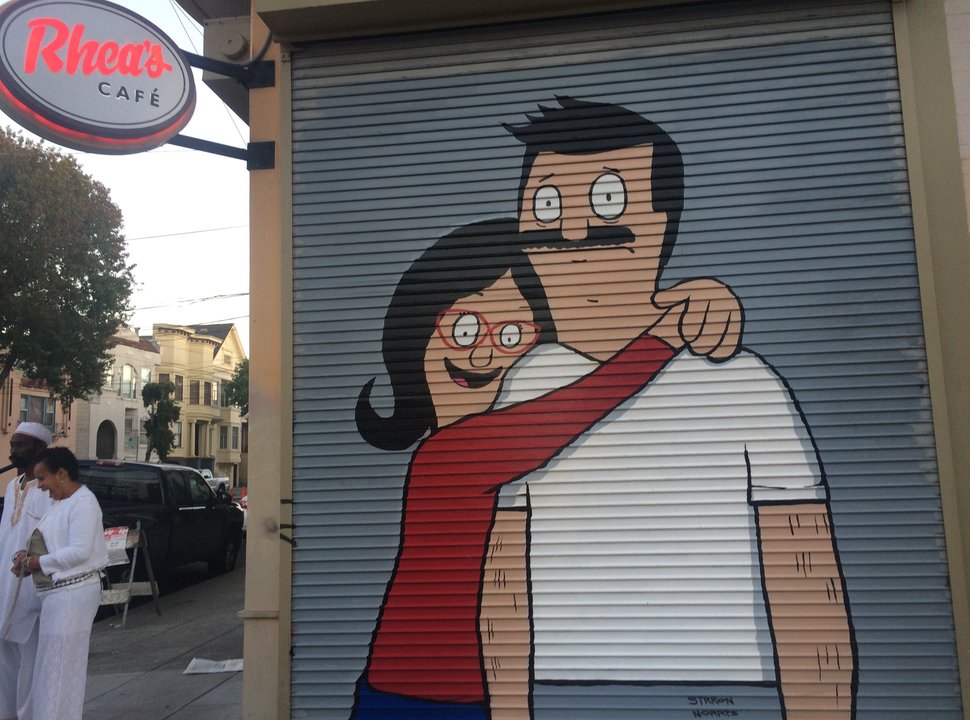 An anonymous tipster noticed the cover-up while it was in progress, and sent us the photo a. 
"[I] walked out of lunch at Blowfish on Bryant, and some fellas, including the owner of Rhea's, were outside painting over [it] in a dull, lifeless gray," the anonymous tipster wrote, noting that a neighbor from a third-story window yelled "What are you doing? Stop!"
"Nothing compares to the joy of discovering art on the street," said the tipster. "What a total disgrace."
Though Norris did not respond to emails, Choi said he has spoken to him.
"I talked to Sirrin a few days ago about how sad it was," Choi said with disappointment. "If we would've just taken the right procedures, it could've worked out."
Visitors to the corner of 20th and Bryant can still see Norris' art across the street at Norm's Market, where a mural depicts Norris' fantastical blue bears against a whimsical San Francisco background.
Norris' colorful street art can also be spotted throughout the Mission at Balmy Alley, 18th and Bryant streets, Clarion Alley, and 20th and Dolores streets, where he recently painted a new trio of murals on garage doors.