Two local nonprofits have secured grants to expand "living alleys" in Hayes Valley.
Friends of the Urban Forest has secured about $100,000 from the city to transform a portion of Lily Street into the neighborhood's newest living alley. And Build Public, the nonprofit arm of local developer Build, Inc., has secured $189,000 in city funds to make improvements to the existing living alleyway along Linden Street.
SF Planning defines living alleys as "urban living rooms" that prioritize pedestrians and bicyclists while keeping the streets open to cars.
As we've previously reported, the department kicked off the Market Octavia Living Alleys project in 2013, with hopes that coalitions of Hayes Valley residents, businesses and nonprofits would work together to spearhead small-scale alleyway improvement projects throughout their neighborhood. Throughout the process, Planning launched a toolkit to help local business owners and residents better understand the initiative, and a $1 million Community Challenge Grants fund to help fund proposals—up to $200,000 each.

Last year, Friends of the Urban Forest began working with residents of the 200, 300 and 400 blocks of Lily Street to develop a living alley plan for their alley from John Muir Elementary School to Octavia Boulevard.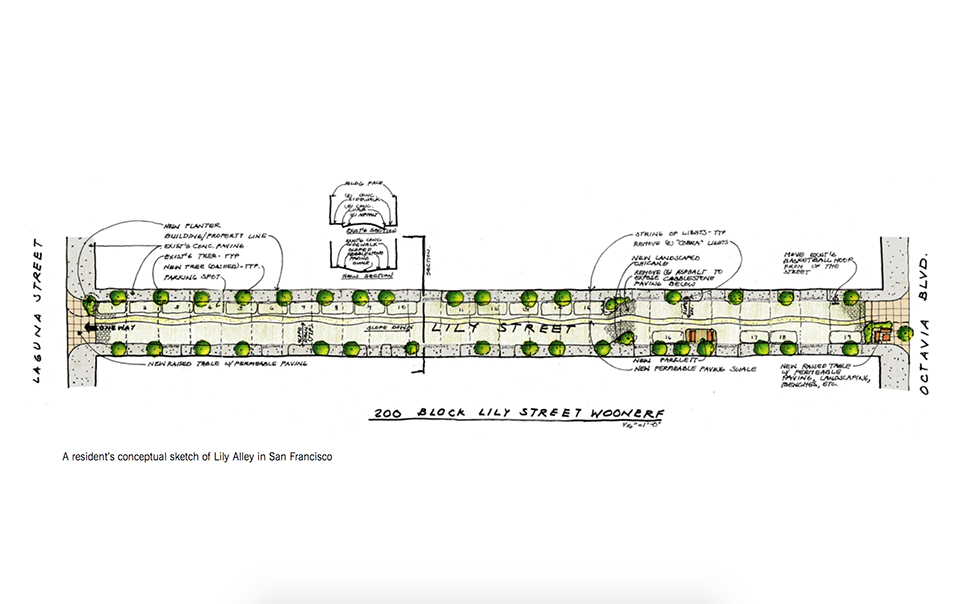 The application process can be challenging for neighborhood groups, as it requires submitting a proposal narrative, a five-year maintenance plan, a 10-year maintenance plan for any public art to be included, a project budget and many more details.
But that hasn't deterred the group. Throughout the past year, residents and the nonprofit held a living alley walking tour, a block party and community meetings to gather ideas and support for the proposal.

Design elements for the Lily Street project include installing fresh landscaping, including planting more trees and replacing old ones, painting the street and commissioning murals.
Over on Linden Street, Build Public is planning to spend their fresh funding on the 300 block, installing string lights, mobile seating, planter benches a still-to-be determined public art piece. Navigating city's permitting process and installing the improvements should take 12 to 18 months, a Build Public spokesperson said.
For neighborhood groups working on their own public space improvement proposals, it's not too late to apply for a Community Challenge Grant. A new grant cycle opened yesterday and closes Friday, March 24th.
The next award announcement will be issued in June 2017, Planning Department spokesperson Gina Simi confirmed.
San Francisco-based nonprofits and community benefit districts, as well as community and neighborhood groups, businesses and merchant associations, and schools with a nonprofit fiscal sponsor can all receive funding.