Just days after taking the oath of office, President Trump turned campaign promises to secure the nation's borders into political action—issuing executive orders to "immediately" build a wall along the US-Mexico border, escalate deportation of immigrants living in the U.S. illegally and ban individuals born in seven predominantly Muslim nations from entering the country.
Temporary relief came last week from U.S. Ninth Circuit Court of Appeals here in San Francisco, which upheld a block on the order. But as Trump contemplates rewriting the ban and deportation raids appear to intensify across the county, uncertainty remains. 
To take stock of how local immigrant youth and families are faring amid the political uncertainty that has ensued, Hoodline caught up with representatives from two local organizations supporting immigrants and refugees living in San Francisco as well as an undocumented South of Market mother.
A recent conversation with Julia Kessler, principal of San Francisco International High School (SFIHS), quickly revealed that while shaken by the executive orders, the Mission District school's focus remains on carrying on.
A member of San Francisco Unified School District, SFIHS was established in 2009 with a focus on serving the children of newly arrived immigrant and refugee populations. As a requirement to attend, all students admitted to SFIHS must have arrived in the U.S. within the past four years. Currently, the school primarily serves youth from Central America and China, along with a growing Arabic-speaking population, mostly from Yemen.
"With the election of Trump, the message that was sent to refugees and immigrants, including the many hardworking young people at my school, was that they're not wanted," said Kessler.
However, she applauded her students' commitment to their educations. "The students are taking the lead and reminding us that they're here to learn and take advantage of the opportunities that they've been given by arriving here."
Working in partnership with SFIHS is Refugee Transitions. From its offices in San Francisco, the East Bay and South Bay, the nonprofit assists refugees, immigrants and asylees from more than 50 countries. The organization's mission is to help newly settled families become self-sufficient.
"For many in our community, executive orders like this don't just potentially affect their status; they encourage discrimination," said Julia Glosemeyer, development and impact coordinator at Refugee Transitions. "Whatever the intention, the executive orders are interpreted around here as anti-Muslim and anti-Latino directives."
One undocumented single mother, who lives in SoMa, told Hoodline that the executive orders have given her a resounding fear of deportation.
Speaking anonymously due to her insecure immigration status, she explained that she emigrated from El Salvador to escape heightened violence and threats in her home country. Her young daughter, born in the United States, has full citizenship.
Since the new administration took office, "I worry about my situation, because I can't become separated from my daughter," she said.
Deporting the undocumented parents of underage U.S. citizens is not uncommon. According to a 2015 report from the Urban Institute, half a million parents of children who are American citizens may have been deported between 2009 and 2013. The vast majority of them were fathers.
In 2011, racial justice advocate Applied Research Center (now named Race Forward) found that 5,100 children across 22 states were placed in foster care after their parents were deported.
To combat her fears, the undocumented SoMa mother told us she's sought further information. "I've become more informed from following the news and learning about the rights that one possesses in this country."  
Refugee Transitions is one of the local organizations offering support. According to the position statement it published on its website February 1st, the organization's first priority is "to equip volunteers—and in turn, the students and families they serve—with the ability to understand their rights, as well as ways to access critical local resources and service providers."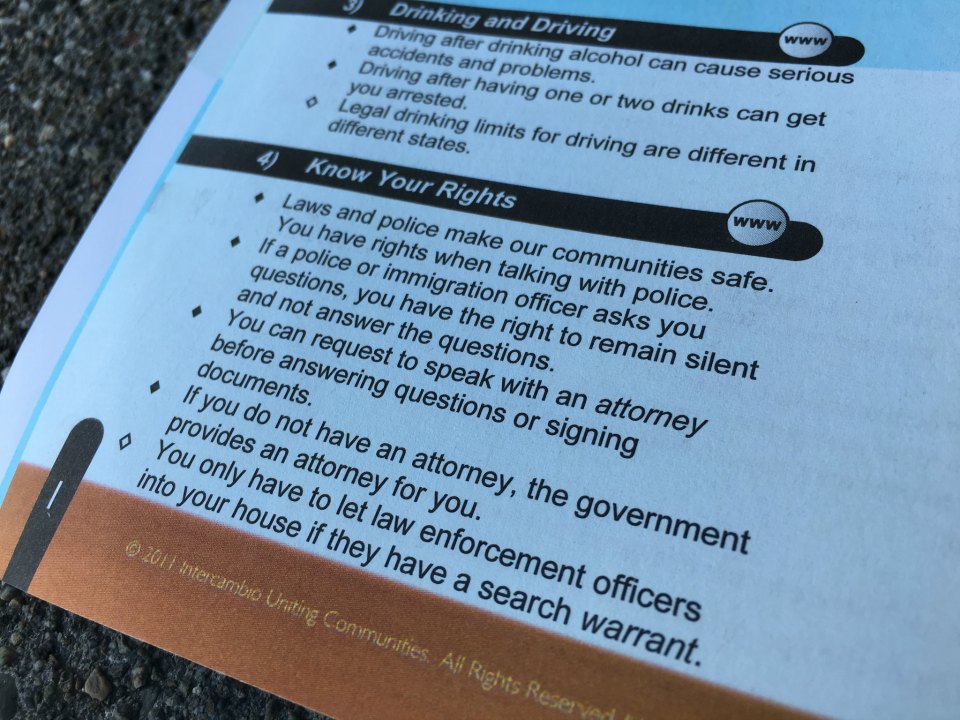 Despite changes in policy, Kessler notes that uncertainty is nothing new for local immigrant communities. "The populations we serve are used to a sense of uncertainty, due to pending status or lack of documentation."
For those looking to support refugees and immigrants in San Francisco and beyond, Refugee Transitions offers guidance here.