Last Friday, we had the chance to sit down with new District 8 Supervisor Jeff Sheehy, who was appointed and sworn in by Mayor Ed Lee in January to replace Sacramento-bound State Senator Scott Wiener.
Sheehy, a past president of the Harvey Milk LGBT Democratic Club and the former communications director for the UC San Francisco AIDS Research Institute, is the city's first HIV-positive supervisor, and a longtime advocate on HIV/AIDS issues. He's also the only current member of the Board of Supervisors who identifies as LGBTQ. 
With a limited time slot, we didn't get to ask him all of our questions (or yours), but here's what he had to say:

In three words, how would you describe your first month and a half in City Hall?
Humbling, exciting, inspiring.
Of all of the people whom Mayor Lee could have appointed to this position, why do you think he chose you, and why did you say yes?
That's a question for Mayor Lee.
Why did I say yes? One is really Trump. His election was a call to action. As an activist, I felt like I had to take a stand, and that I had to be part of the resistance. We need to think of ourselves as being part of a national and global movement, because what's happening is horrifying.
Another reason was directly related to HIV. Scott [Wiener] had been such a champion for long-term survivors. He had taken up that issue, and that's my community, that I feel a very deep connection with.
The community of survivors has experienced so much trauma and so much loss. We're so central to the creation of San Francisco.  Yet, these folks who fought, survived and resisted still have needs. We need to have someone focused on HIV issues on the board, because one in five gay men in San Francisco are HIV-positive, which is a staggering statistic.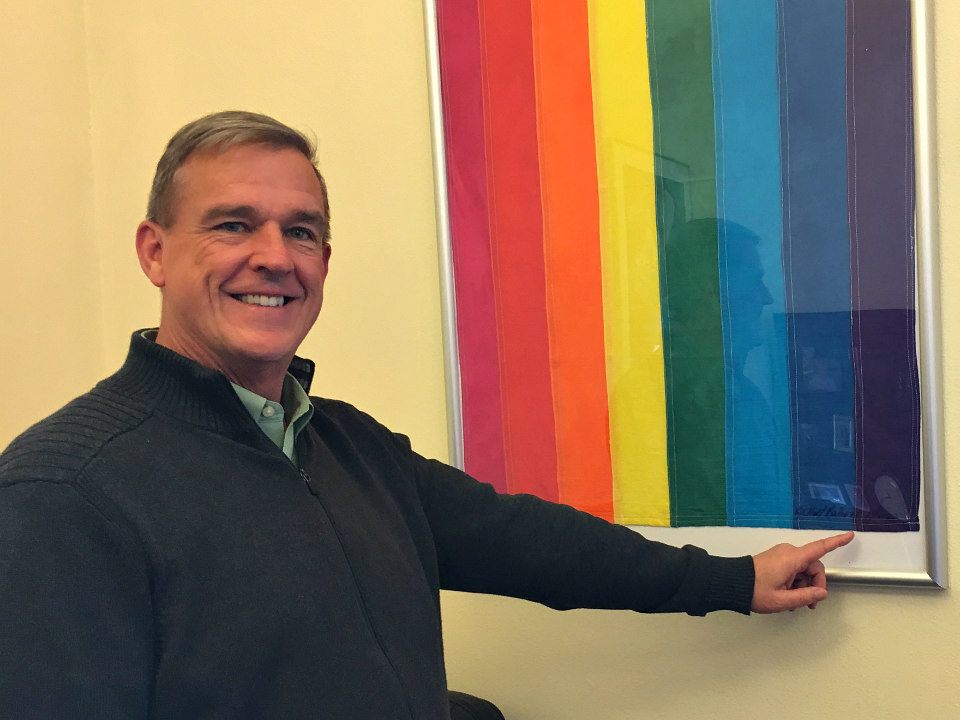 Not having been involved in politics for a dozen years, I'm coming in as an outsider. It felt like there was a lot of infighting and a lot of divisiveness in city politics and that a lot of issues weren't really being dealt with pragmatically. They were always being approached in an ideological frame, and that kind of colored people's solutions.
I'm friends with moderates and progressives, so my view is that being an independent is a good thing. Plus, I'm someone who looks at [city politics] from a neighborhood perspective, as someone walking the streets of San Francisco dealing with the problems that we have in the city. And frankly, I think about my [11-year-old] daughter. She needs to have a clean, safe, healthy city that works.
A lot of our readers feel as though San Francisco is changing. How do you think the city has changed?
It's dramatic. Within my community, when I first got here, almost all of us were refugees. We came here because this was a place where we could authentically express ourselves and be ourselves. It was safe for many of us who came from places where it wasn't safe.
But now, it's more like a lot of people come here—lesbian or gay—and they graduated from Harvard or Yale as lawyers, doctors, and tech moguls, and they can live anywhere in the country, but obviously because San Francisco is such a mecca, they come here.
I came from a place of oppression, and I think for a lot of people who got here around the same time as I did, we were always looking to create social justice. Now, there's not that sense of urgency or need to fight for social justice. It's more like 'Man, this is a great place to live.' There's not really a recognition of the work that still needs to be done, or the work that took place in the past.
Rainbow flag creator Gilbert Baker's provocative art installation. Have we been here before? Remember Berlin 1933? pic.twitter.com/9rLktbN86q

— Jeff Sheehy (@jeffsheehysf) February 18, 2017
The affluence is just staggering. When I first got here in '88, San Francisco was not oozing wealth out of its pores. Now, there are a lot of people who are very wealthy, a lot of people who are really poor, we have a shrinking middle class, and we're losing a lot of the people who built San Francisco and made it such a fabulous place. So it's changing.
Having said that, change is inevitable, and cities are living organisms. But having unbridled change and not taking into account the communities that have been here makes it very hard on folks.
What are your top two priorities for your work at City Hall?
Number one has to be dealing with Trump. With everything that's been happening, we all have to collectively be thinking about and acting in ways to resist Donald Trump and his administration, because community after community is going to be targeted. 
And that kind of eases me into the second basket of issues: the Affordable Care Act and sanctuary cities, and how they impact the budget. I'm on the budget committee and the subcommittee of the budget committee, which are looking at how we can respond to these kinds of threats, if and when they should come down.
The other issues I'm trying to dig into relate to public safety. With the mayor, I'm looking at trying to introduce a neighborhood safety plan, because we've seen an increase in break-ins and burglaries. Part of the solution obviously has to be having officers walking the beat, but we have to look at other solutions, too.
Powerful Town Hall w Leader Pelosi #protectourcare pic.twitter.com/8fApGF68Y1

— Jeff Sheehy (@jeffsheehysf) February 18, 2017
It's not just about police, it's also about mental health, and working with the Department of Public Health and a range of city agencies to come up with something that's comprehensive—not just going to the police chief and saying, "OK, I need you to put X number of cops in the Castro."
One thing I would like to do is to go beyond the charter on the number [of police officers] we have. That was put in there at a time when the city was frankly much smaller, and before it was less congested. I'd like to continue to graduate classes [of officers] until we have as many as we need to have adequate coverage in the city.
The number-one question we received from our readers was concern over homeless issues in the Castro. In your opinion, what strategies are and aren't working, and what fresh perspective do you think you'll be able to bring to addressing this problem?
I think that a lot is not working. One of the things that people are really concerned about—and I feel it myself when I take my kid around—is people with severe behavioral health issues who are obviously whacked on substances or exhibiting severe mental illness. That's terrifying.
I do think that DPH's increase in beds with the Hummingbird Navigation Center at SF General, for people who are struggling with behavioral health, will help, but that's something I want to keep pushing the system to address.
Also, I don't like having encampments in the district, and I'm trying to figure out how to make that not happen. I think that's complicated by Prop Q, because you've gotta give 48 hours notice, and then they go across the street. But I've been talking to Public Works and I've been talking to my captains to try to get movement on that issue.
At SFO, all 5 detainees released. Steadfast protesters successful! pic.twitter.com/XsKa0OmCA9

— Jeff Sheehy (@jeffsheehysf) January 30, 2017
I met with the neighbors that are around the library, because they have such problems with homelessness and bad behavior. We're working to get officers stationed there, because that whole area around the library is not acceptable. Public Works is working on some redesigns, which they're in the process of doing, to make it less hospitable for people to camp.
If you talk to folks in the Haight who have had some success with the type of policing, Captain Sanford has specific officers who are assigned to deal with homelessness, and try to enforce sit-lie in some fashion. I wonder if that success is actually turning people towards my district.
With all of that said, the real fundamental underlying problem is that we don't have the money that we thought we had. Apparently, Jeff Kositsky has a plan, but we didn't get the $50 million promised to implement the plan, so I think that that remains an ongoing problem.
Our readers also asked how they can share their concerns with you? Are you considering hosting a town hall meeting to hear from your constituents in these early months? Would you consider hosting regular meetings in the future?
Right now, I've been meeting with small groups of people, so I can hear specific concerns. At least for now, I want to go and hear the concerns of people who have organized themselves. This is such a well-organized community, and the social capital is so high.
I'm trying to cover as much ground as I can, talking to groups of people so that I can identify specific concerns and concerns that span across the district. I'm really trying to focus on specific problems, so I can work towards specific solutions across the district.
A town hall is a great idea, but that might be something I work towards. It's a big district.
One of Sup. Sheehy's aides told us that the best way to contact the supervisor to get "an immediate response" from him is to call (415) 554-6968. If you want to invite him to an event, email [email protected].
If you're a District 8 constituent and have a "non-urgent" matter, you are encouraged to submit this online form.