Thousands gathered on Ocean Beach this morning to send a clear message from the Bay Area to President Trump. A diverse crowd of people stood on the beach to form the word "RESIST" along with two exclamation points.
The activists then stepped forward to the edge of the Pacific Ocean to form a "wall of protection" for refugees—meant to be a statement against the wall the president intends to build on the US-Mexico border.
People began gathering on the beach at 10:30am. Some using their own feet, volunteers began to etch the message into the sand. People then chose a letter and stood inside as drones, timed to photograph the formation at noon, flew overhead.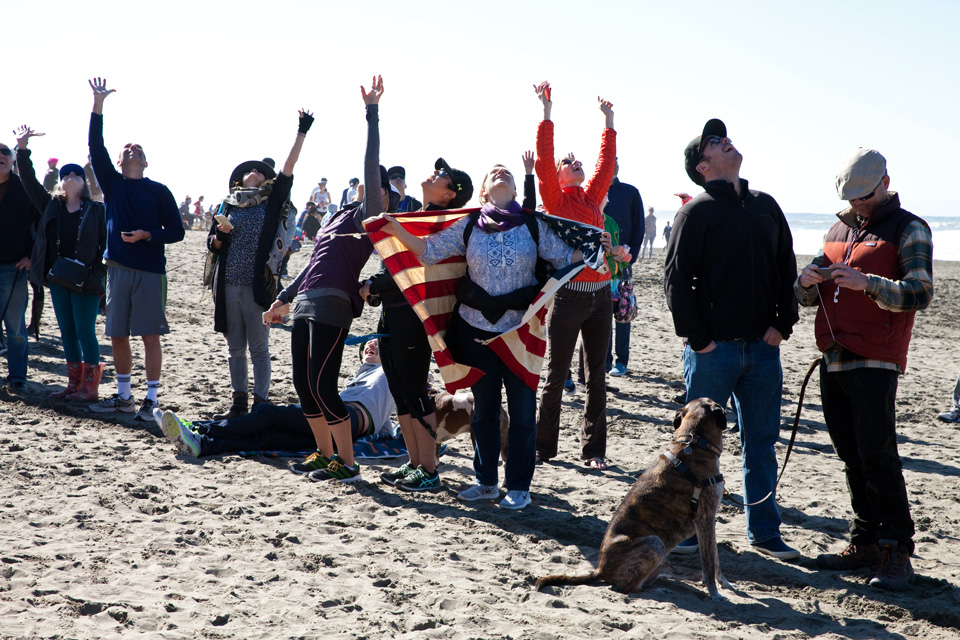 The event, dubbed Resist Trump—NOW!, was organized by Brad Newsham, who, in 2007, organized a similar Ocean Beach action calling for the impeachment of then-President Bush. 
"I'm here as part of the resistance," Joy D'Ovidio told Hoodline as she joined the formation. "I'm here to protect human rights, civil rights and social justice for all. And to be a beacon for those around the world. We are not like anybody who is in the executive branch of government."
D'Ovidio carried a painting of a woman with a bow and arrow. "Resist" was written through the center of the canvas. The piece was created by Robert Hunt, who teaches at the California College of the Arts, she said.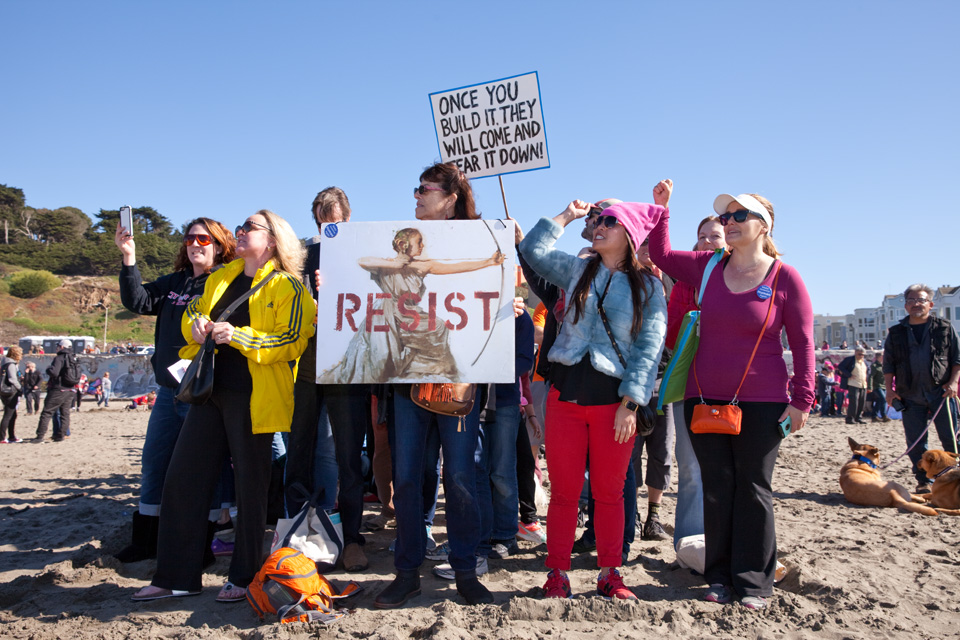 "I think it's important to send a message to a president who thinks science isn't real," said Tammeil Gilkerson, who stood next to D'Ovidio. "It's ludicrous; our own scientists tell us that global warming is real."
Matt Holden, a native Australian, was inspired to attend after President Trump exchanged harsh words with Australia's Prime Minister Malcolm Turnbull. Holden wanted to assure Americans that the two countries remain friends. 
"The bond between the USA and Australia goes back 100 years," he said. "We're very close, and we feel a strong affinity with Americans."
Others found creative ways to express their resistance to the new administration. Barbara Liu-McDowell came dressed as the iconic Star Wars character Princess Leia. It was the princess who led the resistance in that long ago, far away galaxy.
"I couldn't resist," Liu-McDowell said of her costume.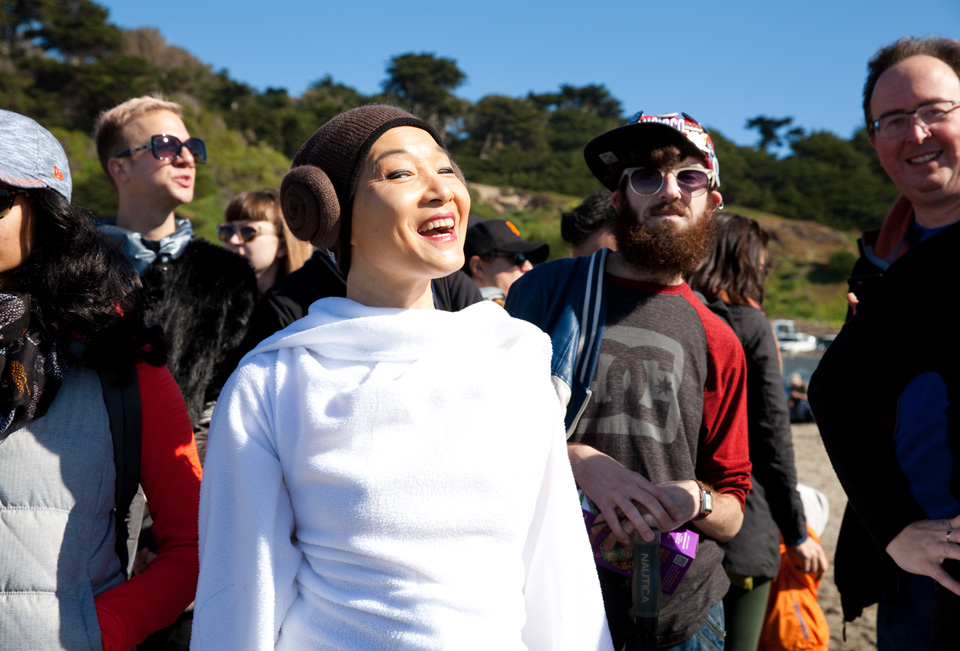 Though determined to make their statement, participants were in a joyful mood, all united in their opposition to the president. Many held up signs with statements like "Love Trumps Hate" or "Build bridges, not walls." Some signage proclaimed support for refugees, a direct reference to the president's still blocked attempt to ban refugees from seven predominantly Muslim countries.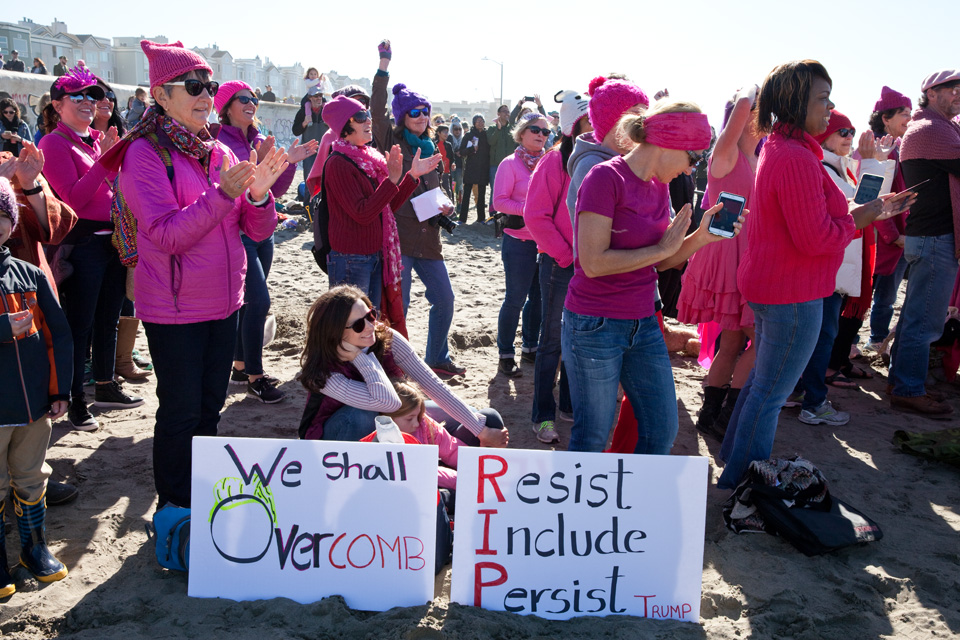 Lifelong friends David A. Diaz and Shelley Sandusky attended together. The pair wanted to be sure that San Francisco's LGBT community was represented in the Ocean Beach formation.
Diaz was wearing a wool hat and scarf, which were decorated in the iconic Rainbow Flag colors.
"I'm here representing my gays," he said, noting that he had worn the same cap and scarf at the recent Women's March. "We have to continue the opposition. It's throwing Trump off his game." 
"We need to tease him out of office," added Sandusky.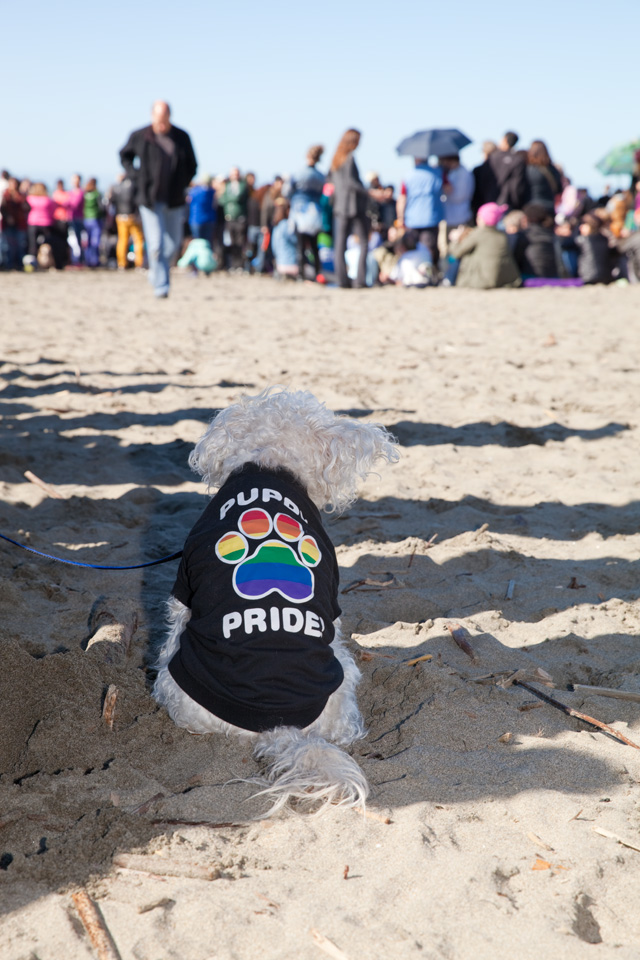 Attendees and passersby cheered as the drones took photos of the "Resist!!" formation.
Dr. Manuel Karell, a retired physician who graduated high school in 1960, told Hoodline that this was the first protest he had ever participated in. Now an artist, Dr. Karell handed out buttons, depicting two hands folded together. One hand was white. In the other hand, each finger was the color of a different race.
Scroll on for more shots of today's rally.