Chariot may currently be the only game in jitney-style private bus services in San Francisco, but the city is hard at work on new laws to regulate the company—and any others like it that might spring up. 

As the Examiner reports, the SFMTA revealed the new regulation plans at a Citizens Advisory Council meeting earlier this month. 
The possible new guidelines include a city review of routes and stops, the introduction of fees and administrative penalties, and regular vehicle safety inspections. The city could also require driver safety trainings and documentation of bus GPS and ridership data.
Officials are also considering requiring private bus services to agree to state labor standards, with mandatory equal access for people with disabilities. The SFMTA also said that the use of Muni bus stops for the services would not be allowed.

Jitneys—publicly accessible private buses or other vehicles carrying passengers for a fare—are nothing new in San Francisco. They first launched in the city nearly a century ago, but after decades of popularity, ridership began to decline in the 1970s. The city's last historic jitney operator went out of business last year.
Chariot, which was purchased by Ford last year, represents a new incarnation of the concept. The San Francisco-based shuttle-van startup also operates in Austin, Texas, and Lake Tahoe, and plans to expand to eight new cities this year.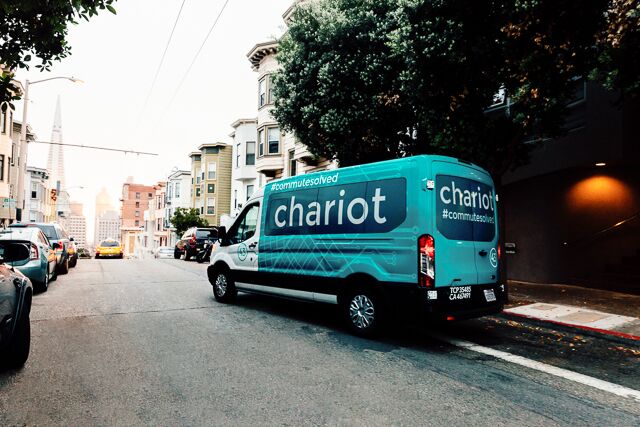 According to Chariot's website, the company currently runs 11 public routes in San Francisco, taking commuters from far-flung neighborhoods like the Outer Richmond, the Upper Haight and the Marina to drop-off points downtown and in SoMa. A single ride costs between $3.80 and $5, and unlimited monthly passes run $119.

San Francisco transit officials said that the new regulations for Chariot and similar services would allow them to examine whether private bus services take away Muni riders or if they provide wheelchair access.
It would also give them expanded ability to address neighborhood concerns about the buses, including the blocking of active bike or travel lanes, or using Muni bus stops without permission. 
If you're interested in learning more about Chariot and other emerging forms of transportation in San Francisco, consider attending an upcoming panel discussion at the Mechanics' Institute, curated and moderated by Hoodline's Walter Thompson.
Chariot CEO Ali Vahabzadeh will be featured, along with State Senator Scott Wiener and Medallion Holders Association president Carl Macmurdo.