This story was originally published on OpenSFHistory, a program created by the nonprofit organization, Western Neighborhoods Project, to share with the world historical photos gathered by private collectors.
---
Young men traveling to California in 1849 for the Gold Rush called the experience "seeing the elephant." The expression comes from signs at traveling shows that entreated crowds to take the opportunity (and pay the price) to view the world's largest land animal up close. Forty-Niners back from the Sierra foothills, poorer in the pocket, used the phrase ruefully to convey experience obtained at great cost.
Above are a couple of real elephants one could see, likely for a reasonable price. Power's Dancing Elephants performed as part of Keith's Vaudeville show at the Golden Gate Theatre in 1925 and 1926. A San Francisco Call photographer probably took the publicity shot above.
William Walter Power's elephants originally appeared in the Walter L. Main Circus and transitioned into a vaudeville act in the early 1900s. The pachyderms, all female Asian elephants, worked the Hippodrome Theatre in New York City, and some sources claim the show was the first American elephant act on an indoor stage. "Lena," "Jennie," "Ada," and "Lou" played baseball, bowled, and danced to whatever was in fashion, from the waltz to the Charleston. Power's Dancing Elephants traveled around the world from San Francisco to Spain and beyond for forty years. (See the comments on this thread at thecircusblog.com for more.)
Getting elephants across oceans couldn't have been easy, and we have this photograph (with no other information) to show that it probably wasn't the most pleasant experience for the poor creatures.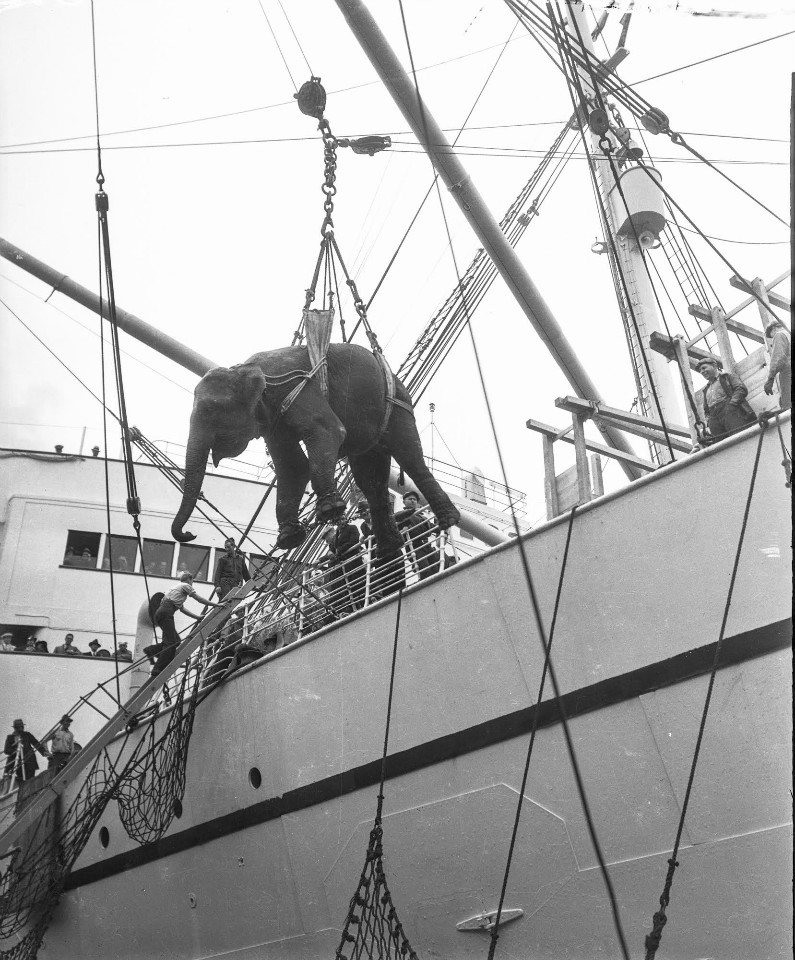 Golden Gate Park's Children's Playground used to have an elephant ride attraction. The animals spent their off-work hours in an enclosure nearby where the Park Nursery and Maintenance yard is today. In 1926, as "Babe," "Margy" and "Virginia" were headed back from the playground, they were startled by a streetcar and made a dash through the Inner Sunset District before being captured in Mrs. Pachtner's flower beds at 1248 15th Ave.
Elephants are long-lived, highly intelligent, and sensitive creatures and, despite what many of my circus friends may argue, I think they are probably happier and healthier not being poked with hooks to do tricks for humans, or, in the case of zoos, standing in a concrete pen for decades. Public attitudes are changing on elephantine captivity and entertainment.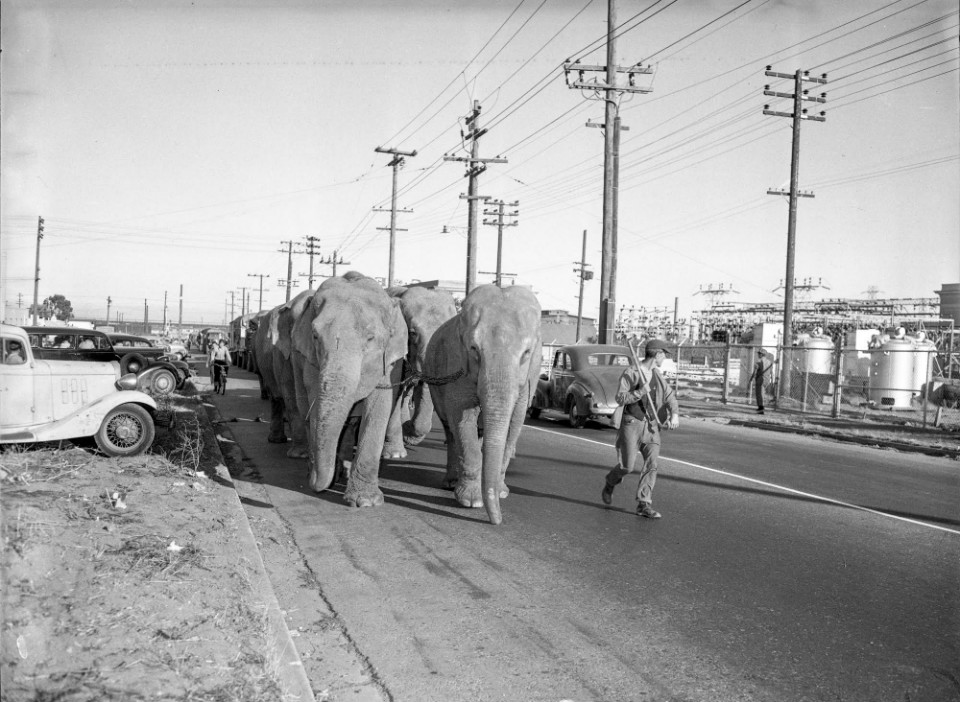 After a couple of notable deaths, the San Francisco Zoo removed the last of its elephants in 2005. The city's Board of Supervisors mandated the zoo couldn't get another pachyderm unless it was provided with 15 acres of roaming space. Then, in January 2017, Ringling Bros. and Barnum & Bailey Circus announced this was its last season. Animal rights activists had picketed, protested, and petitioned for the end of animal acts in the show. When the company cut the elephants last year, business dropped off too far.
An opportunity to see an elephant in San Francisco, much less in your flower garden, is likely not to come again.
---
See more stories and historical photos at OpenSFHistory.org.