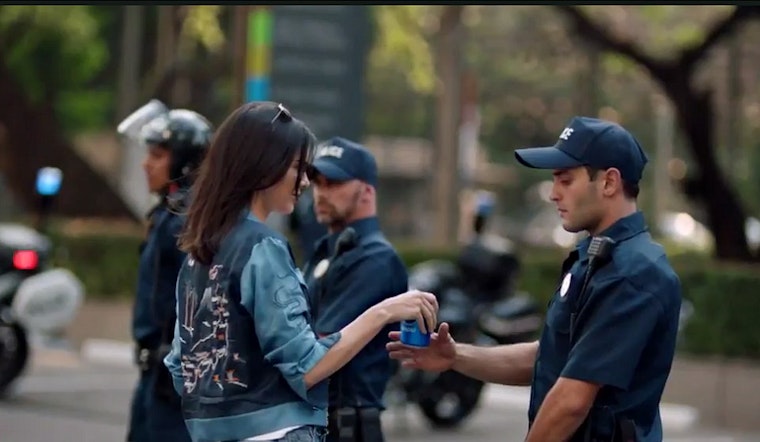 Published on April 07, 2017
Just as the world thought it could move past what some have dubbed Pepsi's "Pretty Lives Matter" ad, in which Kendall Jenner hands a police officer a can of soda at a rally, TMZ has reported that the commercial may have stepped into illegal waters by using the SFPD logo—without permission from the City of San Francisco.
In a behind-the-scenes image shared by TMZ, a logo resembling the SFPD logo is clearly visible on one of the police officers' uniforms. However, in the full-length ad available online, no such shot appears to be included.
Hilarious: tone-deaf Kendall Jenner Pepsi ad used @SFPD patches. Pepsi, don't you know SF has a soda tax?! https://t.co/fGottKlZWl

— Vivian Ho (@VivianHo) April 7, 2017
When asked by Hoodline if Pepsi had received permission from the city to use SFPD's emblem in its ad, City Attorney Dennis Herrera had this to say:
"Pepsi did not have permission to use the San Francisco Police Department logo. We're demanding that Pepsi not run any footage or photos associated with this ad that reference the San Francisco Police Department. If they don't comply, we will explore all legal options. There is nothing San Franciscan about Pepsi's ham-handed attempt here to fatten its own bottom line."