Finding bubble tea in San Francisco is easy, but finding places that make the tea fresh right in front of you is hard to come by.
Enter Emil DeFrancesco, a New York transplant who recently opened Steap Tea Bar at 827 Sacramento Street in Chinatown. He wanted to make his own drinks so customers can experience something similar to what people in Taiwan taste when they drink bubble tea.
Most bubble tea (also known as boba and pearl milk tea) is made with flavored powders. DeFrancesco wanted to do something different—he wanted fresh ingredients and customers to see their drinks being made.
"Tea is so versatile; there is nothing else like it," he said.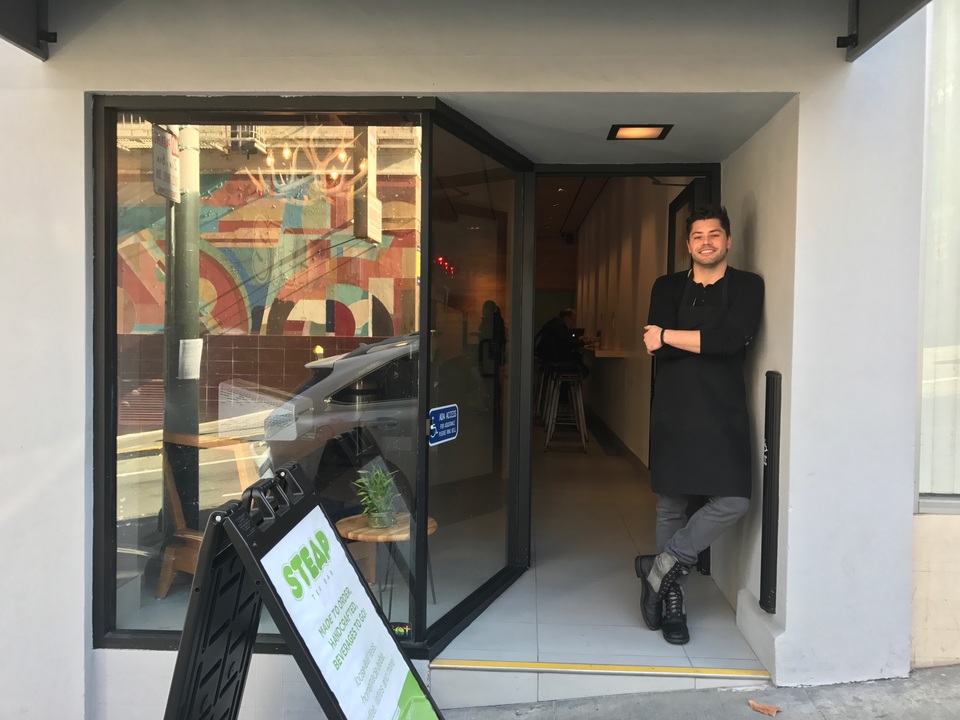 He first started thinking about opening his own bubble tea joint three years ago, after a friend took him to a small boba place in Chinatown. Despite the competition from the many other bubble tea shops in the area, the native New Yorker was attracted to Chinatown because it reminded him of home.
"Chinatown has the vibe, energy, and hustle and bustle that reminds me of New York," he said.
DeFrancesco spent two years perfecting the main tea product before opening the shop in late January. His bartending background—he first started in 2006 and has been mixing drinks on-and-off ever since—helped him develop new tea drinks.
"The mixology background helps me serve people drinks all day for kids, adults, and everyone in between," he told us.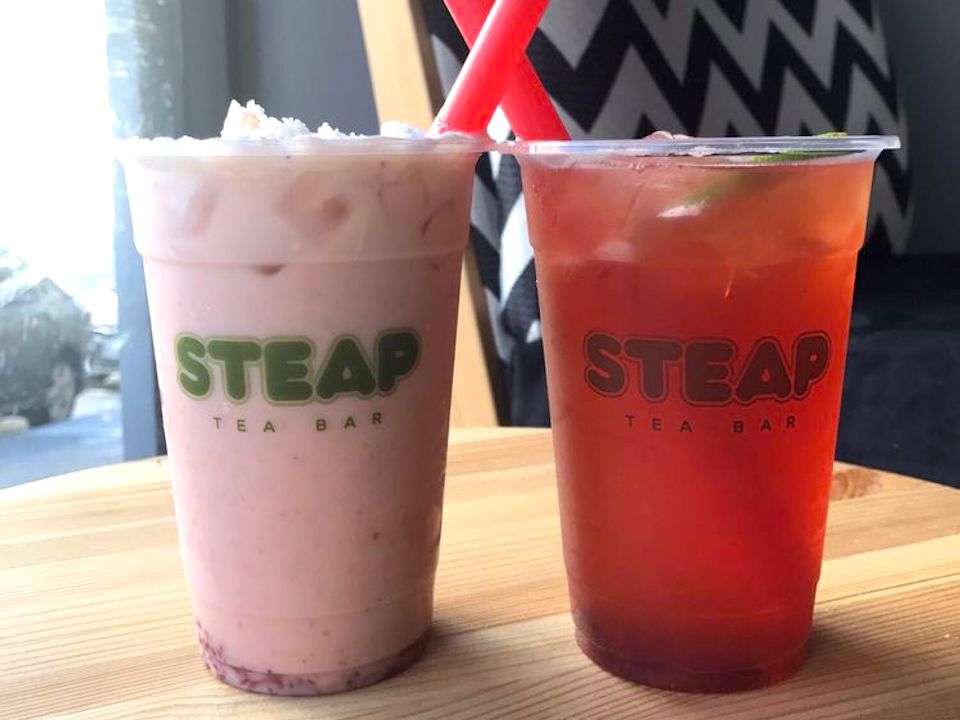 To keep things fresh, Steap Tea Bar sources most of their teas and ingredients through a business partner from Taiwan. DeFrancesco also makes most of his toppings, including tapioca boba and coconut shavings, from scratch, daily.
"If you want good boba, you have to make it fresh," he said. "I change it out every three to four hours. I make my tea jelly in-house, traditional style."
The biggest challenge for DeFrancesco wasn't developing drinks, but navigating San Francisco's notoriously tough process to launch a small business.

"Rent is expensive," he said. "The build-out and permits took longer than expected. Usually the build-out process takes six months, but for us, it took one year."
The silver lining was that DeFrancesco could focus on the whole picture, including drink development, the space's modern design, and even the soundtrack, consisting mostly of old-school R&B tracks.
For now, Steap Tea Bar offers a limited menu. Customers can build their own or choose from the cafe's signature bubble tea drinks, which includes more traditional offerings like jasmine jade (jasmine green tea, honey, and lime) or DeFrancesco's inventions, like pink kitty (strawberry and lychee syrup and muddled lime).
He also tells customers to keep an eye out on Steap Tea's Instagram to find secret menu items.
Steap Tea Bar is located at 827 Sacramento Street in San Francisco. The shop is open 11am-7pm Tuesday through Friday, 12pm-9pm Saturday, and 12pm-5pm on Sunday. Steap Tea Bar is also currently available for delivery on Postmates and Caviar.