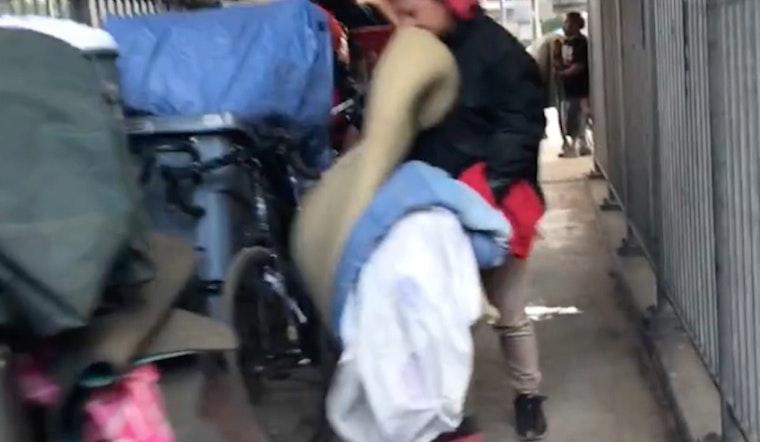 Published on June 30, 2017
Cyclists from several neighborhoods in southeast San Francisco have recently expressed concern about the expansion of homeless encampments along the narrow bike lane through the Chavez/101 "Hairball" interchange.
The bike path is the only safe route for cyclists who need to traverse 101, but today it's nearly impassable.
Neighbor Angela from Prospect Ave. in Bernal Heights uses the bike path daily, and sent this email to several local officials, including District 9 Supervisor Hillary Ronen, District 10 Supervisor Malia Cohen, Department of Public Works chief Mohammed Nuru, and SFMTA chief Ed Reiskin.
Neighbor Angela writes:
Dear Supervisors and SF Public Works and CalTrans:
The bike path along Cesar Chavez St, under the 101 freeway (both eastbound and westbound) is nearly unpassable for bikes due to the tents, tarps, junk, garbage and animals that have taken it over.

This is a dangerous situation for the bicyclists, people and pets that are there.

There is no viable alternate route for bicyclists from the Mission/Bernal Heights/Glen Park/Noe Valley to CalTrain and eastern parts of the City. Riding on the street with cars under the overpass is also extremely dangerous.

I live in Bernal Heights and ride my bike every day to get to CalTrain to go to Palo Alto. This is what my morning commute is like:
What you don't see is the big puff of crack smoke the first woman on the left exhaled just as I rode by.

I have registered requests for enforcement and complaints with different City services, but I find the cases get closed with no action taken.

While I do understand the complexities of the situation, leaving the bike path in this state is untenable. Please find a way to join forces to address this issue as soon as possible.

On behalf of all the bicyclists who just want to ride safely, thank you.