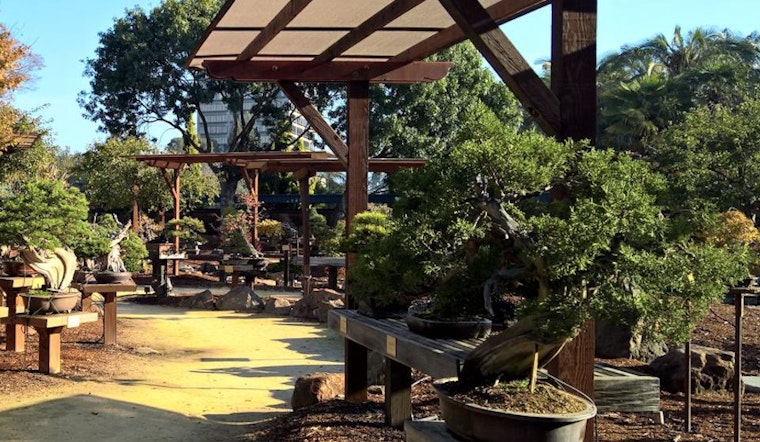 Published on June 20, 2017
Currently undergoing renovation, The Bonsai Garden at Lake Merritt is a living museum that takes up most of an acre. With a rotating seasonal display of bonsai, the peaceful garden definitely qualifies as one of Oakland's hidden gems.
Visitors enter through the historic Mas Imazumi gate — designed and built by  local bonsai teacher Hiroshi Sakaguchi — that uses no visible nails, screws or glue. Reportedly, it's built to last a century.

"The weather that we have here in Oakland is just marvelous for growing bonsai trees," said Bob Gould, the garden's director of facilities.
The garden has begun a Garden Revitalization Opportunity (GRO) project with help from donations and grants from the Golden State Bonsai Federation and Walter & Elise Haas Fund.
Some of the money will be spent on benches for the trees to rest on; an overhead watering system that replaces a drip-irrigation system is 25 percent completed. "The overhead system is a better new system that cleans any dust and debris off the top of the plants," said Gould. "It's like rain water and then waters the root system."
A Daimyo oak tree dates back to the Lincoln administration. According to legend, Lincoln sent an envoy named Burlingame to China to develop trade relations in 1863.
On the journey, he stopped in Japan and was gifted with this Daimyo Oak, which he gave to a Peninsula family named Gotcher. (The envoy also purchased some land that still bears his name.)
The tree is about 150 years old; garden curator Kathy Shaner has placed red "do not cut" tags strategically around the specimen.
The oldest tree in the garden is a juniper from the Tehachapi mountains in Southern California that's about 1,600 years old. Located right at the edge of the Mojave Desert, the area receives little rain and has poor soil that's not good for much of anything, Gould said.
"The main thing that's in this area are these California Junipers," he explained. "They seem to be able to handle that area and that climate." 
Another prominent bonsai is a Japanese Black Pine that arrived in the United States with the 1915 Panama-Pacific Exhibition in San Francisco. "The Japanese at that time said it was over 300 years old. So we say it's over 400 years old now," said Gould. "We don't really know the exact age."
The garden is still raising GRO funds; so far, 51 donors have contributed $35,386 of its $100,000 goal.
The Bonsai Garden at Lake Merritt (510-763-8409)is open from 11 to 3 Tuesday–Friday, 10 to 4 on Saturday and from noon to 4pm on Sunday. Admission is free.