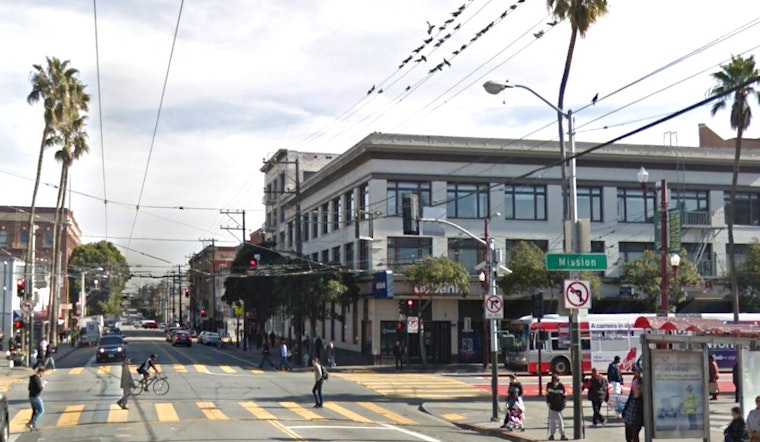 Published on July 25, 2017
On Monday, SFMTA announced detailed plans for the 22-Fillmore Transit Priority Project. Through 2020, riders, drivers and pedestrians can expect to see changes to a two-mile corridor of 16th Street.
Each day, 17,000 riders take the 22-Fillmore line; with the upcoming improvements, SFMTA intends to make it safer to walk and bike along the route and increase reliability of the bus service.
Changes include transit-only lanes, sidewalk extensions, transit boarding islands, accessible pedestrian signals, and tree and landscaping upgrades.
SFMTA said that these safety changes are necessary since 16th Street is considered a high-injury corridor—one of the 12 percent of the streets in the city where more than 70 percent of all severe traffic collisions occur.
As part of the city's Vision Zero goal to end traffic deaths, safety improvements have been prioritized for the corridor.
While some of those changes won't be implemented before 2020, a few will come as soon as this summer and fall. SFMTA reported is already working on painted safety zones, and will soon finish moving bike lanes from 16th to 17th Street.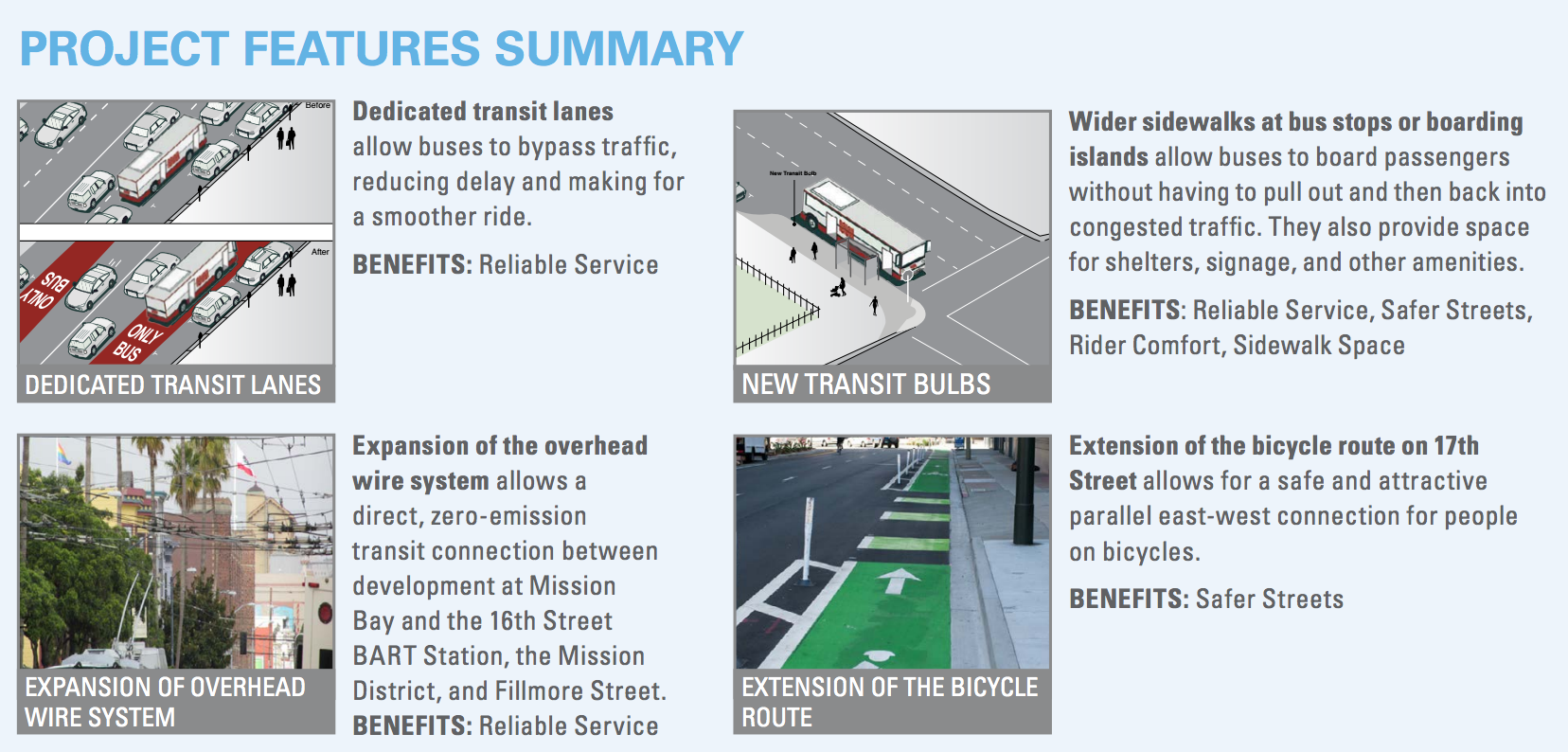 Work planned for this summer
Left-turn restrictions are coming on eastbound 16th St. at Alabama, Florida and Bryant streets to reduce collisions and congestion.
A one-block bike lane gap is expected to be closed on 17th St. between Kansas and Rhode Island streets. This is the final step in completing moving bike lanes from 16th to 17th streets between Kansas and Mississippi.
What to expect this fall
To improve efficiency and reduce travel times, SFMTA will remove two closely-spaced 22-Fillmore stops on 16th at Vermont St. (westbound) and at San Bruno Ave. (eastbound).
Transit-only lanes are coming to 16th St. between 3rd St. and Potrero Ave. in both directions. However, lanes will not be painted red until 2020.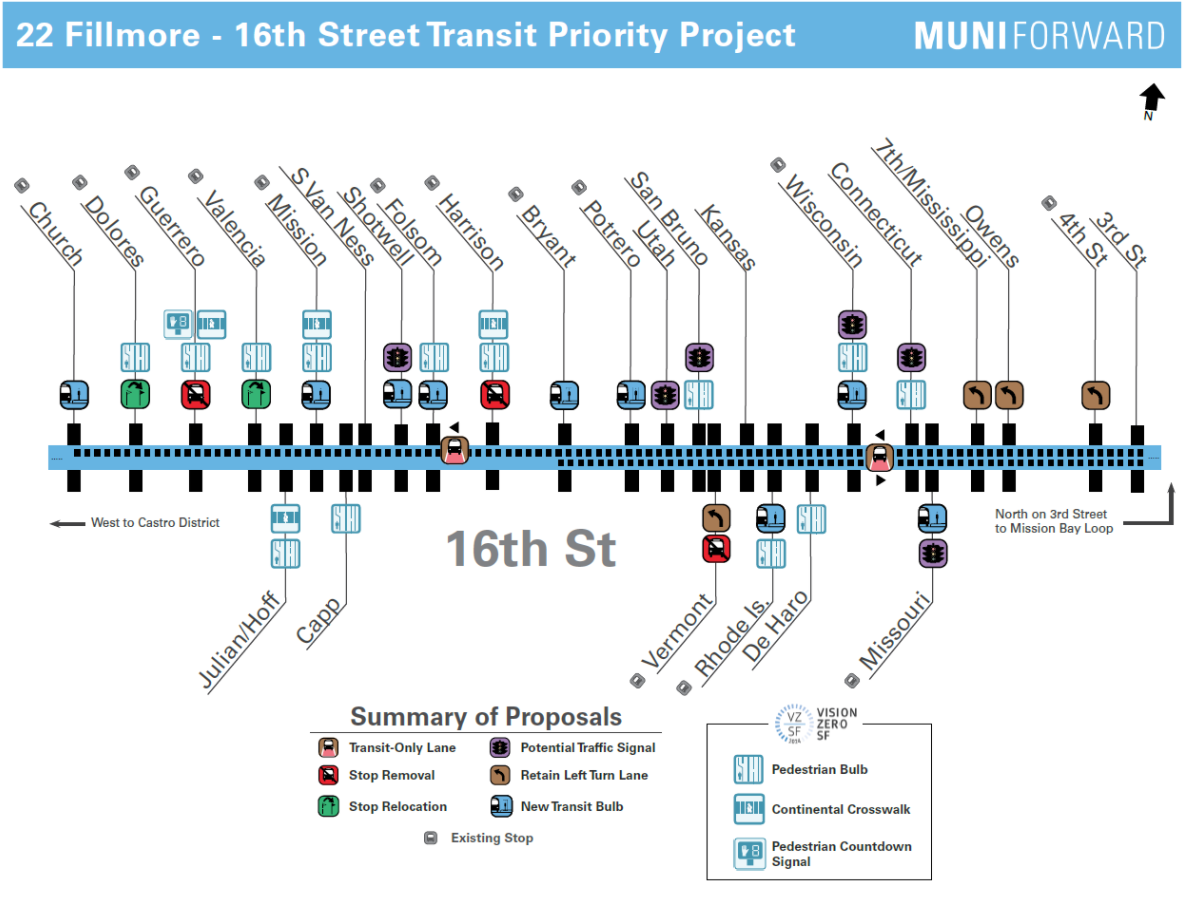 Changes from spring 2018 to 2020
To serve new housing, hospitals and the Warriors arena in Mission Bay, the 22-Fillmore line will shift north from its current location in the Dogpatch neighborhood. After infrastructure upgrades are completed in 2020, the 22-Fillmore will also serve the current temporary 55-16th Street route.
Riders can expect bus stops to be removed at three intersections: 16th at Guerrero, Harrison, and Vermont streets. Other stops will be relocated to the far side of the intersection at 16th and Dolores streets, as well as 16th and Valencia streets.
Work also includes six new traffic signals. Left turn lanes will be retained at four intersections, while new transit bulbs will be installed at ten intersections.
Pedestrians will also see new work, with pedestrian bulbs heading to 13 intersections, and continental crosswalks installed at four intersections.
To stay updated, SFMTA recommends that neighbors and commuters visit the 22-Fillmore Transit Priority Project page and sign up for project updates.