Locals and tourists alike have been lining up to eat at Cole Valley mainstay Zazie for a quarter of a century. From 2000 to 2005, Jennifer Bennett Piallat was the bistro's manager, but 12 years ago, she bought the place.
Since then, she's adapted its business model in response to—and in some ways, in spite of—San Francisco's competitive restaurant scene. For years, staff have had access to health insurance and an employer-matched 401k.
In 2015, she went tip-free and offered her staff expense-free vacations and cruises, policies that may have helped her retain workers longer than many restaurants have been in business.
Thanks in part to its veteran personnel, Zazie produces a consistent dining experience that attracts familiar faces from the neighborhood, a steady stream of visitors directed by guidebooks, and even celebrities like Adele.
In 2015, Piallat told NBC News that her profits are 4 times higher than other successful San Francisco restaurants.
When she took over, the restaurant had 24 workers; today, Zazie employs 38, including Miguel, a dishwasher who's been there since 1992.
In 2015, "I wanted to do something special for the staff and particularly for people who'd been with me for 10 years," Piallat told Hoodline.
"Every Christmas, we do this big party where I buy all the gifts," like flat screen TVs, iPads and cases of wine. Decade club employees, however, "picked gifts from a different pile."
Those workers were offered expense-free vacations anywhere in the world, Piallat said. "A trip to Paris, a cruise to Alaska, Costa Rica, all these different places. Or they could spin a wheel for the money and get the money instead."
Piallat spent her teenage years shucking oysters in a family restaurant, and worked as a host and manager after arriving in the Bay Area 20 years ago. Her experience in different positions sharpened her focus regarding taking care of her employees, she said.
In June 2015, Zazie was one of the first restaurants in the city to go tip-free.
"Doing it was a very delicate thing," she said. "We really had to have an open-door policy and listen to our servers." But unlike other restaurants that eliminated gratuities, "we didn't lose a single server by going tip-free," said Piallat.
She noted that other San Francisco restaurants have experimented with getting rid of tips, "but not in a very effective manner."
Restaurateur Thad Vogler's eateries Trio Normand and Bar Agricole also went tip-free in 2015, raising prices by 20% to shrink the pay gap between servers and kitchen staff, CNN reported. Vogler said he lost 70% of his formerly tipped workers, which led him to revoke the policy. 
"A lot of places lost all their good staff," said Piallat. "I think you really had to be a lot more compassionate and pay more attention than a lot of restaurant owners are willing to do."

All Zazie workers—kitchen and front of house—can opt into a 401k with employer-matched contributions, as well as an insurance plan that predates Healthy San Francisco, the city's health access program.
"We've always done significantly more than Healthy SF requires, so I don't even bother looking at it," she said.
Life at Zazie wasn't always as savory as its gingerbread pancakes.
"When I first got here, it was a real panic scene," she recalled. "There were only two waiters on at brunch—one waiter with 12 or 14 tables, no bussers, and it was just constantly trying to put out fires."
"Now, it's such a well-run machine that's steadily busy all the time, so we can really staff it properly," she said. "We've become a much more mature restaurant—more organized, more professional."
Piallat said she wants to do more special events like dinner parties, wine dinners and movie screenings, but the bistro's popularity makes that a challenge, since "we're constantly just keeping up with what we're doing."
Today, the restaurant closes from 2–5pm to give staff a chance to recharge and prepare for the dinner rush. Trying to stay open all day was "one of the biggest mistakes I made," said Piallat. "We need that break mentally, as much as physically."
On most weekends, evenings and afternoons, a 20- to 30-minute wait for a table is part of the Zazie dining experience. Piallat said the average customer spends about 40 minutes in the restaurant, and that's reasonable.
"What is happening at brunch on a Sunday that you don't have 30 minutes to talk to whomever you came to brunch with?" she asked, noting that many regularly spend their wait time sipping bloody Marys and playing table tennis at next door bar Finnegans Wake.
"You're not just coming here to put food in your face, swallow and be full," said Piallat. "You're coming to spend time with people, to get off your phone and off technology, and have some face to face time with people for a few minutes."
Given the persistent sidewalk crowds, Piallat said she "would love to have a parklet," but despite five years of effort, it hasn't come to fruition.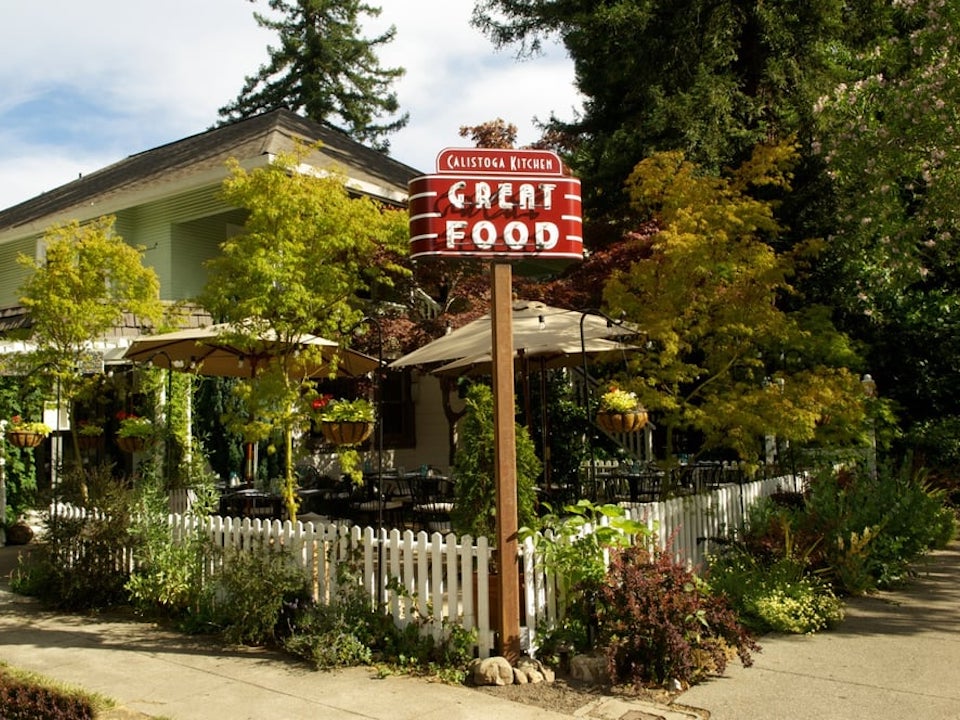 A Cole Valley resident, the restaurateur also has a house in Napa, where she recently purchased a sister restaurant, Calistoga Kitchen, with three other partners.
The official takeover happens on August 1; Piallat said the venture will feature a dish or two that's familiar to Zazie customers. On September 10, the restaurant will preview its menu concept at Calistoga Harvest Table, a food festival.
"Every place I know that opens a second place, the first one goes downhill," said Piallat. "I've never seen it not be true."
To buck that trend, she said she'll continue to work closely with her staff. "When you open two or three other restaurants, you're turning all of that over to someone else," she said.
Our 25th Anniversary tote bags arrived! 100% cotton, shrink wrapped, available for $12 at Zazie or can be shipped. https://t.co/VmS1Swf4QL pic.twitter.com/JDEgT2emMK

— Jen Bennett Piallat (@ZazieRestaurant) May 31, 2017
Besides buying part of a Napa restaurant, she said she's also putting the finishing touches on Zazie's first cookbook. Piallat considered publishing it herself, but "I got the sample and it looked so novice and silly that I think I'm going to have to find someone to help me with it," she said.
"I'm shopping it around to actual publishers to turn it into something decent," said Piallat. "Right now, it looks straight out of a church bake sale."
Zazie (415-564-5332) serves weekday brunch from 8–2 and is open for dinner every night at 5pm. On weekends and holidays, the restaurant is open from 9-3.