Published on July 12, 2017
Union Square's Hotel Alise is hosting San Francisco's newest mural by anonymous artist Believe in People—BiP for short.
The mural depicts two huge, golden brains with stems, leaves and interconnected roots.
"The artwork concerns interdependence, love, and loneliness," BiP representative Michael Atto said.
The artist, who likes to remain anonymous by wearing a full-body white suit and mask while painting, has been on site since at least June 25th, according to his Instagram account, which depicts Pride revelers. BiP historically doesn't announce the name of his murals until they are complete.
Hotel Alise, at 580 Geary St. (at Jones) went through major remodeling and rebranding last year; its east-facing wall offered BiP a seven-story canvas to plant his golden brains. 
"BiP reached out to The Alise hotel to request the space for the mural installation," said public relations representative Trisha Clayton.
The hotel didn't have a chance to provide any feedback on the design, she said, but Clayton said its owner, Pineapple Hospitality, is passionate about art and felt like the mural would be a perfect addition. Installation is expected to be complete on July 23rd, Clayton said.

BiP's new work is his fourth in the city. The artist's first mural in San Francisco, Self Consuming Self - Dave, was installed at Hostelling International's San Francisco City Center Hostel at 685 Ellis St., in the heart of the Tenderloin in 2015.
The huge paintings are all part of a Bay Area "Megamural series," which may result in as many as 15 works. The most recent mural, 'No Ceiling' was installed in January 2017 on the side of the Denny's on Jessie Street facing Mission Street.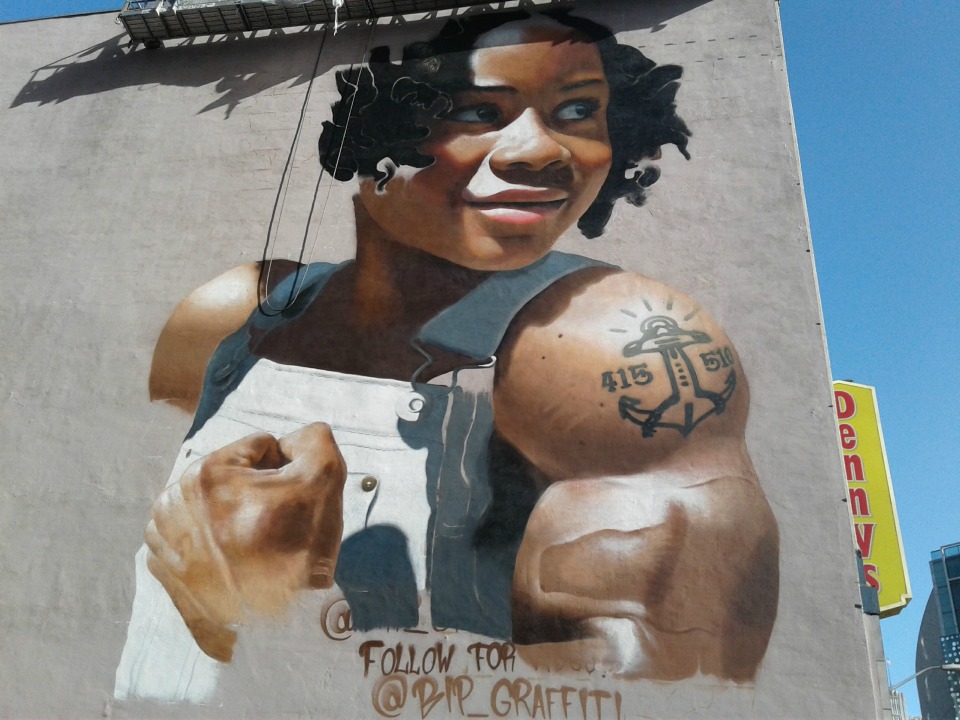 BiP has confirmed a location for a fifth mural that he will begin in October, Atto said.
It was expected to be the last of his series in the city but "given the unexpected outpouring of public support ... we are now expanding to 10-15 buildings in SF and Oakland over the next five years," Atto said.
At the end of that series, BiP and Atto will open the program to other artists and encourage them to use "the platform BiP and I are creating to elevate under-represented local art and push the SF mural scene back into the international spotlight," Atto said.
To keep track of the new mural's progress and BiP's next works, follow him on Instagram.