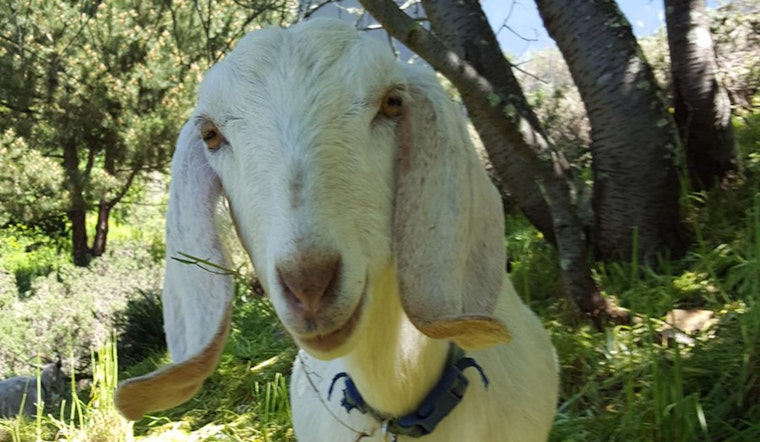 Published on August 25, 2017
Since the beginning of August, Marina residents have sighted new neighbors munching weeds and taking in the view. Hired by the Golden Gate National Parks Conservancy, a flock of grazing goats is working to bring Black Point at Fort Mason back to life, Hoodline content partner ABC7 reported. 
"Their healthy appetites are helping to expose century-old scenic garden walks down to Aquatic Park," Golden Gate National Parks noted on Twitter.
Located at Fort Mason, East Black Point is bound by Van Ness Avenue, Bay Street and Franklin Street. Since the 1850s, walks, stairs and gardens have led from residences down to the waterfront, but many have forgotten the path system that exists today, and the area remains mostly closed.

Uneven surfaces and overgrown bushes also pose a security risk. According to the Conservancy, this historic part of Fort Mason has been off-limits for many years.

Signs on site indicate that the Conservancy is planning new trail repairs this winter, and the first phase of construction will begin next year. When complete, visitors and neighbors will finally be able to traverse the paths from Fort Mason to Aquatic Park again.

To help achieve this goal, goats from City Grazing—a San Francisco-based goat landscaping nonprofit—have been at Fort Mason for several weeks, sometimes eating blackberries or even enjoying the partial solar eclipse.
The nonprofit claims goats are an environmentally-beneficial solution to weed control. The animals can be rented to clear public or even private land. In their free time, the goats live in Bayview.

ABC7 also reported that as many as 80 goats have been hanging out in the area, often watched by residents who have learned more about their temporary neighbors during the last few weeks.
Their work has already resulted in a successful treasure hunt. The goats' steady grazing has brought old artifacts—such as old Budweiser bottles from the 1950s or 1960s—to the surface.
It's not the first time that the city has sought support from the four-legged workers. Previously, goats have helped city agencies get rid of Christmas trees, promoted fire safety on Mt. Sutro and have assisted Public Works with clearing out weeds in Twin Peaks for the annual Pink Triangle event.
At Fort Mason, the goats will continue to perform their duties until the end of the month.
If you aren't a goat, but still want to help restore Black Point gardens, email [email protected] for project updates and information, or check out the FAQ.