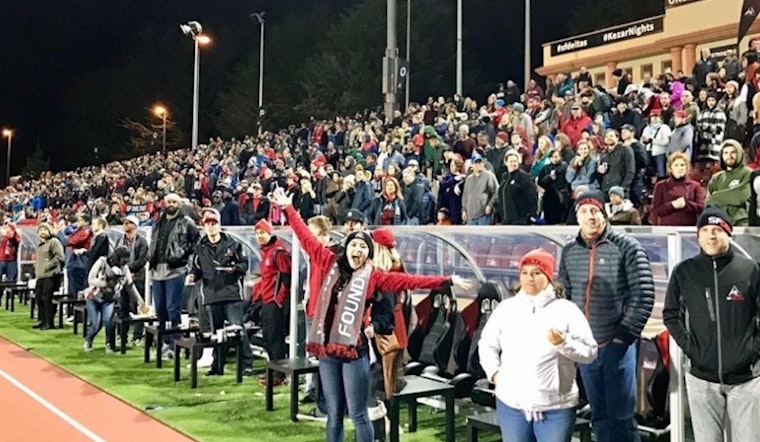 Published on August 02, 2017
In an open letter last week, San Francisco Deltas CEO Brian Andrés Helmick warned that lackluster fan attendance is imperiling the soccer team's future.
The warning, which comes partway through the Deltas' first season, boils down to the fact that although 15,000 people have attended Deltas games at Kezar Stadium, the vast majority haven't returned for a second game.
According to Helmick, the team's March 25 home opener attracted 4,133 fans, but "we have not seen this level of attendance again this season and we need to find a way to fill Kezar Stadium's capacity of 10,000."
Helmick said the team can survive, "but we need you to guarantee future seasons."
Shortly after Helmick's post made the rounds, a Reddit thread cropped up suggesting that prohibitive prices were a factor—users cited $40 tickets as too expensive, though there are currently tickets available starting at $19 for general admission bleachers.
Helmick hasn't responded to Hoodline's queries about next steps for the team or what solutions might be in store.
His initial letter did, though, cite three possibilities, all of which come back to getting more public visibility: private investors who can sponsor advertising, sponsorship through a local pro team, and a fan-driven word-of-mouth campaign.
The Deltas' current season wraps up on Saturday, October 28th.
Have you been to a Deltas game? Tell about your experience in the comments.
Update, 8/2:
Helmick wrote in an email to Hoodline later today, "We need to continue to share the story of this incredible team as we continue to move forward and attempt to make future seasons possible." He cited lack of awareness about the team but was optimistic overall, saying, " I believe wholeheartedly we can make this happen."
He also dispelled concerns raised in the Reddit thread, saying that only 10% of survey respondents cited ticket prices as prohibitive—they currently offer 3,000 $20-or-less tickets per game, Helmick said.