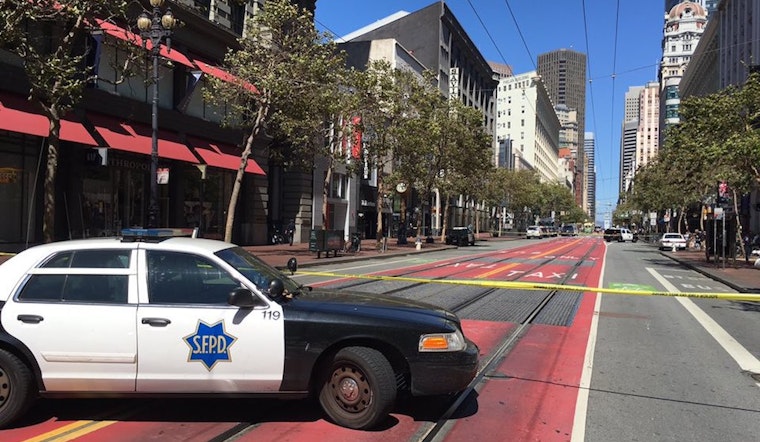 Published on August 30, 2017
San Francisco Police are asking the public to avoid the area near Market & Fourth streets near the Powell Street BART station while they investigate a report of a suspicious package.
Avoid the area of Market & 4th St/Powell @SFBART station. #SFPD is assisting #SF #BART with a suspicious package. Expect @sfmta_muni delays. pic.twitter.com/dZCk4FkBbl

— San Francisco Police (@SFPD) August 30, 2017
According to a Tweet, SFPD is assisting BART in the matter. Officials have closed Market Street in both directions—delays are expected, and drivers are encouraged to avoid the area.
During a shelter in place order, people in the vicinity are encouraged to avoid windows and seek shelter in an interior room. The department's bomb squad is en route to the scene.
We'll update this story with new information when it's available.
A shelter in place has been issued. Pedestrians and vehicle traffic should avoid the area. #SFPD EOD is en route to the scene. @SFBARTalert pic.twitter.com/r9rlFY8b2u

— San Francisco Police (@SFPD) August 30, 2017
[Update: 2:53pm] BART has announced that all trains are skipping Powell St. station until the situation is resolved. 
2:37 Update: Trains are not stopping at Powell St. due to SFPD response to suspicious package.

— SFBART (@SFBART) August 30, 2017
Bomb Squad arriving at 4th and Market pic.twitter.com/zBUYcB42LN

— _ (@R27D) August 30, 2017
[Update: 3:10pm] SFGate is reporting that the package was discovered by BART workers near the Fourth Street end of the station on the concourse level. As of this writing, the station has been closed to the public.

Muni Metro trains are also skipping the station until the order is lifted. Several bus lines are being rerouted. Inbound 5R & 21 lines are being redirected via 8th, Mission, 3rd, and Market streets, while outbound service is detoured via Market, Sutter, Mason and Market.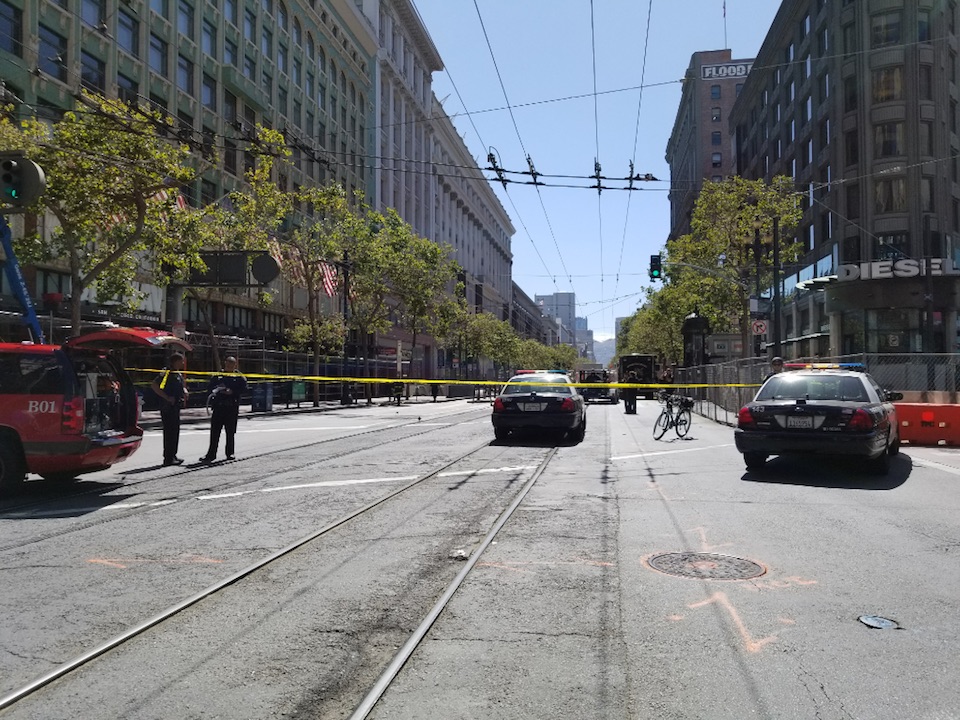 Inbound 5-line buses are switching back at Jones Street, while the inbound 31 is switching back at Mason and Turk.
On the N-Judah, inbound trains are turning around at Fillmore St., while the J-Church line is switching back at Reservoir St.
According to a tipster, the SFPD's bomb squad has deployed a robot to investigate the suspicious package.
[Update: 3:33pm] As of 3:31pm, BART has reopened Powell St. station and is resuming service, but residual delays are expected.
It's official. BART Operations Center and Police have reopened Powell St. Station & trains are resuming normal patience. Glad everyone safe

— SFBART (@SFBART) August 30, 2017