For the 50th anniversary of the Summer of Love, we're running a series of stories that look back at some of the people and places closely associated with the countercultural movement.
In 2017, San Franciscans can legally receive marijuana via home delivery, but 50 years ago, police were far less tolerant.
On July 10, 1967, world-famous ballet stars Rudolf Nureyev and Dame Margot Fonteyn were in town to appear with the San Francisco Ballet. While they performed on stage inside War Memorial Opera House, approximately 200 hippies danced outside to pay tribute.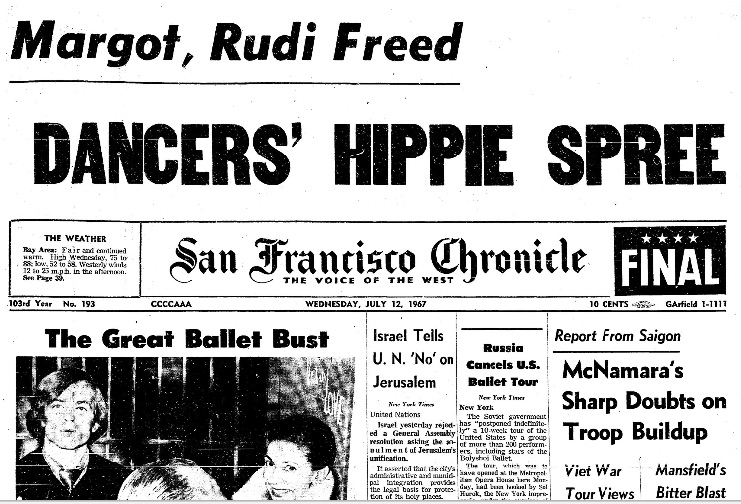 "We're just having a good time, man," one told a Chronicle reporter. "We do our dancing outside."

Afterwards, Nureyev and Fonteyn went to Trader Vic's around 12:30am.
Although there are different versions of how events transpired, a spokesperson for the Royal Opera House said the ballet stars had a late dinner with friends who asked if they'd ever been to Haight-Ashbury. 
"They said, 'we will take you—it is the sort of thing all tourists have to do,'" the spokesperson explained. Soon after, Fonteyn and Nureyev were at a house party on the unit block of Belvedere Street (between Haight and Waller).

Nureyev, 28, and Fonteyn, 48, were at the party for about 10 minutes before it was raided by police. Apparently, a neighbor who was upset by the noise had called out the law.
When officers arrived, they detected the scent of burning marijuana, along with pills, several hand-rolled joints, and according to the Examiner, "a pipe commonly used to smoke marijuana."
Witnesses at the scene said partygoers attempted to hide in hallways and escape out of the back door. Ballerina Margot Fonteyn was discovered on a neighboring rooftop in a full-length mink coat, but was "very graceful" about the raid, the Chronicle reported.
On the other hand, Nureyev, who was apprehended on a different rooftop nearby, was reportedly agitated and refused to speak with reporters.
Kid Terrill, the home's owner, was also slapped with charges for possessing two pornographic films, and 15 other partygoers were placed under arrest.
After they were placed in custody, police took Nureyev and Fonteyn to Park Station before they were transported to the Hall of Justice. The stars were both released a few hours later on bail for $330 each, posted by Royal Ballet manager, V. H. Clarke.
In the end, all charges were dropped.
"There was not enough evidence to determine whom of the 18 people arrested had possession of the marijuana, or who had contributed to the disturbance of the peace," Assistant District Attorney Frederick J. Whisman told the Chronicle.
The event made international headlines. The next morning, the Examiner ran a front-page story called, "Hippie Raid Jails Ballet Stars Fonteyn, Nureyev," but the Chronicle used the more succinct front-page headline: "The Great Ballet Bust."