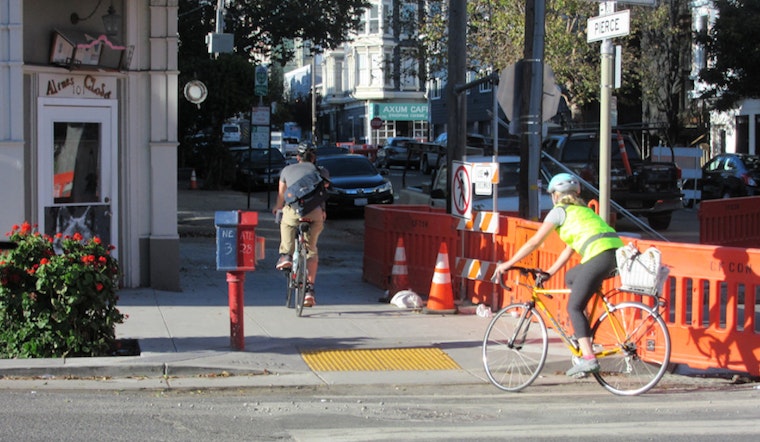 Published on September 22, 2017
As construction on the Wiggle Neighborhood Green Corridor improvements—a concept initiated four years ago and finally in progress this summer—is underway, some neighbors are upset that the work is driving cyclists onto the sidewalks. 
The area around the intersection at Pierce and Waller is currently blockaded while crews work on raising the sidewalks. 
According to some neighbors like Denny Klein, cyclists have bypassed closed areas by riding on the sidewalks, which is illegal in San Francisco if a rider is over the age of 13.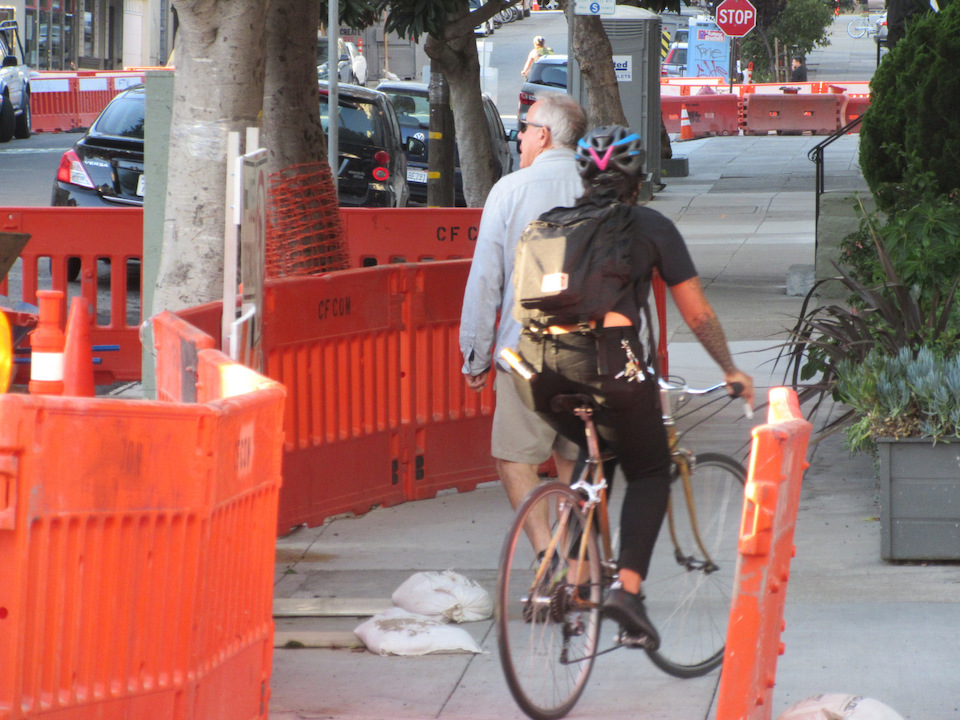 The city's terms for the project cited the closure of Pierce and Waller to car and bicycle traffic:

"During installation of the raised crosswalk ... vehicles and bicycles traveling South on the 100 block of Pierce Street will not be allowed to enter the Waller Street intersection. ... 
Bicyclists are encouraged to continue west on Waller Street toward Scott Street during this time, rather than turning north on Pierce Street, or continue north on Steiner Street through the Waller Street intersection toward Haight Street."
Following several communications with the city earlier this week looking for improved traffic management, Klein was unimpressed, though improvements in signage were made.
"Little has been done yesterday" by the city, he said, despite added signage for the area. Bicyclists have continued to use the sidewalk.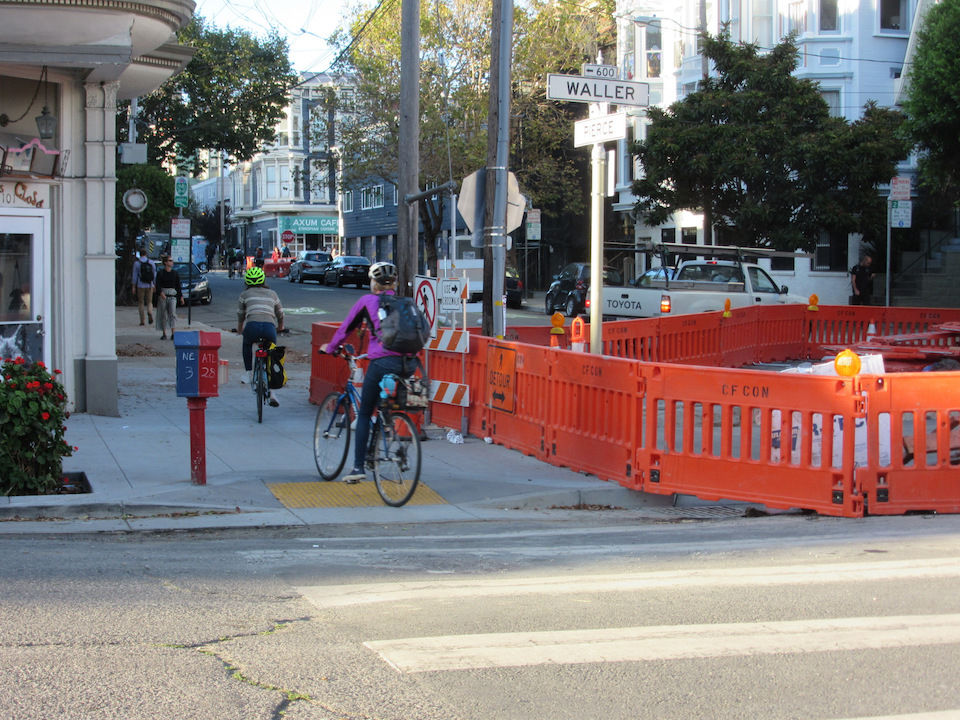 Public Works spokesperson Alex Murillo said that in addition to specific signage for cyclists, "we also added a construction flagger during peak commute hours (3-7pm yesterday and 7-11am this morning) to try and discourage bike riding along the sidewalk."
However, for many cyclists, the rerouting is a significant detour, and sends them heading up a hill the Wiggle avoids.
But the San Francisco Bicycle Coalition sided with neighbors and recommended another route for cyclists to take during construction. 
"It is, of course, really important that everybody cycling gives our friends who are walking room," said SFBC spokesperson Chris Cassidy, "not just because that's the law, but because that's respectful."
To avoid complications, the coalition recommends that riders going up the Wiggle bypass Waller at that intersection and continue straight from Steiner onto Haight.
Neighbors will briefly see some relief. While the work was originally slated to finish by Monday, Public Works now intends to re-open the intersection later today for the rush hour commute, Murillo told us.
However, subsequent construction and sidewalk replacement at Waller and Steiner will follow, and similar issues could occur.
Work on the corridor is expected to finish by the end of December.