With the help of a towering crane, workers this week installed a ten-foot sign on a Bernal Heights hillside, welcoming newcomers and inspiring daily commuters on the 101 and 280 freeways to "DREAM."

Five years ago, Ana Teresa Fernandez, an artist who has lived in San Francisco for 14 years, thought up the piece while driving from her Hunter's Point studio to her then-home in Bernal Heights.
From the freeway, a building below Bayshore Hill was tagged with the word "Dream" several times in honor of Mike "Dream" Francisco, an Oakland graffiti artist and activist killed in 2000."
"It would snap me out of my zombie-ness," Fernandez said. "That's the power of art. You come across it and it brings you into the present."
However, the original graffiti was barely visible from the freeway. From then on, Fernandez wanted to create a sign welcoming visitors to San Francisco, similar to Hollywood's famous hillside letters.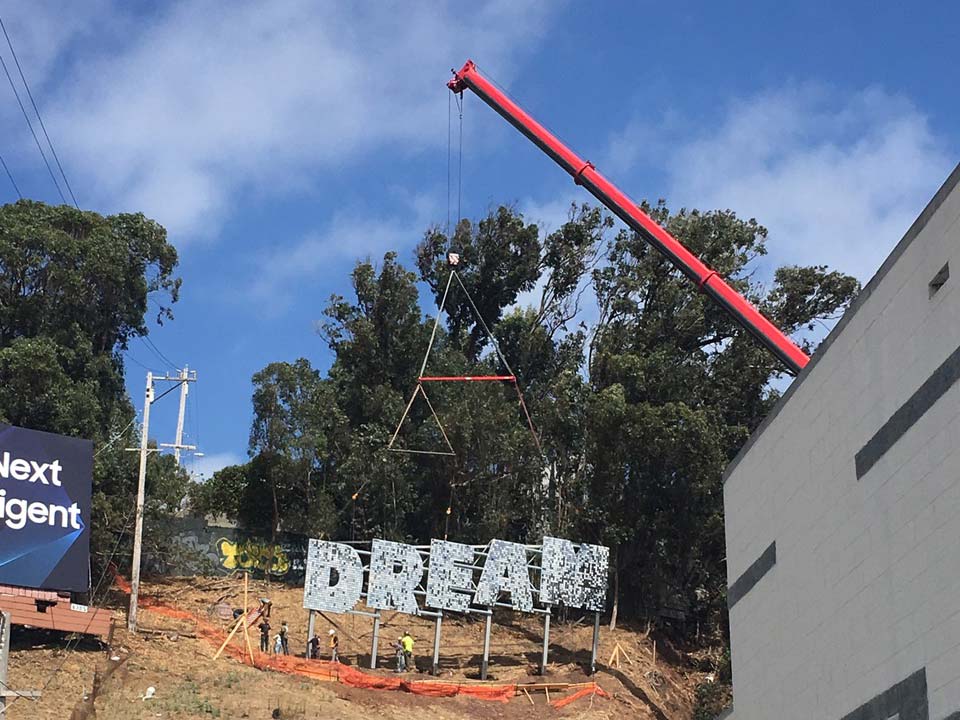 The work, made of many small metal discs, was ultimately commissioned by the Yerba Buena Center for the Arts (YBCA) and co-sponsored by San Francisco's Department of Public Works. YBCA joined the project two years ago, incorporating it as part of its Youth in the City program at MLK Jr. Middle School.
The Civic Engagement program is an attempt to "create radical partnerships with the city that are not typical of arts organizations," Jonathan Moscone, chief of civic engagement at YBCA, told us.

Last year, students at the school were invited to make artwork inspired by the word "dream," reflecting on their place in creating the future of San Francisco.
Moscone also helped guide the project through the city's planning process. The process took so long, in part, because Fernandez's piece reversed the customary process for public art pieces.
Instead of creating a piece to fit a space designated for art, Fernandez was fixated on the one hillside, doing whatever was necessary to install her work there.
"The place is where the inception of the work happens," Fernandez said.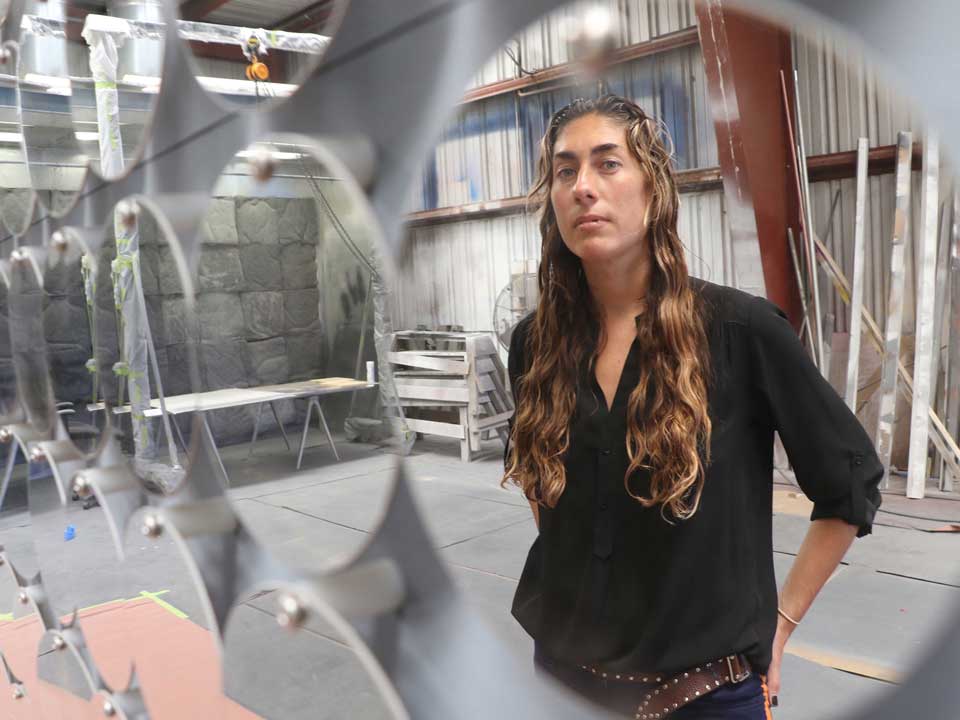 The sign's unveiling also has political overtones. In recent weeks, talk of "Dreamers" has resurfaced after President Donald Trump's announcement to overturn Deferred Action for Childhood Arrivals (DACA), federal legislation which temporarily shielded immigrants who entered the country as minors from deportation.
As a sanctuary city, San Francisco is welcoming to "Dreamers," and the new sign will be the perfect way to greet them, Fernandez said.
Tomorrow, Fernandez, YBCA representatives and students from the Martin Luther King Jr. Middle School will celebrate the completion of the sign at the the Alemany Farmer's Market.