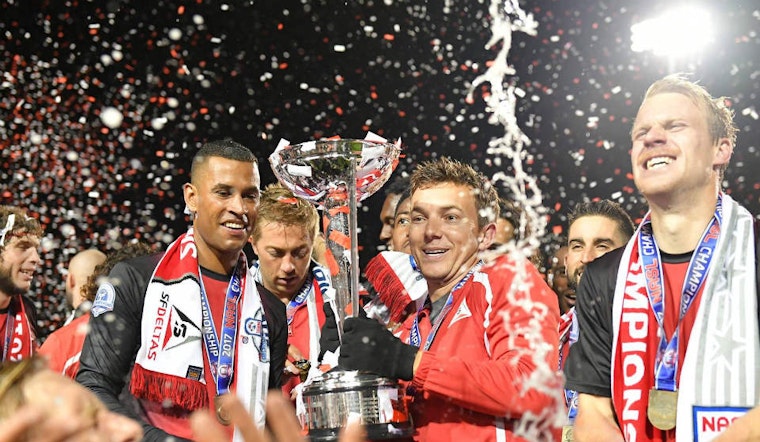 Published on November 27, 2017
Despite a winning inaugural season, the San Francisco Deltas announced last week that the city's startup professional soccer team is calling it quits.
The team, part of the North American Soccer League, couldn't pull together the right elements required for financial feasibility, said CEO Brian Helmick.
"There's a lot to be proud of," Helmick wrote, "and I hope it will leave a lasting effect on all of you." He added that hoped to translate the team's approach, which was based on a startup model, to other, more successful endeavors. "I firmly believe that via transparency and collaboration we can improve the sport we all love."
The Deltas took the NASL championship, but had difficulty drawing crowds to its home games at Kezar Stadium, which seats 10,000. According to SFGate, the team "decided against a traditional marketing campaign," instead relying on community outreach and word-of-mouth.
Even with amenities like food trucks and liquor sales, attendees complained about chilly, foggy evenings, a lack of parking, and ticket prices, which "ranged from $19 to $124 for VIP seats," reported SFGate. Even as the team entered the playoffs, many who live near the stadium remained unaware of the team's existence.
Though the Deltas folded with a net loss, Helmick said no one was being left in the lurch. "We will not leave any loose ends and everybody will be paid what they're owed for 2017 ," he wrote, "including players, coaches, staff, partners and vendors."
The Deltas' dissolution leaves San Francisco without professional soccer, but according to Rishi Sahgal, NASL interim acting commissioner, the league is already "in active discussions with potential ownership groups" to establish another team in the city.