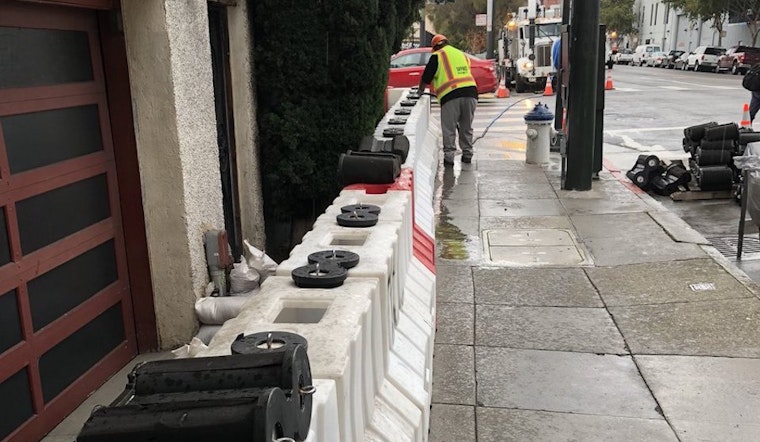 Published on November 15, 2017
With wet weather on the way, the San Francisco Public Utilities Commission (SFPUC) has installed temporary flood barriers at 17th and Folsom streets in the Mission.
Because it's one of the lowest sections in San Francisco, the area is prone to flooding during heavy rains. The bed of Mission Creek also also lies under the street, which can contribute to floods.
Residents and merchants have long complained about the inundations, which have sent water into homes and businesses. In 2014, Malcolm Davis, owner of Stable Café, contended that the city had made the problem worse by paving Folsom Street so that it is higher than the buildings around it. 
To deal with the problem, the city has developed RainReady SF, a flood resilience strategy.
Part of the scheme involves the use of interlocking plastic flood barriers that will remain in the area when storms threaten. Residents can also pick up free sandbags from Public Works. 
Here's how @SFWater helps keep floodwater out of buildings at 17th & Folsom during heavy rain. We fill these flood barriers with water to hold them down. They're plastic and interlock to seal out storm water. #RainReadySF pic.twitter.com/oQARPb5LfR

— Tyler Gamble (@tgambl1) November 15, 2017
During the current wet weather pattern, crews will also monitor other flood prone areas, including during the middle of the night and on weekends. Strike teams are also on call to clear leaves and debris from catch basin grates to help water drain more quickly.  
Residents can also adopt a drain to help keep the city's catch basin grates clear. 
To report flooding, sewage backup or clogged catch basins, contact 311: call 311, file a report on its website or through mobile apps.