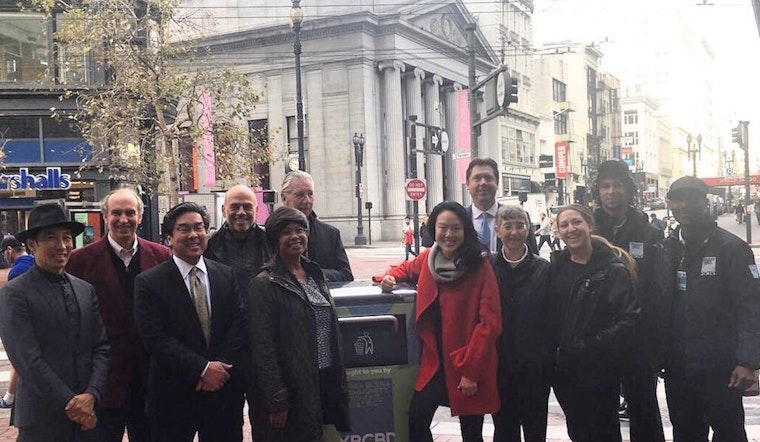 Published on December 20, 2017
District 6 Supervisor Jane Kim attended a ribbon-cutting ceremony yesterday at Market Street and Yerba Buena Lane to unveil the first of nine new high-tech trash bins that will be placed throughout the Yerba Buena cultural district.
Manufactured by Bigbelly, Inc., the new "smart waste" receptacles contain an internal compactor which allows them to store five times as much trash as traditional cans. Each unit contains a solar-powered transmitter that lets a human being know when a bin is ready to be emptied.
According to the manufacturer, devices are sealed to prevent leaks and overflows and are also tamper-resistant.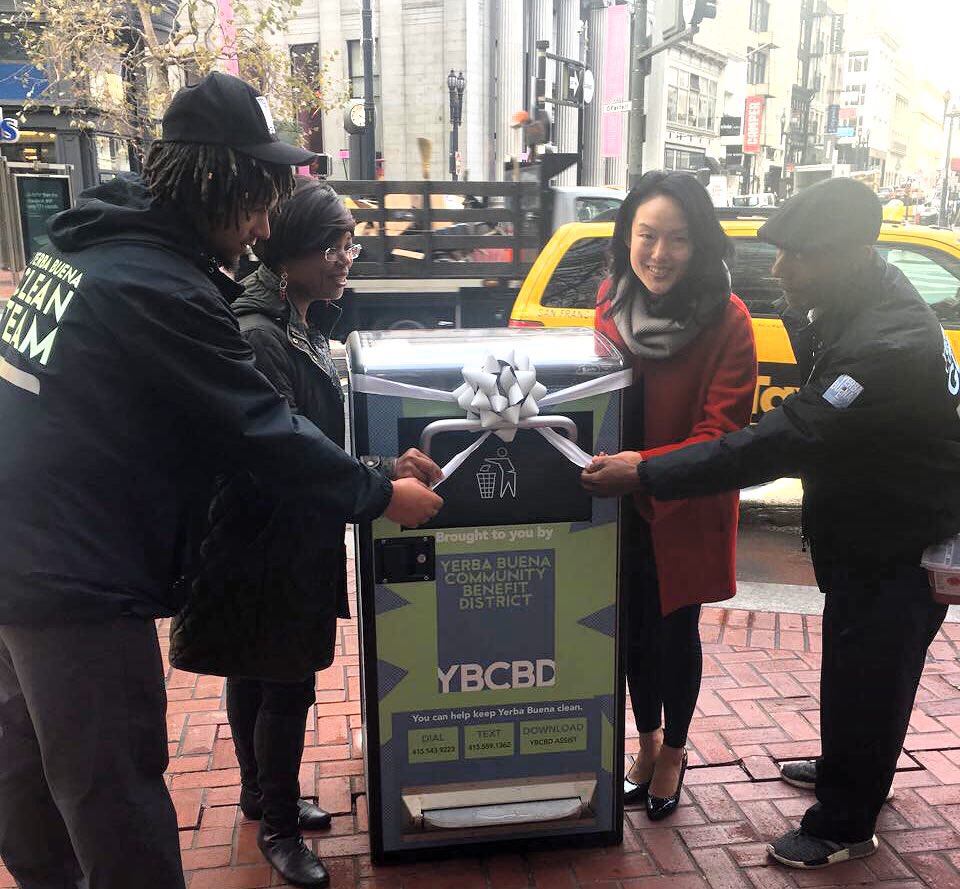 Nonprofit Yerba Buena Community Benefit District (YBCBD) is paying to install and maintain nine Bigbelly receptacles as part of a pilot program to determine how effective they are. Units will be placed in "highly trafficked areas" along Market, Mission, Fourth and Fifth streets.
According to Candace Sue, chair of YBCBD's board, the high-tech trash cans give the organization a chance to see whether "smart technology that's simple and effective" can address persistent litter problems in the area.
This year, teams working for the neighborhood group picked up more than 300,000 pounds of trash and responded to 5,000 sidewalk sweep requests by residents. According to YBCBD, it's the first of the city's community benefit districts to use an app to track cleaning and safety requests.
"Clean streets and sidewalks are critical to sustain our neighborhoods as vibrant and enjoyable places for residents, workers and visitors," said Kim in a statement. "I applaud the YBCBD for its investment in the units and for its ongoing efforts to improve the cleanliness, safety and vitality of Yerba Buena."