Time for another look at crime in SFPD's Central District, which includes Chinatown, Financial District, Embarcadero, Russian, Telegraph and Nob Hills, North Beach, and Union Square.
Here are some notable incidents that have taken place since our last biweekly recap. Unless otherwise noted, all reports are drawn from SFPD's daily summary.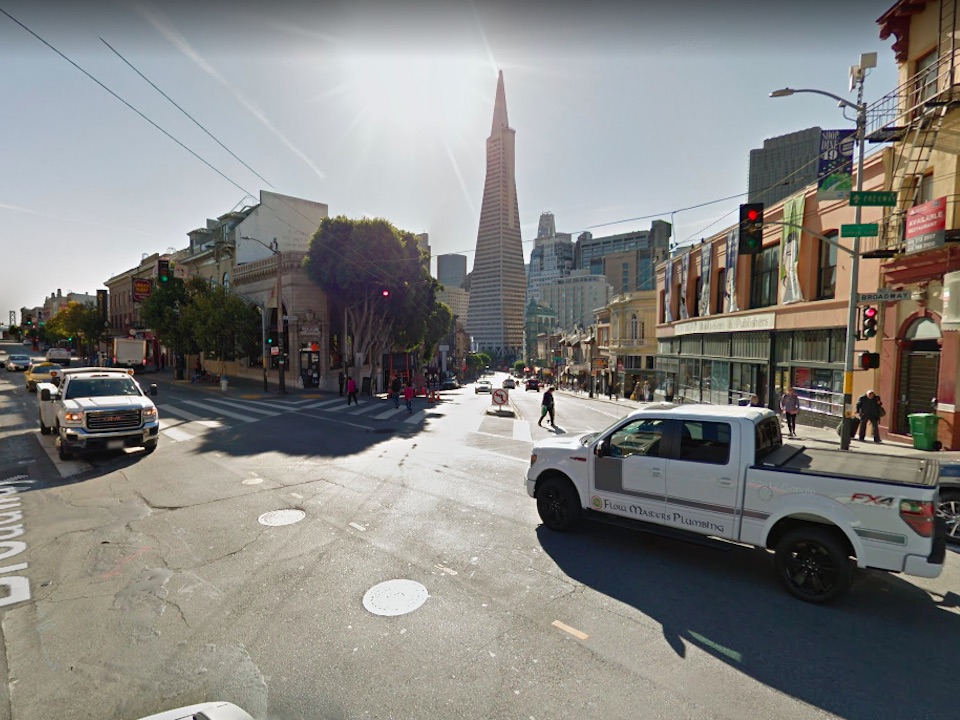 6 people rob man In North Beach pepper-spray assault
On January 25th, we reported that a 42-year-old man was injured in a robbery near the corner of Broadway Street and Columbus Avenue in North Beach. 
The victim was standing on a sidewalk at 3:20am when six suspects in their twenties approached him. One of the suspects sprayed him with pepper spray and purloined his cell phone. Here's our full coverage of the incident. 
Shoplifter absconds with stolen jacket
On the 400 Block of Sutter Street in Lower Nob Hill on January 25th, a robbery with force occurred. 
Around 11:25am, a man in his forties entered a business and took jackets from a rack and attempted to exit the store. A 34-year-old woman working at the store tried to stop him from leaving but he shoved her aside. During the confrontation, the suspect dropped several items but was able to flee with one jacket. 
Teens attacked by taser and robbed at Fisherman's Wharf
At 5pm on January 23rd on the 2500 block of Mason Street in Fisherman's Wharf, two teens were robbed.
Two 16-year-old boys were walking when two men and a woman in their early twenties approached from behind. The two men threw one of the victims to the ground and "slapped him," according to police.
The woman then used a taser on the first victim before punching the second victim. The suspects stole a necklace from one of the victims before all three fled eastbound on North Point St. 
No injuries were reported in the incident. 
Suspects rob victim at knifepoint 
On January 20th at 8:15pm, a man was robbed In North Beach near the corner of Union and Kearny Streets. 
The victim, whose age was not provided by police, was walking eastbound on Union Street when an unknown male suspect approached with a knife and demanded his property. A second unknown male suspect approached from behind and the victim complied before he was ordered to walk away. 
In the incident, the victim lost his laptop, wallet, watch, phone, and suitcase. No injuries were reported. 
Victim robbed at gunpoint while walking
On January 20th at 1:40am also near the corner of Union and Kearny Streets, another robbery occurred—this time at gunpoint. 
A 26-year-old man walked past two male suspects in their thirties who were standing on the corner. One of the suspects pointed a gun at the victim and demanded his property. The victim handed over his wallet containing cash, credit and debit cards, and his identification. The suspects then fled in an unknown direction. 
Two men rob victim after entering his room
On January 19th just before 2am on the 600 block of Geary Street in Lower Nob Hill, 28-year-old man was robbed at gunpoint. 
The victim was inside a room when two unknown male suspects entered. One of the suspects pointed a gun at the victim and ordered him to hand over his personal belongings. The victim handed over earrings and a necklace and the two suspects left before fleeing westbound on Geary Street. 
The victim suffered minor injuries but was not taken to a hospital.
Man found lying on ground with gunshot wound
A 49-year-old man was transported to a hospital after he was located on the ground near Larkin and Hemlock Streets suffering a gunshot wound at 3am on January 18th in Lower Nob Hill. 
Police have not released any suspect information information in the incident. 
Woman robbed by teen while walking 
A 39-year-old woman was robbed of her cellphone while walking in Chinatown near Grant Avenue and Clay Street on January 17th at 5:10pm. 
The victim was approached by a male suspect aged 15 to 20 years old who attempted to snatch a cellphone from her hand. She fell to the ground during the incident and the suspect was able to grab the device and flee northbound on Grant. 
The victim sustained minor injuries but refused transport to a hospital. 
Victim punched and robbed of cell phone
On the 800 block of Kearny Street in Chinatown just before 8pm on January 16th, a 33-year-old man was robbed of his cellphone. 
Three unknown male suspects approached the victim while he was walking. One of the suspects punched him and grabbed his phone while another suspect acted as a lookout. Once they had the device, all three fled on foot. 
Man attacked with taser and robbed
On January 15th at 10:45pm on the 600 block of Lombard Street in North Beach, a robber used a taser to disable a man before robbing him.
In the incident, a 33-year-old man was walking past a male suspect in his twenties near Joe DiMaggio Playground when the suspect lunged at him and knocked him to the ground. The suspect then tased him, snatched his cellphone, and fled eastbound on Lombard Street. 
The victim suffered non-life-threatening injuries and was transported to an area hospital for treatment. 
Anyone who has information about any of these incidents is encouraged to contact SFPD via the department's anonymous tip line at 415-575-4444, or text TIP411 with "SFPD" at the start of the message.
Here's why we usually don't include suspect descriptions in crime reports.