A few minutes before 8 a.m. on Jan. 6, Kevin Reed appeared in the doorway of his store on Mission Street wearing a neat gray suit and a big grin, holding a pair of scissors.
Taking the slightest second to peek out into the gray early morning gloom to see who was on the other side of the red ribbon strung across the threshold just a moment before — because, whoever it was, they would be a part of history — he snipped the ribbon and stepped forward onto the sidewalk.
"OK, everybody," he said softly, his smile widening so far his eyes vanished into his face. "We're open."
And with that ceremony — plus an immediate reenactment for the benefit of the bleary-eyed witnesses on hand who'd been looking away and missed the opportunity to grab a photo of the momentous event — the era of recreational marijuana sales in the Excelsior District began.
Reed, is a soft-spoken Alabama native with a manner and patter as smooth as the arc of his shaved head. He is CEO and founder of The Green Cross, which had been selling medical marijuana out of the neat storefront near Silver Avenue since the summer of 2013 — a milestone which took years to achieve, and was met with protesters.
The Green Cross had been in business in Noe Valley in 2004 before neighbors in the Fair Oaks area, tired of the parade of customers from all over town the dispensary was drawing, organized and drove him out before he'd been there two years. A plan to relocate to Fisherman's Wharf was scuttled with "help" from then-Mayor Gavin Newsom, who'd yet to discover his deep appreciation for marijuana legalization.
Reed went delivery only while the city's Planning Department processed his application for a new storefront. He chose the Excelsior, in part because that part of San Francisco had no pot stores, in part because of its easy access to the I-280 freeway. That choice in turn drew an "anti-marijuana march" organized by a candidate for local supervisor, with chanting pot opponents parading up Mission from Silver south of Geneva.
Both the march and the candidate failed. On the same night Donald Trump was elected president, California voters legalized marijuana for all adults 21 and over, with the first day of legal sales on Jan. 1 — provided local government put a law regulating marijuana sales in place.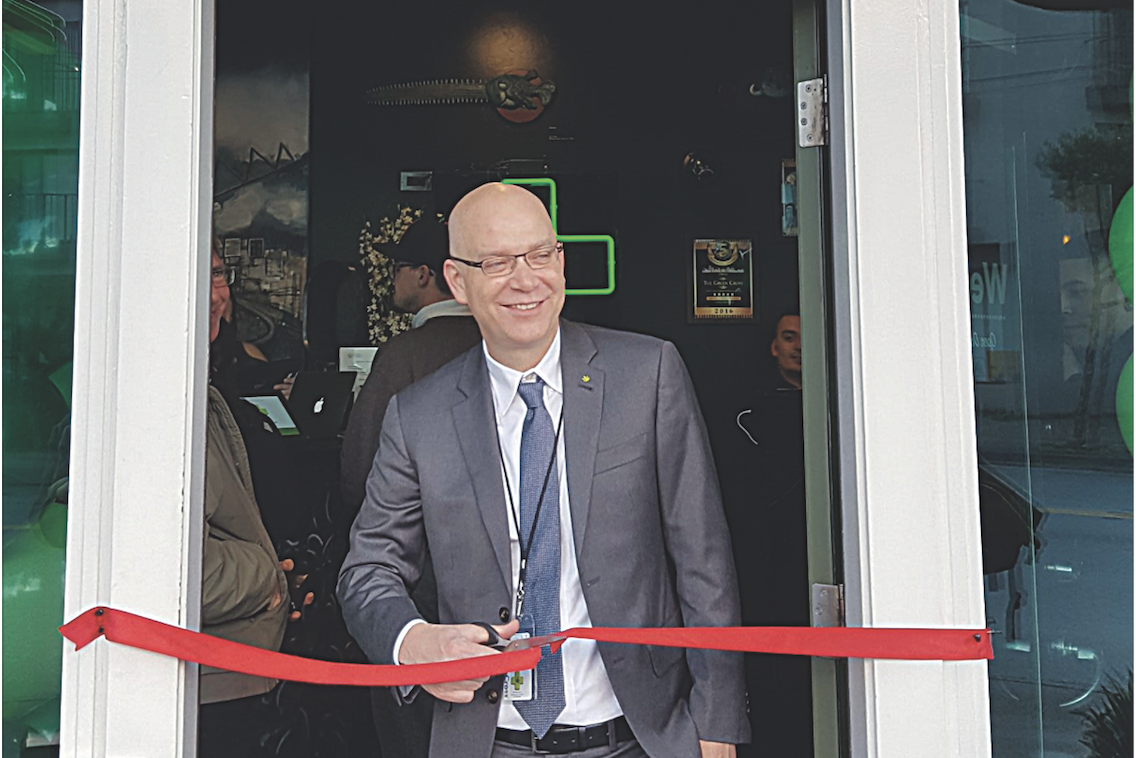 The Board of Supervisors didn't hit the deadline. So, Jan. 6 was the first day anyone aged at least 21 could legally buy cannabis without a doctor's note in San Francisco — and Reed, by lieu of opening at 8 a.m., the earliest hour allowed under local law, would be one of the very first legal sellers, in the city where storefront sales have been going on since at least the 1970s. (Another dispensary on Post Street also opened at that time; all the other "firsts" that day, including the lone event to draw elected officials and other dignitaries, elected to open at 9 or 10.)
In other cities and at other times, milestone marijuana sales have been consumer and cultural happenings, events comparable to the launch of a new iPhone. A few days before, on Jan. 1, dispensaries in San Jose, Oakland, and Berkeley had drawn hundreds of people huddling in the predawn dark, waiting for a 6 a.m. opening to be the first to plunk down $75 for an eighth of legal marijuana.
For a brief moment in San Francisco, there were serious doubts anyone in San Francisco cared that much (or needed weed that badly) to claim the same distinction.
At least part of the worry was bureaucratic. Reed had only received his permit from the state Bureau of Cannabis Control the night before—giving him and his staff about 12 hours to prepare for one of the biggest days in their careers. At 7:20 a.m., with 40 minutes to go, there was "not one single person" waiting outside, Reed texted an acquaintance. Was something up? Did nobody care—did everybody have all the cannabis they needed already, were they driven away by the new regulations and new taxes—or did they just not hear? A minute passed. "OK," Reed texted at 7:21 a.m. "One just arrived."
By 8 a.m., the crowd had swelled to about six, not counting Reed or the security guards scurrying around in trim black suits wearing headsets. Marijuana's multifaceted significance was clear: Most preferred not to give their names, none wanted to be photographed.
(The big crowds would come later. By noon, Reed had rung up sales comparable to the previous year's 4/20, the biggest day in the cannabis retailer's calendar. "They just keep coming," he said.)
Inside, the first sale had been rung up within a few minutes of Reed cutting the ribbon. The customer was one of Green Cross's lawyers.
This article was published in partnership with The Ingleside-Excelsior Light.