Many coffee houses boast of reliable wifi and startup-friendly spaces, but one China Basin café is more interested in fostering community than co-working.
John Quintos, owner of Italian scooter-inspired Café Lambretta, says his establishment is entirely offline. Located in a building that's been home to a series of motorcycle repair shops, the café offers house-roasted beans, breakfast dishes and light lunch fare like salads, sandwiches and empanadas, with former Wing Wings owner Christian Ciscle at the kitchen's helm. 
While Café Lambretta is coffee-forward, there's beer and wine on offer, with happy hour specials joining the mix sometime next month, along with charcuterie plates. 
Coffee aficionados may be familiar with the café's concept, as partner John Quintos originally opened Cafe Lambretta's first iteration in 2006 on Polk Street in Russian Hill.
Quintos has been a part of the scooter scene since the early 1990s when he operated a shop on Van Ness Avenue. "I got my first Lambretta in 1983 and I still own it," he told Hoodline via phone.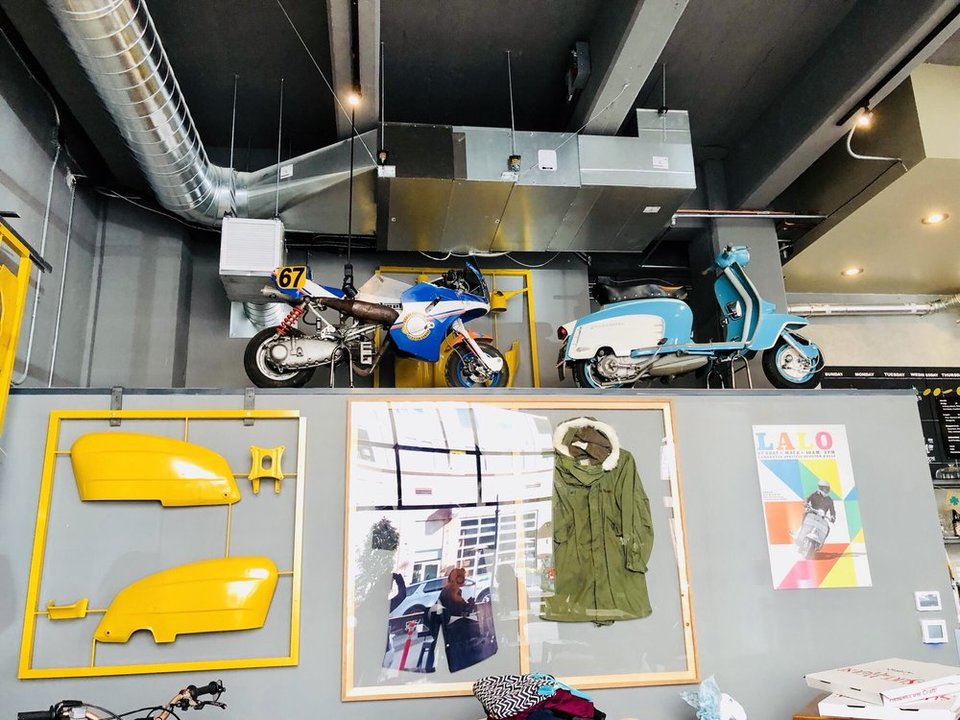 Opening Café Lambretta had been a dream of Quintos' for years. He registered the business name in 1993, "hoping to open it someday."
After eventually getting his first spot off the ground on Polk Street, the business was forced to close a few years later due to a "non-compete clause with another coffee chain in the same building," he said.
According to Quintos, the landlord had failed to disclose this information; to avoid a potential lawsuit, he shuttered the business. 
During its short-lived existence, however, Quintos developed a partnership with Blue Bottle Coffee and was one of only three merchants preparing the still small-at-the-time, local roaster's beans. The coffee purveyor has since been acquired by Nestlé and Quintos now roasts his own coffee blends. 
Wishing to expand his coffeeshop footprint, he then opened a small coffee kiosk at 372 Ritch St., called Cento; also named after a Lambretta scooter model. "It's our little secret spot," he said, noting its tucked away locale just off Brannan Street in Mission Bay. 
Sticking with the theme, Quintos opened Vega Coffee (1246 Folsom St.) in 2009. Café Lambretta's reinvention came about after Michael Kim, one of Quinto's employees asked for help opening their own café.
"I tried to send him away to work with Blue Bottle and different companies to learn the different cultures," Quintos said, but ultimately, the employee asked Quintos to go into a partnership, and he couldn't let the opportunity pass.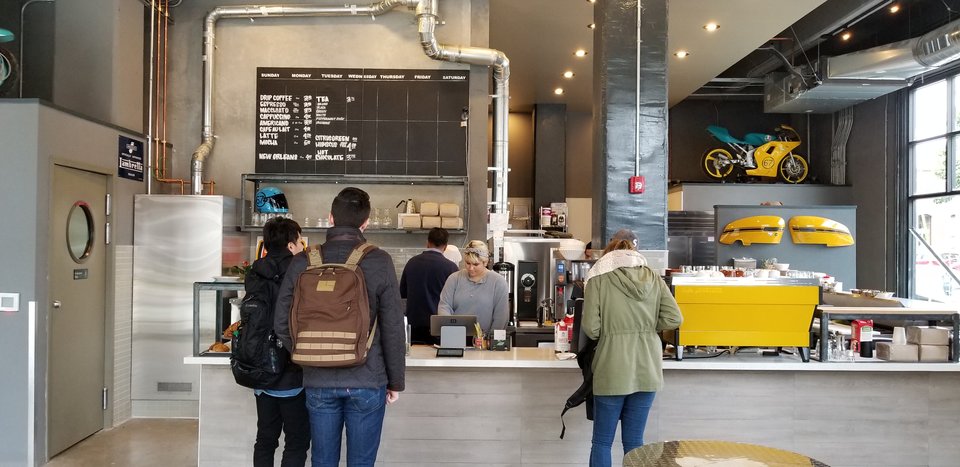 The space is much larger than Quintos' other spots, which has allowed him to move 90 percent of the company's baking operations on-site.
The site is also home to technology company Cloudflare at 101 Townsend St. Before the coffee house could open, the company applied for a change of use authorization that required the building to offer "a retail space as well," which then became available, Quintos said. 
As for wifi, "we are pushing our place as an offline spot, no internet for the customers here," he said. So far, patrons don't seem to mind.
"We only get two or three people a day out of three hundred asking for it," he said. "People come out and gather and talk and they're just offline," he said.  
Thanks to Hoodline tipster Ryan C.! 
If you've seen something new in the neighborhood, text tips and photos to 415-200-3233, or email [email protected] If we use your info in a story, we'll give you credit.