After multiple attempts to remain open, coffee roaster Caffe Roma has shuttered its North Beach location.
The former café is "empty of equipment and supplies," said Hoodline tipster Al M. after a recent visit. A sign on the awning by brokers DeRose & Appelbaum indicates that the space is available for sale or for lease. 
"It is with a heavy heart that after 29 years at this location in North Beach, [we've] decided not to renew our lease and concentrate on our families and other Caffe Roma locations," reads a note posted to the front window.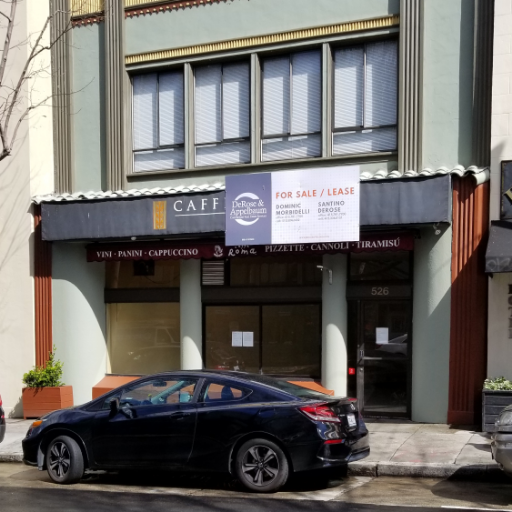 "We will miss the neighborhood and all of the wonderful people here in North Beach," the message concludes. "Mille grazie!" The company's SoMa location (885 Bryant St at 7th) is still open, as is its Millbrae outpost.
Last year, we reported that the café would close after a potential rent increase, but developer Jason Talbot purchased the business with plans to open a new Mediterranean-inspired eatery.
In January, after that arrangement was called off, co-owner Tony Azzollini said "everything was status quo" and the coffeeshop would continue to operate.
"We did everything we could to keep them in there, including a reduction in rent," broker Santino DeRose told Hoodline via phone yesterday. "While the business was successful," it was difficult to operate because family members who ran the location live in the South Bay, he said.
DeRose said the landlord is willing to lease to a new tenant or sell the entire building outright. According to a recent listing, the two-story commercial building, built in 1907, is offered at $3.35 million.