Starting this week, mobile shower service Lava Mae is offering Oakland's homeless residents a free, safe place to bathe in privacy. Founded in 2013, the San Francisco-based nonprofit provies hygiene services using a fleet of shower trailers.
The service operates in both San Francisco and Los Angeles, where it has delivered over 45,000 showers to more than 12,000 guests. The expansion to Oakland is made possible through a corporate sponsorship from Kaiser Permanente.
The organization formerly operated out of converted public transit buses which featured only two private shower compartments. They have since switched to using shower trailers which accommodate up to three individuals at a time in separate, private compartments, one of which is ADA compliant.
In partnership with Operation Dignity, Lava Mae began offering service in Oakland at the city's first community cabin encampment at 6th and Castro in February, serving an estimated 20 to 30 guests per day. Starting yesterday, service expanded to the Northgate Avenue homeless encampment.
Lava Mae intends to provide regularly scheduled stations on Mondays and Thursday from 9 a.m. to 2:30 p.m at 27th Street & Northgate Avenue and on Tuesdays and Fridays from 9 a.m. to 2:30 p.m. at 6th & Castro.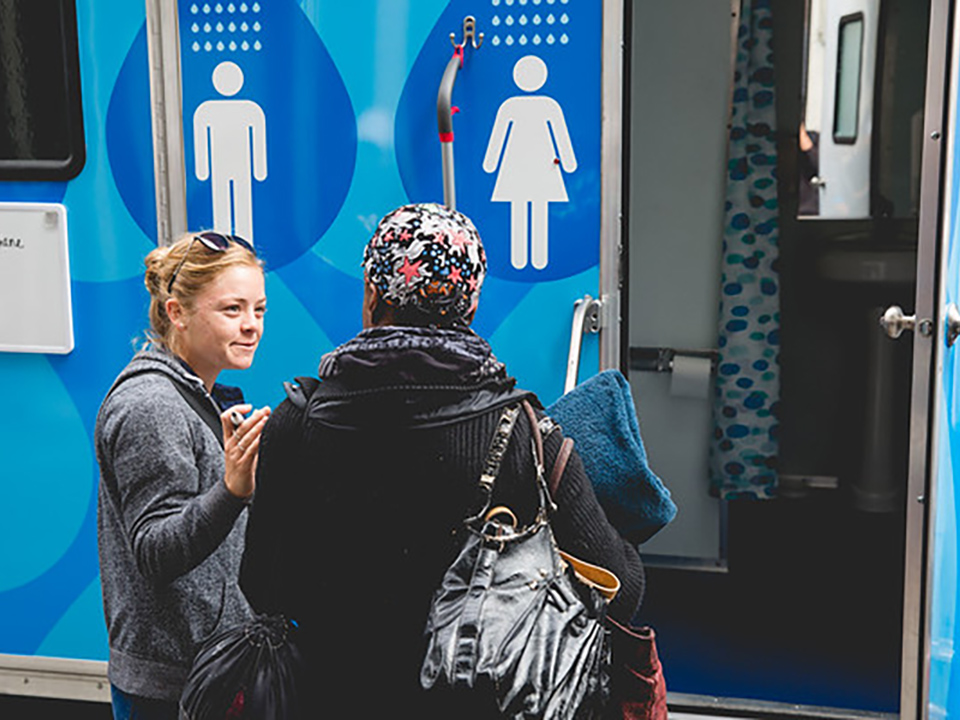 "We were really glad we could collaborate with Kaiser Permanente and the city of Oakland to begin to meet an unmet need," said Deborah Schneider, external relations director for Lava Mae. She described the nonprofit's mission as "taking radical hospitality to the streets."
"[We're] delivering an unexpected level of care that is not normally given to people experiencing homelessness," she said.
Lava Mae works to develop relationships with guests, learning their names and stories. Each guest is given a fresh pair of socks, clean towel, and fifteen to twenty minutes of privacy, "which might be the only privacy they have in their day, or their week, or their month," said Schneider.
Making space for Lava Mae's mobile shower bus met with some resistance at the city's Northgate encampment, where city officials have been enforcing an order to vacate.
However, administrators and activists have expressed support for providing free mobile showers to the city's homeless residents.
"I think it's a great thing," said Mike Lee, an activist who's involved with the Northgate encampment. Formerly homeless himself, Lee said he's made his own suggestions to the city about getting a mobile shower service up and running.
"The crisis of unsheltered residents in our community requires 'all hands on deck,'" said Mayor Libby Schaaf. "Showers are an important service, yet it's served with the compassion and kindness that reflects a deep respect for all of our neighbors. Lava Mae embodies the best of Oakland's sense of compassion and community."