[Update: 9:51 a.m] According to Bay City News, police were responding to a possible domestic violence call that began just after 3:30 a.m. on the 100 block of Carl Street.
After the suspect reportedly refused to leave, the department's hostage negotiation team were dispatched to the scene, and the barricaded suspect was taken into custody around 7:30 a.m.
[Update: 7:58 a.m.] Police have lifted the traffic restriction near Carl and Stanyan streets, and the N-Judah is resuming regular service.
At 5:45 a.m., Muni announced that service on the N-Judah light rail line is being disrupted this morning by police activity.
In Cole Valley at the intersection of Carl and Stanyan streets, multiple police cars, an ambulance and a van belonging to the department's tactical team were blocking the roadway as of 7:45 a.m.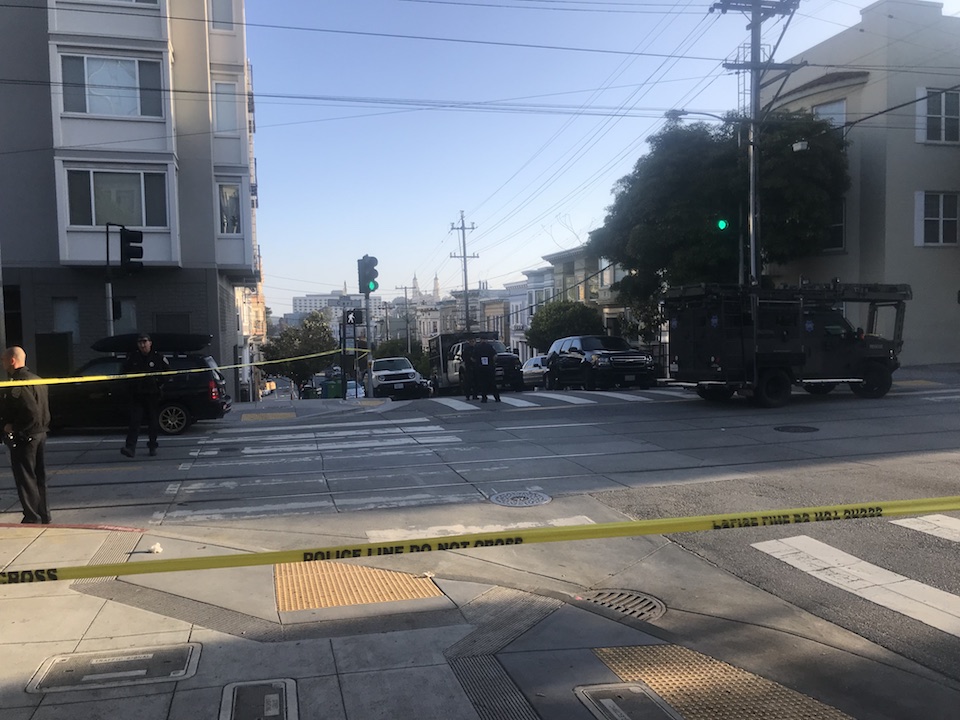 An officer at the scene declined to comment, but police are using crime tape and vehicles to create a perimeter that extends to Parnassus, Willard, Frederick and Grattan streets. 
KTVU is reporting that police are involved in a standoff at Carl and Stanyan streets, but no one at SFPD's Media Relations Unit is available to confirm that information.
As of this writing, the systemwide delay persists, and Muni is running shuttle buses between La Playa and Church and Duboce, where passengers may board inbound Metro trains. Due to police activity, buses are being routed from Divisadero to Haight, then down Frederick Street to Arguello.
We'll update this story as more information becomes available.