Tomorrow, San Francisco residents will elect a new mayor.
To learn more about the eight candidates on the ballot, we sent them a questionnaire asking about a wide range of issues. Click here to read all of their responses.
Richie Greenberg, Small Business Advisor
Why are you running in the June special election?
There are many reasons. I'm a 17-year resident who is tired of the City Hall failures and leaders placing their own political needs above the citizens of San Francisco. I will bring to the mayor's office: accountability, renewed law and order, and uplift our quality of life. I will bring a centrist, responsible and level-headed leadership as a checks and balances to the one-sided Board of Supervisors. I view the homeless on the streets as a humanitarian disaster, and I want to ensure when building new homes, we build one, two and three-bedroom homes to keep our families, children, elderly and disabled here and not force them to leave the city.
Based on the last homeless census, there were 7,499 unhoused San Francisco residents in 2017. What's your plan for reducing this number?
I have a comprehensive three-point plan, which includes 1) shutting down incentives for those already homeless elsewhere to move to San Francisco. 2) I am the only candidate who will declare a state of emergency and get those most chronically homeless off the streets and into temporary emergency FEMA-style trailers. 3) Lastly, I will call a summit to bring all homelessness outreach organizations into an accountability mechanism and reign in outrageous cost/spending growth, it's out of control. My emergency homelessness plan video is at www.richiegreenberg.org.
What are your plans for expanding the city's supply of affordable housing?
There must be responsible, stakeholder-centric building in mind, so as not to disturb the character of the neighborhood, and we must ensure one-, two- and three-bedroom homes are built, to accommodate our families, children and more. But please be aware that we cannot build our way out of a housing supply shortfall. Builders, even with requirements, cannot be forced to build anything, and if the added restrictions, costs to build, prevailing labor wages, permitting delays etc. will discourage builders, then we will have NO building. We need compromise and realistic goals. 
Given the increasing number of vacant ground floor retail spaces in the neighborhoods like the Castro, Richmond and other districts, should developers be required to continue incorporating them in new construction?
Interesting that you suggest not planning for future retail growth. We NEED retail, small mom-and-pop shops, cafes, services and such, which are the fiber of our communities. YES they should be required. 
What are your plans for reducing the number of thefts from automobiles? 
The SFPD is overwhelmed and underfunded. I will demand the Board of Supervisors allocate funds necessary to 1) hire and properly train new officers, including for undercover work 2) increase funding for additional police patrol cars, 3) update the laptops and equipment within the patrol cars . Install security monitoring cameras, hire private security officers.  I will also have a serious talk with DA Gascon.
How frequently do you ride Muni, and what's your top priority for improving service?
I ride Muni nearly daily, supplemented by rideshare/ride-hailing services. It works in most instances, but unscheduled canceled buses and trains needs to be firmly addressed with MUNI leadership. I also see the urgent need to update the system/software which controls signals, timing and station transfers. Moreover, not all areas of SF are served or served well by Muni, since we have a very diverse geographic area, so ridesharing may be the best solution (for now).    
Many small business owners we interview complain about the city's permitting and approval processes. What are your plans for making it easier for San Franciscans to become entrepreneurs? 
This is my forte as I'm the candidate who's the small business advisor. I want to have DBI/City Hall departments upgrade their systems to the latest technology, build performance goals/accountability in the DBI office including new hires to decrease processing times, develop uniform procedures so as not to have different application outcomes based on which inspector is handling the permits, and overall, to provide a tax holiday/exemption for smallest of new businesses for a year or two, to encourage entrepreneurs to take the plunge. 
Please share a candid photo you took in the last week with your smartphone; not necessarily a campaign event, but just something interesting you saw in the city.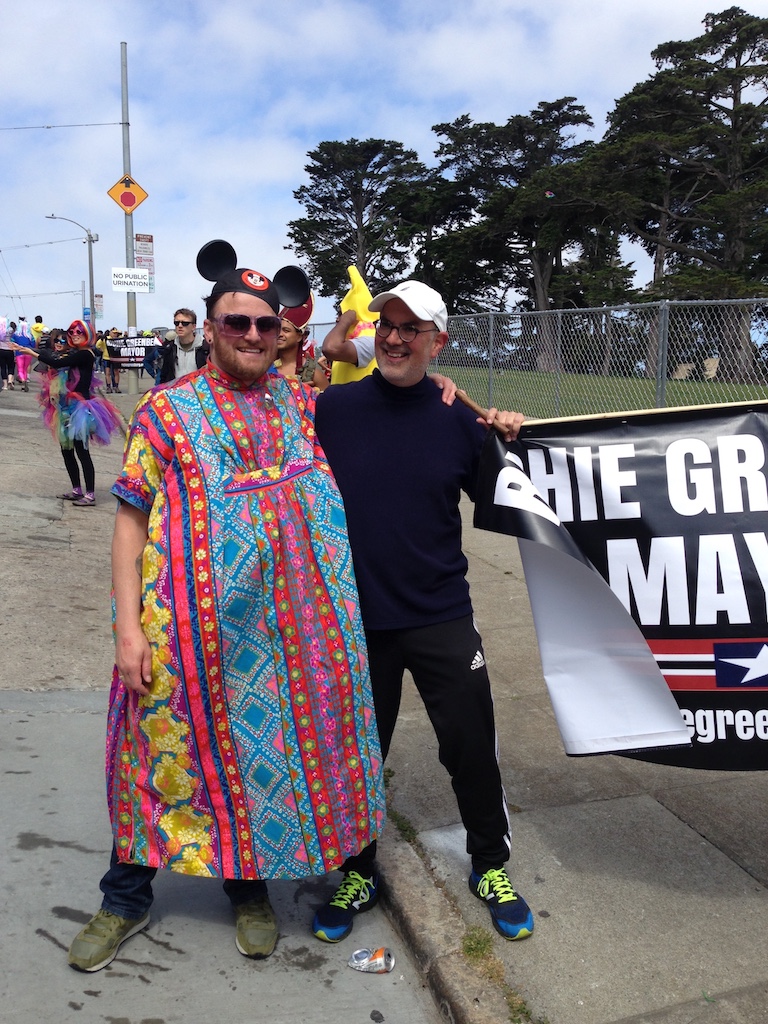 Late Mayor Ed Lee's Middle School Leadership Initiative aims to support STEM education. How do you plan on continuing his legacy?
I very much encourage public-private partnerships as a method for educational goals to be met and financed where city funding cannot do it alone. We absolutely need to ensure the best curriculum for our youth. Mayor Lee's plan is for STEM learning, and I would want this expanded to cover more. But overall, I will pressure SFUSD to increase their educational learning and achievement goals especially for those students who show promise to excel. Without challenging options, our students will simply get by and not be stellar examples. And we NEED to close the learning gap between White/Asian students and those of color, Black/Latino/API.
Do you own or rent?
RENT, from a lovely elderly couple who we love.
What's your favorite piece of public art?
It's a tie between the Bay Lights/Bay Bridge, and Rodin's "Thinker" at Legion of Honor.