Sunday, June 10 is the 41st annual Haight Ashbury Street Fair, an all-day assembly of live music, food, vendors, and festivities that shuts down the neighborhood's main corridor.
The fair opens at 11 a.m. and concludes at 5:30 p.m. Thousands of attendees are expected, which means significant impacts for area residents and merchants. 
Transit
From 3 a.m. to 9 p.m., Haight Street will be closed between Masonic and Stanyan, with cross streets Clayton, Ashbury, Cole, Belvedere, and Shrader closed between Page Street to Waller Street.
The SFMTA predicts transit detours from 3 a.m. - 9 p.m. Sunday; keep an eye peeled for signs identifying temporary bus stops. The transit agency will offer residents local access for all affected streets, except for Haight and Belvedere.
Muni lines affected include N Owl service, 7-Haight/Noriega, 33-Ashbury/18th, 37-Corbett and 43-Masonic. To see all reroutes during the event, consult the map below.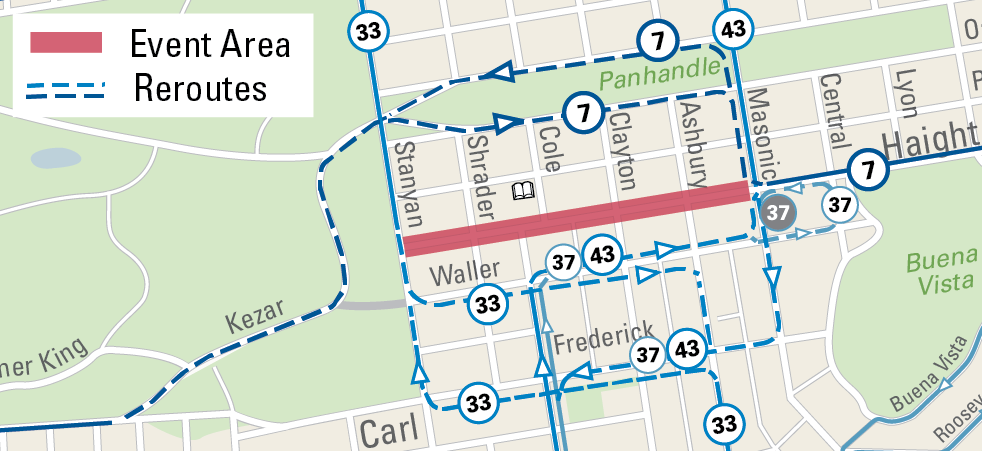 Parking
There will be no on-street parking on Haight between Masonic and Shrader, so area drivers should remove vehicles from the area on Saturday afternoon and evening. 
Taking your bike to the fair? The SFMTA says that "monitored bicycle parking" will be in place on Cole from Page to Haight.
Tips and tricks
Thousands of visitors are expected, so if you aren't planning to join the festivities, stock up early for your weekend errand run — area markets, restaurants and bars will be mobbed from mid-afternoon on.
Park Station operates a non-emergency line at 415-731-2865, but residents who observe crimes in progress or need assistance are encouraged to dial 911.