Lake Chalet Seafood Bar & Grill has a new pier bar that's serving tequila backed by a Bay Area rap legend and entrepreneur.
E-40 — AKA Earl Stevens — unveiled his signature tequila, E. Cuarenta, last night at the lakeside restaurant. In addition to the eponymously named spirit, the bar, which extends into Lake Merritt, also serves chilled oysters, ceviche tostadas, and will host the chalet's upcoming Taco Tuesdays.
Throughout the NBA finals, Lake Chalet tequila bar is exclusively serving E. Cuarenta in silver, reposado, and anejo styles.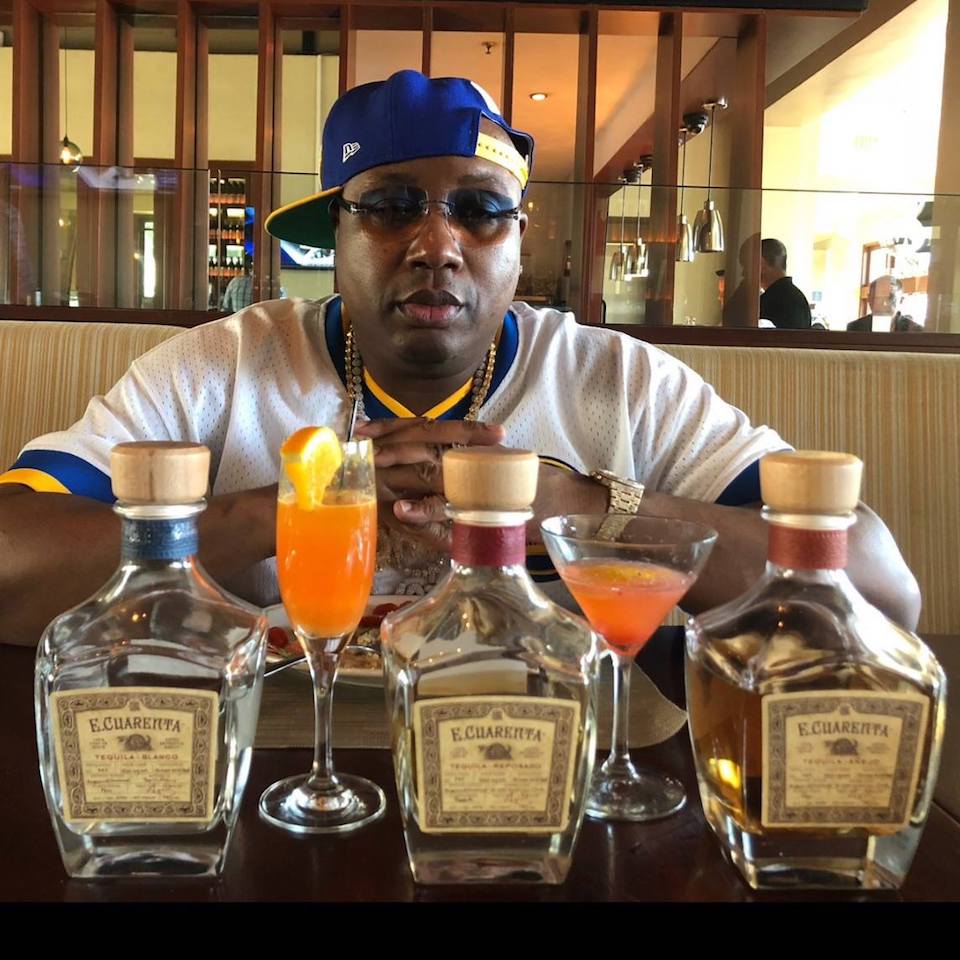 "We will be adding more [tequilas] after the series," said owner Lara Truppelli. "But right now, we're super excited to be able to offer this brand."
"There's so much pride here in Oakland and it means a lot to us to be here and to be able to work with artists," she said.
The rapper has prior experience marketing adult beverages. "My name is Earl, that's E, they call me E, and then I got my name from drinking 40 ounces of Old English back in the days," he said. "I used to run through eight or nine a day," he told Hoodline.
"Now, I'm just telling you what I did as a young mustache," he said with a laugh. "Don't let me be a mentor on that particular part, OK? Drink when you're 21, and responsibly."
In addition to tequila, E-40 markets wine under his legal name with Earl Stevens Selections, pre-mixed cocktail Sluricane, and E 40 beer, a 40-ounce malt liquor with a 10% ABV. There was also 40 Water, a short lived foray into energy drinks. 
"I still do rap, I still do platinum and gold and all that," he said. "I just wanted to do some other things." The rapper said he plans to expand his portfolio to include champagne and cognac.
Patrons at Lake Chalet's tequila bar can take their drinks straight, or mixed in new interpretations of classic cocktails, like the E-margarita, E-martini and the 40th Sunrise, an update on a Tequila Sunrise. The menu includes '40 is the new 20', comprised of E Cuarenta silver, campari, absinthe, house simple syrup and lime.
"I've become a tequila head because mine is so smooth," said E-40. "All the other tequilas burn my damn chest. Mine go down smooth, bro. Sincerely, I love it."
"This is my hottest item yet," he added. "I think this has real staying power."
The Tequila Pier Bar at the Lake Chalet Seafood Bar & Grill (1520 Lakeside Drive) is open Monday through Thursday from 11 a.m. – 10 p.m., Friday from 11 a.m. – 11 p.m., Saturday from 10 p.m. – 11 p.m., and Sunday from 10 a.m. to 10 p.m.