Published on June 22, 2018
After months of weekend closures, the 100-year-old structure will close for approximately two months starting Monday. Trains also won't run at West Portal and Forest Hill stations during that time.
The $40 million project requires buses to temporarily replace the M-Ocean View and L-Taraval train lines. K-Ingleside trains will have a shorter route between Sloat/St. Francis and Balboa Park. K-Ingleside, L-Taraval and M-Ocean View trains won't be in service in the Muni Metro, the San Francisco Municipal Transportation Agency announced.
Nx buses also won't operate during the closure, but additional N-Judah trains are expected to be in service.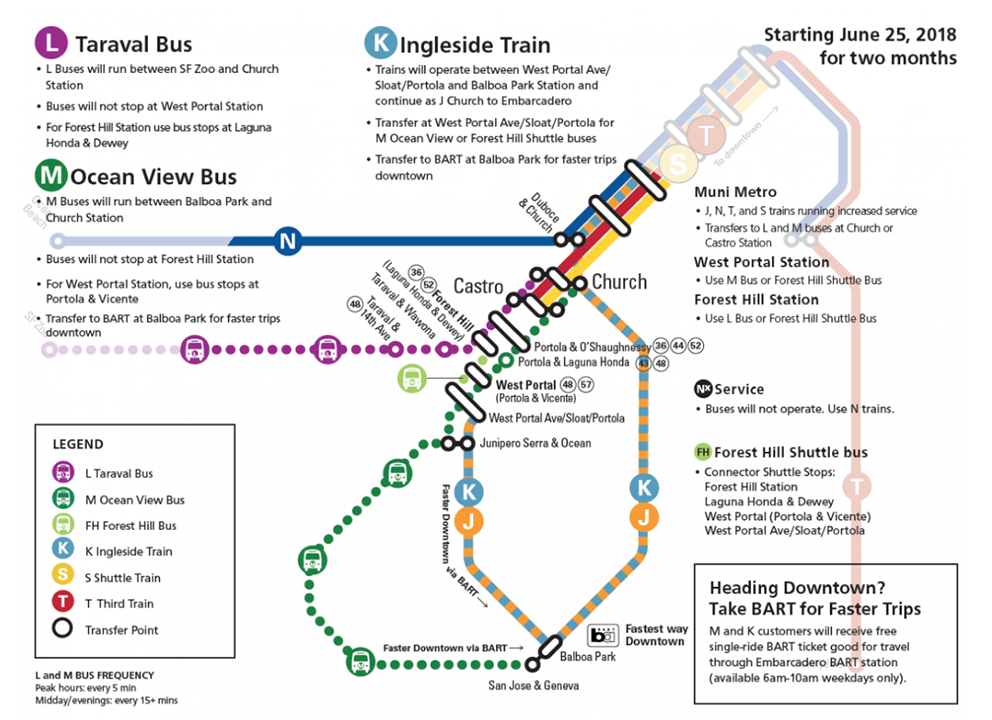 The SFMTA said that the tunnel is in need of extensive interior work to continue to operate safely and reliably. Tracks, walls and drainage systems will be maintained during the closure.
While Twin Peaks Tunnel has been under a speed restriction slowing down trains while they travel through, SFMTA expects to be able to lift it after construction has ended. Additionally, seismic reinforcements are also planned for better protection of the tunnel's overall structure and stability.
During weekday morning rush hour from 6 a.m. to 10 a.m. Muni customers transferring from M buses or K trains to BART at Balboa Park can receive a free BART single-ride ticket, valid for travel downtown through Embarcadero BART station.
For the two-month period, all outbound trains entering Castro Station heading outbound will switch back and head inbound. Only S-Shuttles and T-Third trains will be able to operate underground through Castro and Church stations.
Opened for service in February 1918, the 2.27-mile tunnel was the longest of its kind when it was completed. Today, it carries more than 80,000 riders daily, according to the SFMTA.
The tunnel initially connected West Portal and the since-abandoned Eureka Valley station on Market Street. After the Muni Metro created Castro Station approximately 100 yards to the west, Eureka Valley closed in 1972 and became the Bay Area's only ghost station.
In the past, work to improve safety, stability and speed along the century-old tunnel has been delayed repeatedly. A winter 2016 start date was pushed to April 2017, but before work could commence, Muni canceled the vendor's contract, citing the need for "additional technical analysis."
Project completion is now expected for January 2019.