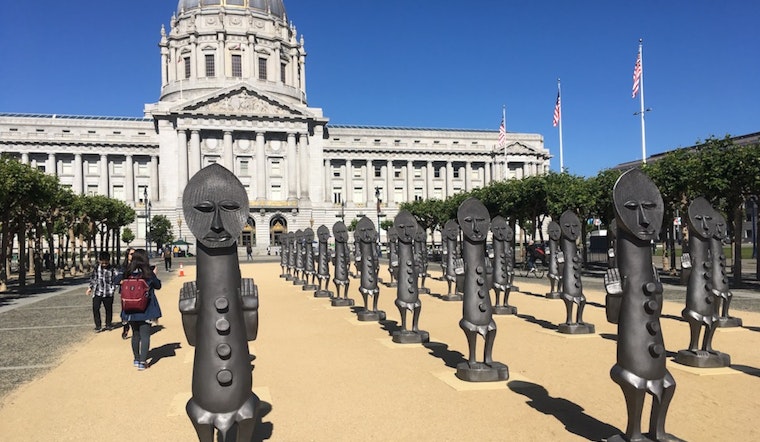 Published on July 16, 2018
Forty identical sculptures recently installed in front of City Hall will be formally dedicated this week at Civic Center's Third Thursday event.
British-Trinidadian artist Zak Ove installed his work, Invisible Man and the Masque of Blackness, during the final weeks of June. Originally conceived for the grounds of Somerset House in London, the six-and-half foot tall statues will be on display through early November.
"It is an honor for me to exhibit this work in such an important and historical environment that has been a setting for free speech, protest and celebration," the artist said in an announcement.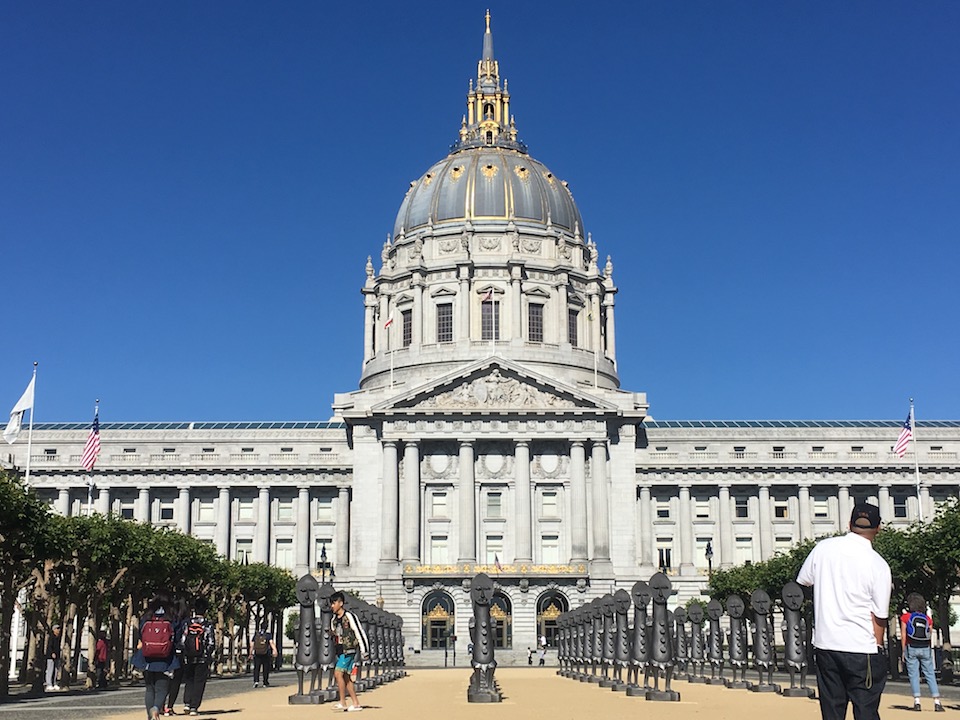 Somerset House formerly housed several of London's government offices and is architecturally similar to City Hall.  
The series of sculptures is the first major art installation by an artist of African descent in the Civic Center public space, according to Tom DeCaigny, San Francisco Arts Commission's director of cultural affairs.
"It claims space in the heart of the city for an important public dialogue about race, identity and power," said Caigny in a statement.
Ove's title alludes to Ralph Ellison's novel "Invisible Man" (1952), and the figures' hands-up gesture evokes the Black Lives Matter movement, according to the artist's statement. The sculptures are reminiscent of a traditional African figurine the sculptor received from his father, filmmaker Horace Ove.
The Arts Commission received funds from the Mayor's Office of Economic and Workforce Development to bring temporary public art to Civic Center Plaza as part of the Civic Center Commons Initiative, which aims to unite the three main public spaces in front of City Hall. 
One of the initiative's main efforts is its Third Thursday block parties, which include live music, beer gardens, food trucks, family-friendly activities, and this week, the dedication of Ove's installation.
The official ceremony will include speeches from the artist and city officials and begins at 5:00 p.m.