In this edition, a new bubble tea spot with an intriguing name is coming to Chinatown, a famed Japanese sushi spot is poised to break ground in the Tenderloin, and a robotic cafe opens its latest addition. 
Chinatown
Boba Butt (714 Kearny St.)
Boba Butt, a new tea shop, is heading to Chinatown between Merchant and Clay Streets, our tipster extraordinaire Al M. reports. 
As we reported in January, The Garden Restaurant reopened after temporarily closeing for renovations, citing the city's "changing restaurant scene." During the upgrades, the owner reportedly told Al that he planned to open a T4 Boba shop adjacent to the restaurant with a "connecting walkway," but the venture never came to fruition. 
Apparently, some legal issues prevented Philip from moving forward with the Taiwan-based chain, but with the space already built out, he "asked his kids to name the tea shop," said Al. "So, the kids named it Boba Butt!"
Boba Butt is hiring and is expected to open by the end of the month.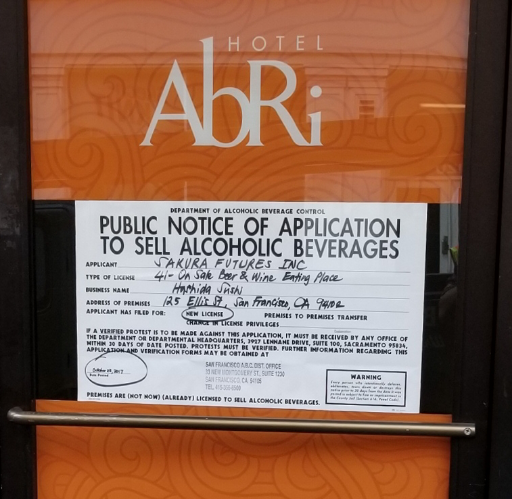 Tenderloin
Hashida Sushi (125 Ellis St.)
As we reported last November, Tokyo's Hashida Sushi is expanding to the Tenderloin at a former Subway Sandwich shop at the corner of Ellis and Cyril Magnin streets next to Hotel Abri. 
Al spotted movement at the location this week and noticed a Department of Alcoholic Beverage Control application for a Type 41 license, which allows for the sale of beer or wine at an eating establishment. 
The restaurant chain comes from Singapore-based Japanese chef Kenjiro "Hatch" Hashida and is expected to open in August, reports Eater. Though details for its San Francisco expansion have yet to be revealed, the restaurant is known for its nigiri sushi and omakase (chef's choice) offerings.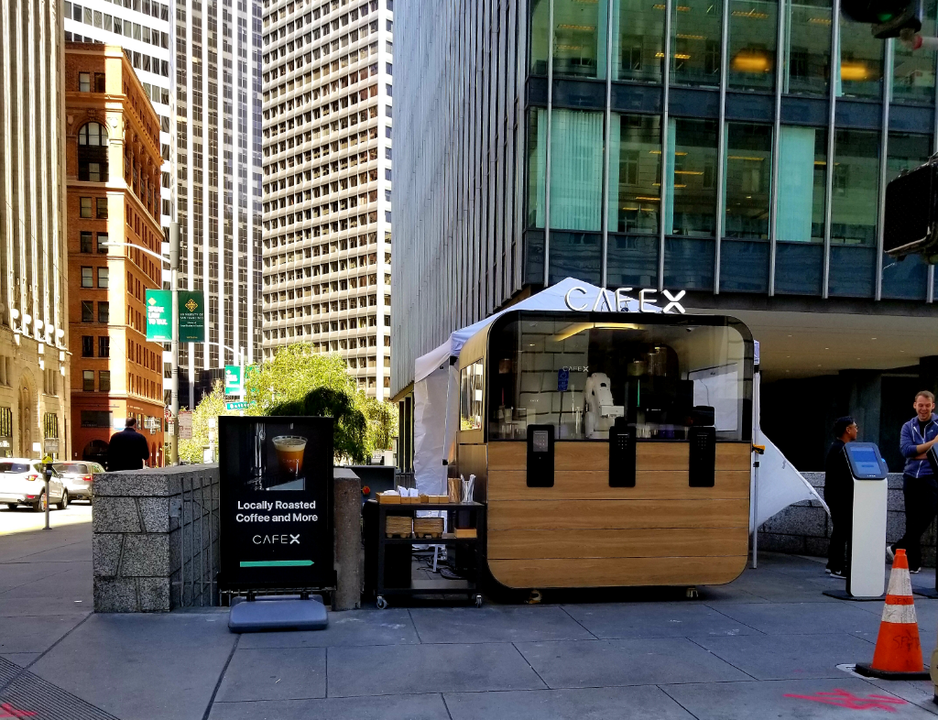 FiDi
Cafe X (1 Bush St.)
Lastly, Al reports that robotic coffee purveyor Cafe X has opened its latest addition, a mobile kiosk on the corner of Sansome and Bush Streets in the Financial District. 
As we reported in March, we got word that the mechanical barista was heading to 1 Bush St., but it wasn't clear where it would be located. It was originally believed that it would be taking over an Elizabeth's Flowers kiosk. 
However, this week, Al spoke to an employee on site who said the kiosk will be wheeled out to the corner on weekdays.
Like the cafe's other locations, customers can order an array of coffee drinks via touchscreen tablets that are prepared by a robotic arm. Equator, Intelligentsia and Ritual Coffee are some of the automaton's feature roasts. This location, however, does not serve pastries, Al added. 
Thanks to informant Al M. for the tips! 
Have you come across a new (or closing) restaurant? Text your tip and a photo to 415-200-3233, or email [email protected] If we use your info in a story, we'll give you credit.