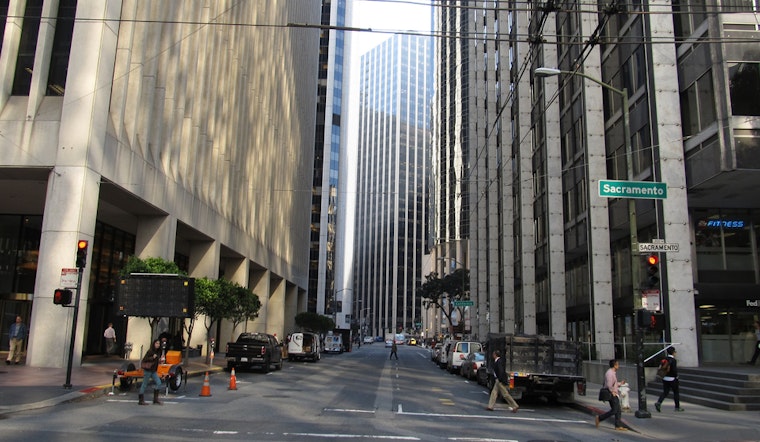 Published on August 27, 2018
Here are some notable incidents that have taken place in SFPD's Central District since our last biweekly recap. The district encompasses Chinatown, Financial District, Embarcadero, Russian, Telegraph and Nob Hills, North Beach and Union Square. 
Unless otherwise noted, all reports are drawn from the department's daily summary.
Serial robbers nabbed at Lower Nob Hill hotel
On August 22 at 1:55 a.m., a 35-year-old man and a 27-year-old woman were arrested for commercial burglary at a hotel on the 500 block of Post Street in Lower Nob Hill.
According to reports, two hotel workers, a 41-year-old man and a 39-year-old woman, saw the two suspects enter the building. They recognized the pair from prior incidents and contacted police. A third witness followed the suspects and watched as they stole a laptop from the business center. Officers then arrived and took the suspects into custody. 
Four suspects attack man, steal backpack
A 47-year-old man was standing at the intersection of Geary and Mason streets on August 21 at 11:30 p.m. when he was approached by four male suspects, aged approximately 25-40. The suspects attacked the man and took his backpack, containing a laptop, cellphone, wallet, cash and credit cards, before fleeing in an unknown direction. The victim suffered non-life-threatening injuries.
Shots fired by unknown suspect after car collision 
Officers were called to the 600 block of Washington Street in Jackson Square on August 20 at 3:10 a.m., after a report of shots fired. 
According to police, two unknown vehicles got into an accident. The two male occupants of one of the cars got into a verbal argument with two male occupants of the second vehicle. During the altercation, shots were fired, and all four men involved in the incident fled the scene. One of the vehicles was later towed from the scene with visible damage. 
Man robbed at knifepoint
On August 18, a 21-year-old man was robbed at knifepoint just after midnight near Kearny Street and Pacific Avenue. 
The victim was walking when a male suspect in his 20s approached and brandished a knife, demanding the victim's property. The victim handed over his cellphone and wallet containing cash, and the suspect fled northbound on Kearny Street. No injuries were reported in the incident. 
Officers respond to shots fired
Officers responded to another call of shots fired August 17 just before 11 p.m. on the 100 block of Kearny Street in the FiDi. 
While police were not able to locate any suspects, victims or nearby property damage, spent shell cartridges were recovered at the scene. 
Woman shot while sitting in car
A 24-year-old woman was shot while sitting in a parked car on August 17 at 12:16 a.m. on the 1100 block of California Street in the FiDi. 
An unknown suspect pulled up alongside the victim's vehicle and opened fire. A bullet grazed the victim, who exited the car and fled eastbound on California Street. The suspected shooter also fled the scene in an unknown direction. 
The victim was taken to a hospital for treatment of non-life-threatening injuries.
Woman punched by suspect after trying to retrieve stolen phone
On August 13 at 2:30 p.m. near Spofford and Washington streets in Chinatown, a 46-year-old woman was robbed by three suspects, two men and one woman all aged 18-22.
The three suspects approached the victim from behind and grabbed her cell phone from her hand before fleeing northbound down Spofford Street. The victim chased after the suspects to get her phone back, and the female suspect punched her before the trio got away.
Suspect arrested after allegedly breaking into store
A 38-year-old man was arrested for burglary on August 12 at 4:10 a.m. on the 100 block of O'Farrell Street in Union Square. 
According to reports, the suspect pried open a business' emergency exit door and was able to get inside. A store loss-prevention employee responded after the building's alarm activated and "attempted to secure the property." A physical altercation ensued, resulting in the employee being injured. 
Officers arrived on the scene and took the suspect into custody. 
Victims detain suspect who was arrested for robbery
On August 12 at 11:25 a.m. on the 2800 block of Leavenworth Street in Fisherman's Wharf, a 33-year-old man approached a 28-year-old man and punched him in the face before stealing his cell phone.
The victim and a 51-year-old woman followed the suspect in an attempt to retrieve the phone. The suspect then punched the woman. The two victims were able to detain the suspect until police arrived and took him into custody. 
The victims suffered non-life-threatening injuries, with one victim complaining of pain in the face, but refused medical treatment. 
---
Anyone who has information about any of these incidents is encouraged to contact SFPD via the department's anonymous tip line at (415) 575-4444, or text TIP411 with "SFPD" at the start of the message.
Here's why we usually don't include suspect descriptions in crime reports.