Founded in 1948, North Beach jewelry studio and shop Macchiarini Creative Design is celebrating its 60th anniversary this year.
Billing itself as "the oldest continuous design house, production studio and gallery for modernist metal arts in the United States," the shop has spanned three generations of the Macchiarini family. It's currently operated by the grandchildren of the founder, Peter Macchiarini, who died in 2001.
"It's a gallery and it's a studio-workshop, so we make the things we sell in the front here in the back," Emma Macchiarini, Peter's granddaughter and the studio's current owner, explained.
In addition to keeping her grandfather's business running, Emma founded an on-site jewelry school, Metalworks SF, in 2015. It teaches hand-fabrication, casting, and metalwork to aspiring jewelers, including classes that allow couples to design their own wedding rings. 
Most of the shop's customers are local to North Beach, but Macchiarini says the clientele also includes "people passing by, some tourists, and some collectors — people who have known about our work for a long time."
Though the studio is best known for its jewelry, it also works with sculpture, including the Burning Man installation "Dragon Smelter," an 18-foot-high steel sculpture that creates metal art from recycled aluminum cans and shoots fire from its head and tail. Installed in 2001, it remains a regular part of the festivities in Black Rock City.
"The cool thing about the Dragon Smelter is that it actually has a furnace inside the sculpture, so it's a sculpture that is [useful]," Macchiarini explained.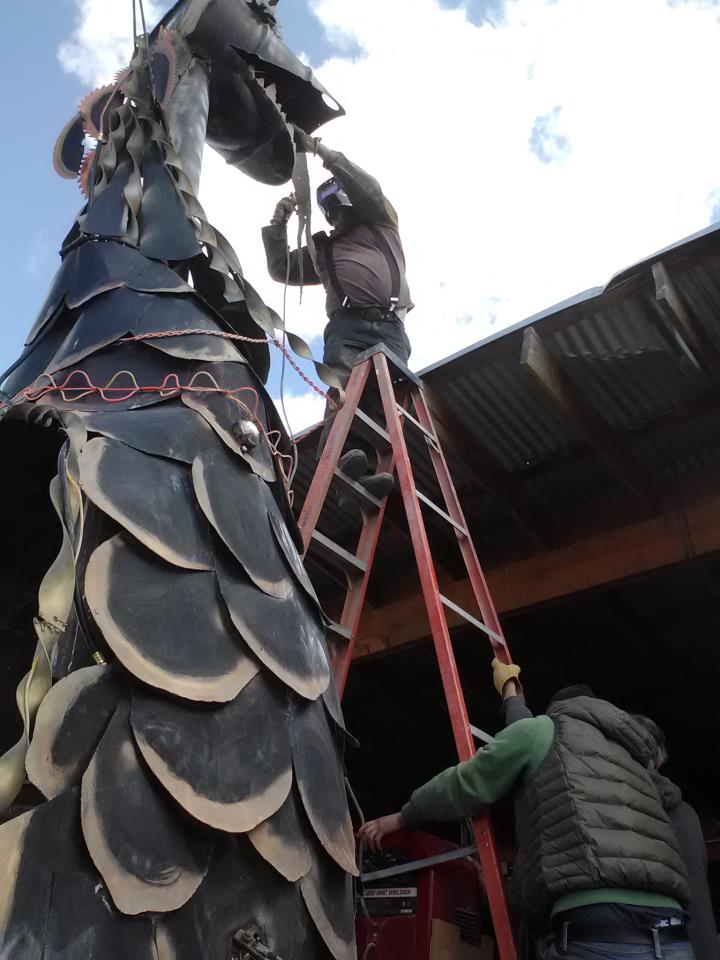 Though she says the sculpture is the piece of which she's most proud, Macchiarini does very little sculpting these days, noting that it "isn't of any value anymore" to most San Franciscans. 
"Sculpture tends to be more expensive, [and] you have to have a place to put it in your home, so that's an issue too," she noted. "Sometimes people are living in small apartments, especially in SF, and so [collecting sculpture is] not really something people do these days. But people still like jewelry."
The studio's most popular jewelry offerings include its signature "dot" rings, which inlay circles of stone into other stone, as well as custom wedding rings. 
As for the secret to the business' longevity, Macchiarini cites a favorite saying around the studio: "You need to give to get."
"There was a lot of involvement in the community, from the community and for the community, so we gave back to the community and the community gave back to us," Macchiarini said. "We didn't just keep it insular, we didn't just think about our bottom line — it's more about making art and having art as a value."