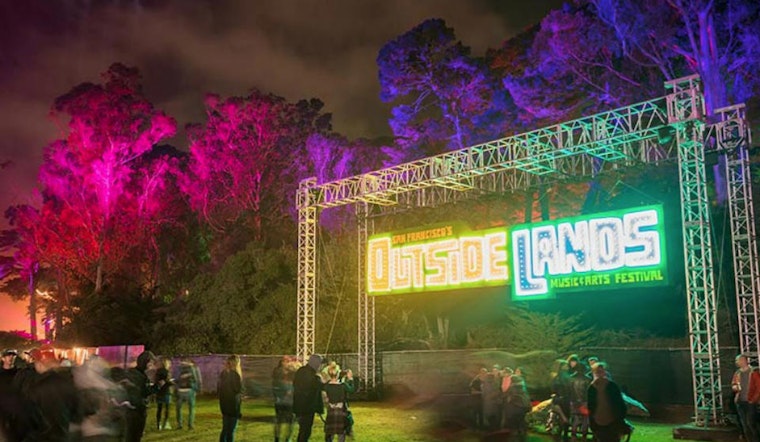 Published on August 09, 2018
This Friday, Saturday and Sunday, Outside Lands will  be taking over the western end of Golden Gate Park for the annual music festival—expected to draw some 200,000 concertgoers over three days.
With a new marijuana-dedicated campus, nocturnal programming, and headliners The Weeknd, Florence + The Machine and Janet Jackson, the Sunset and Richmond districts are going to feel the crowds as much as they always do.
For residents, planning ahead is the key to a happy weekend. This is your friendly, neighborhood-oriented primer on what to expect and how to get by.
Road closures:
First and foremost, you'll notice the closure of numerous roads into and through Golden Gate Park, including JFK Drive, Middle Drive and all roads into the area of the Polo Field.
Additionally, Marx Meadow, Sharon Meadow, the Polo Field, Hellman Hollow, Lindley Meadow and McClaren Path will all be closed through Tuesday, August 14th, or longer.
Richmond-side park entrances at the Great Highway, 47th Avenue, 43rd Avenue, 36th Avenue, 30th Avenue and Transverse Drive will all be closed from Thursday through Sunday evenings. Sunset-side entrances at Sunset, MLK, 41st Avenue, 25th Avenue, Middle Drive and MLK at Crossover will also be closed.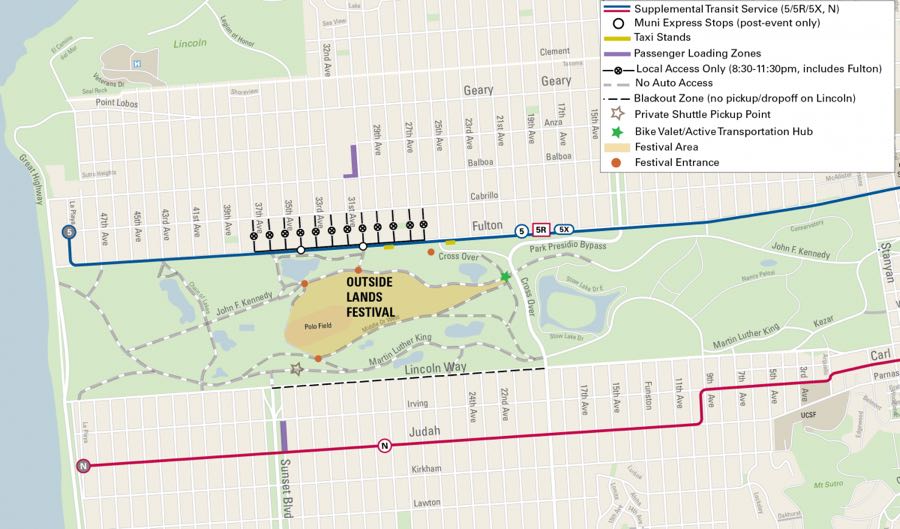 Traffic and transit impacts:
Outside Lands attendees are highly encouraged to make use of public transit, which means the park's adjacent and nearby Muni lines—especially the 5-Fulton, N-Judah, 7-Haight/Noriega—and even the 31-Balboa and 38-Geary lines will see heavy congestion throughout the weekend.
Drivers beware: The dearth of public parking in the western neighborhoods and the heavy influx of driving attendees means that attendees will be landing heavy in the outer Sunset and Richmond and making use of unapproved parking spaces, like driveways.
If you want a "No Parking" sign for your driveway, they're available for pickup, free of charge, at the front desk of McLaren Lodge (501 Stanyan St.) through this Friday.
And remember that all outbound streets in the Richmond and Sunset routinely gridlock after about 7pm every day of the festival.
Complaints department:
Yes, Outside Lands is staffing an actual complaint hotline, as well as two traffic enforcement agents and two tow trucks to respond to service calls during the festival, from Friday the 10th through Sunday the 12th, from 10am-11pm.
For general concerns to the complaints hotline, call 415-960-3443.
For tow trucks to respond to blocked driveways or other mayhem, call SFMTA directly at 415-553-1237 or 415-553-1200.
Public rest area:
Apart from the plethora of facilities and food-and-beverage service inside the festival's perimeters, the Nineteenth Avenue Baptist Church (at Judah) will open its doors throughout the weekend for concert patrons to use restrooms, charge phones and enjoy a snack.