Candytopia, the latest roving fun house sure to pop up in your Instagram feed, has opened its doors at 767 Market St. (at 4th St.)
Described on its website as a "sprawling sanctuary of confectionary bliss," the experiential museum debuted in New York and Los Angeles before arriving in San Francisco.
It's the brainchild of Jackie Sorkin, owner of Hollywood Candy Girls. Her LA-based catering and event production company, specializing in over-the-top dessert and candy creations, was the focal point of TLC's 2011 reality TV show "Candy Queen."
In a Facebook video, Sorkin explains that her dream "was to create the most fantastical, magical, amazing, delicious world that is not only fun and beautiful and sensory overload and you lose your mind, but you're happy and everyone belongs."
Candytopia features seven saccharine rooms, one of the most notable being its art gallery. There, some of pop culture's most recognizable faces— Snoop Dogg, Cardi B, and Prince among them — are comprised entirely of jelly beans, gummy bears, red vines, rock candy, sprinkles and jawbreakers.
This room also pays tribute to iconic artists like Van Gogh, Rodin, and Munch with sugary duplicates of their most famous works. Every piece included in the experience is accompanied by a "Candy Facts" sign highlighting its candy count, construction time, and number of grams of sugar.
Guests will have the opportunity to be blasted by rainbow confetti that shoots out of a pig's rear, or take a dip in the "Instagram-worthy," much-buzzed-about Marshmallow Pit, mentioned in nearly half of the 178 Yelp reviews for the Santa Monica outpost.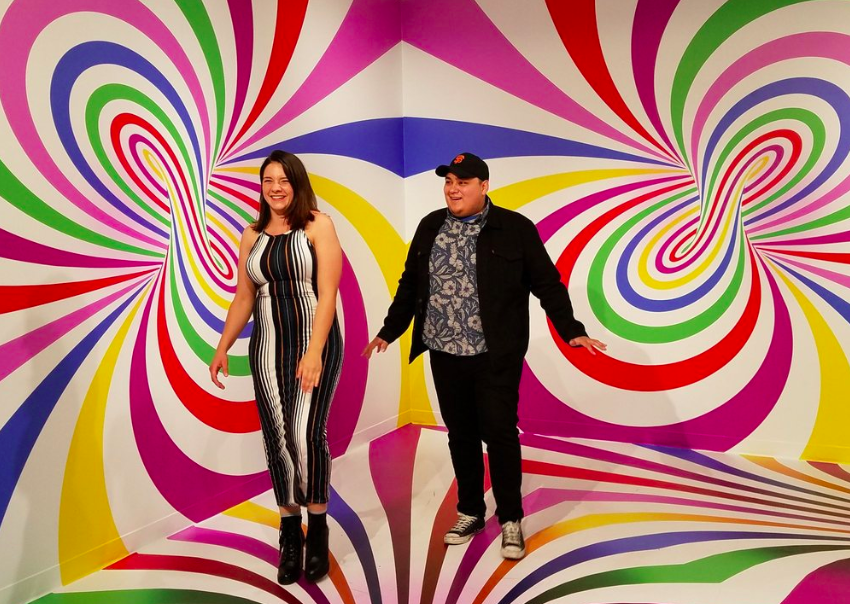 Even though licking or attempting to eat the installations is prohibited, visitors will have no trouble sating their sweet tooth, as chests of candy samples are interspersed throughout the exhibit. 
Candytopia is the latest in the growing experiential museum trend that's dominated the city's social media feeds in the past year. The popular Color Factory, born in SF, recently made the move to New York City, and an outpost of the Museum of Ice Cream continues to operate just a block away from Candytopia.
Asked why she brought Candytopia to San Francisco, Sorkin said, "To me, San Francisco represents a city that is welcoming to all. I wanted to create a place that is inclusive to all and exclusive to nobody."
"Candytopia is a place for everyone. It's just fun," she adds.
Unique to San Francisco's exhibit are candy portraits of Apple co-founder Steve Jobs and music artist Tony Bennett.
Additional Bay Area touches include a Golden Gate Bridge see-saw and sugary recreations of the Golden State Warriors' NBA Championship trophies.
Candytopia runs September 6 through November 30. Tickets, available for purchase online only, are $34 for adults and $26 for children ages 4–12.