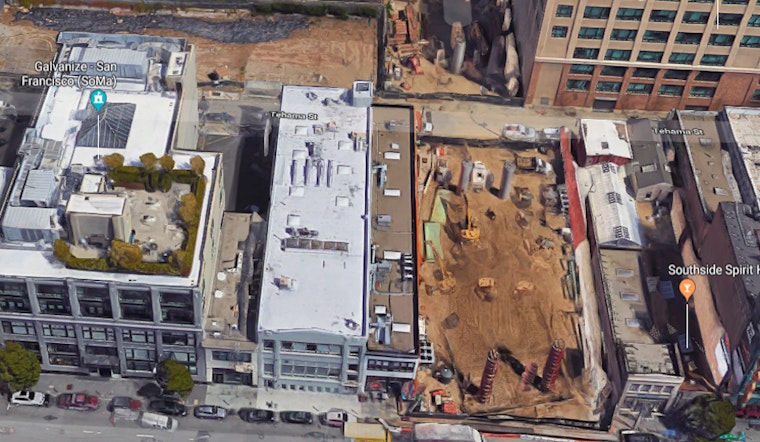 Published on October 10, 2018
A new 23-story multi-use office and residential building proposed for SoMa would have only six units of housing, according to documentation filed with SF Planning. 
The proposal for a new development would span three lots surrounding and including 543 Howard Street. It would construct a 350-foot-tall extension above the site's existing four-story office building, which is owned by Gordon Development and currently leased to co-working space Galvanize.
The new tower would feature 49,500 square feet of general office space and 11,000 of commercial event and retail space on the lower floors. It would also have 29,000 square feet of residential space on the top floors, split into just six dwelling units. 
As proposed, the building would cantilever about 27 feet above the existing building's roof, and fully cover a 4,000-square-foot surface parking lot at 48-50 Tehama St. The tower would connect to the existing office building on the ground floor and basement level, with office tenants entering through the current entrance and residential tenants entering through a new entrance on Tehama, at the base of the tower.
The project plans proposed by architect Paulett Taggart also include nine off-street vehicle parking spaces and 36 bike parking spots.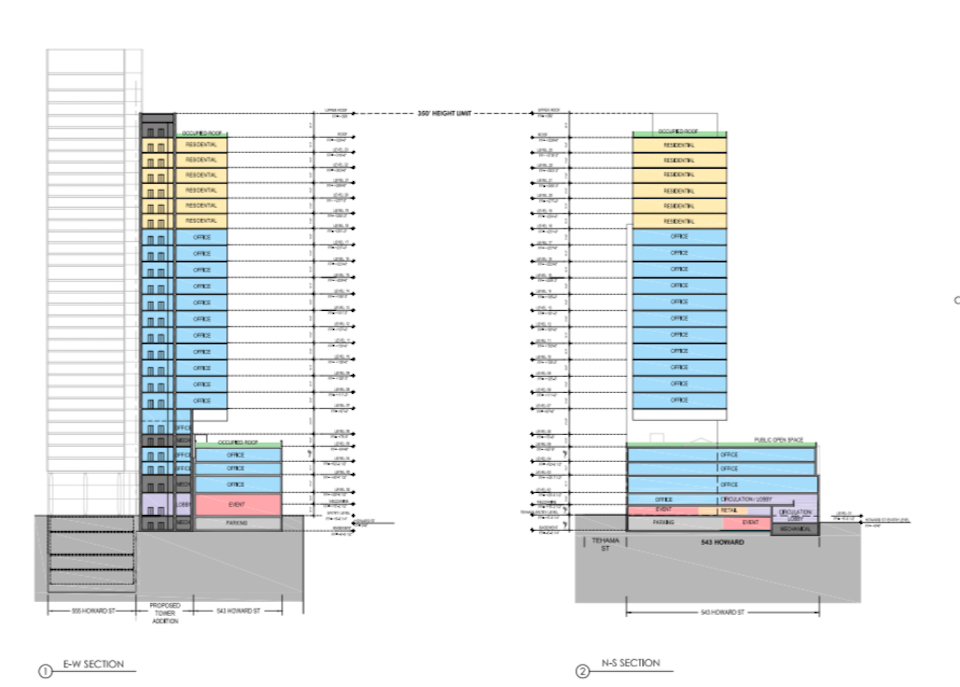 SF Planning pushed back on the proposal in a preliminary project assessment letter published on October 6, arguing that it would not provide enough housing and doesn't match the neighborhood's aesthetics.
The project should "greatly increase the residential density and … provide the required amount of affordable housing," SF Planning wrote, noting that the site is located within the Transbay Redevelopment Plan area, which requires new developments to offer 35 percent of residential units at permanently affordable rates.
As for aesthetics, the three lots include some historical resources, and Planning believes the project sponsor should better consider the neighborhood's context when designing the project's external appearance.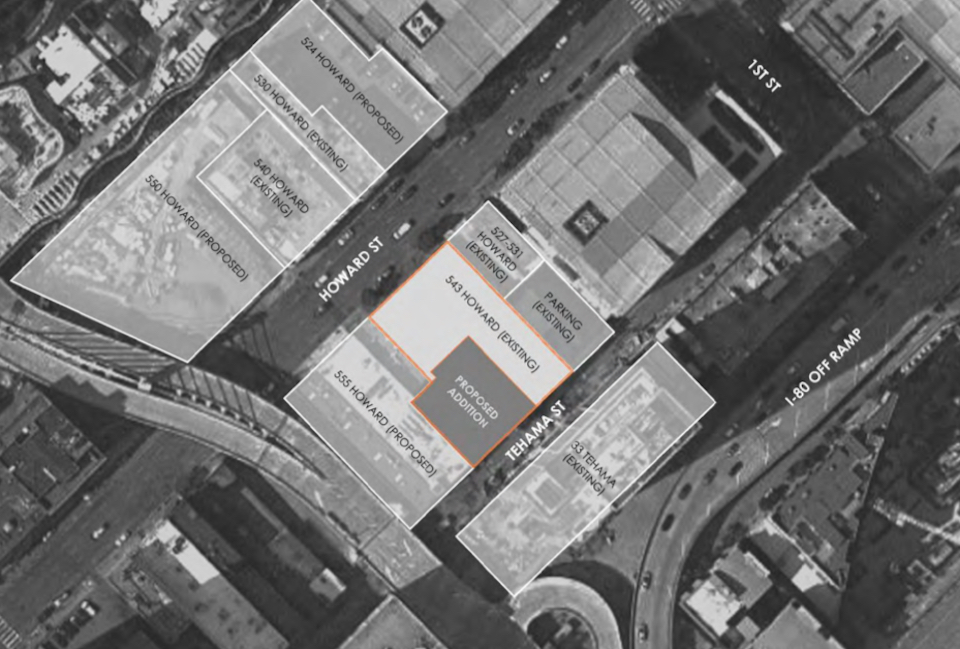 Plans filed with the department suggest a 3,500 square foot public open space would be added to the roof of the existing office building, expanding on the existing privately-owned public space currently on site. 
But while the proposal states that the development will include both private open spaces for residents and publicly available open spaces, future applications should better explain the amount of open space included in the plan and where it will be located, Planning noted. 
Planning also noted that the proposal also does not meet zoning requirements for tower separation, and future renderings and plans should better illustrate how the new building will fit within the project lots and be separated from the adjacent properties.
The project sponsor should also better clarify what the event space is intended for, to determine whether an additional conditional use application is necessary.
The assessment issued on October 6 is valid for up to 18 months, contingent upon the project sponsor filing additional documentation that provides further details about the proposed development.